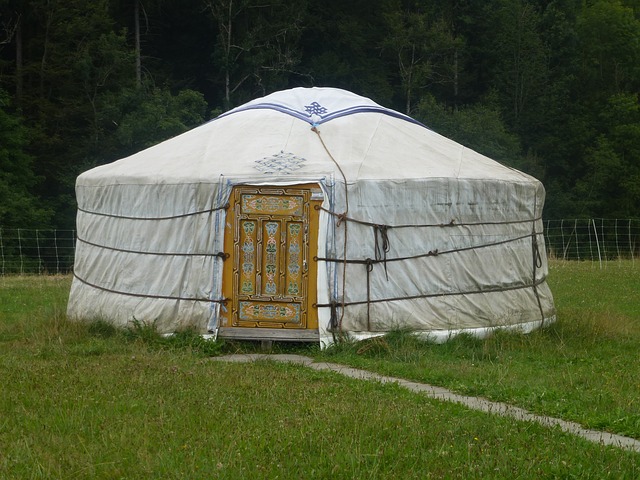 To the layperson, a yurt can best be described as a combination between a gazebo and a tent. To the historian, architect, or engineer, the yurt is an important architectural milestone originally designed by the Mongols for steppes housing in the severe climate of the Asian interior. A yurt is a round dwelling, held together at the eaves by a tension band. It has a cone shaped roof with a central compression ring skylight at the roof's center. Sturdy, durable, earthquake resistant, it's an excellent shelter against the bitter winds and freezing temperatures of the steppes, Rocky Mountains, or any other harsh climate. It's the oldest form of prefab indigenous architecture still in use today.
Build a Yurt to Contemporary Standards
You can employ the elements of building a yurt without living like the Mongols of several centuries ago. The main advantages of yurt buildings are the openness and immense feeling of spaciousness, the circular design which promotes discussion and community, and the economical and environmentally-friendly living space. You can build a yurt in a large backyard as a great venue for entertaining or as a guest home. Yurt buildings are also an increasingly popular choice for summer and vacation homes. Cool in the summer and warm in the winter, they're great temporary or short-term homes. They can be outfitted with electricity, plumbing, and DSL. Or, they can be a glorified pitched tent for homeowners who like roughing it.
Yurt Building
Today's modern yurt is typically a portable, recreational living structure with a circular wooden lattice wall, wood rafters that extend up to a laminated center ring, and a solid locking wood door. Covering the wood frame are architectural fabrics. A dome skylight allows light and ventilation at the peak. Many custom options are available including additional windows, insulation, awnings, extra doors, ceiling fans, and more.
These options and general design usually determine the ease and cost of installation. Homeowners with a fair amount of carpentry knowledge can easily build a basic, portable yurt. For more extensive and contemporary structures, a professional yurt builder is usually the right person for the job. The easy-to-install yurt can be transported in the back of a pickup truck or trailer, is non-destructive to delicate ecosystems, and is adaptable to a variety of conventional and alternative energy and water/waste technologies.
Yurt Building Styles
Contemporary Canvas Yurt: This type of yurt most closely follows the traditional yurt design. It's also the type of yurt that can be reasonably transported for a truly portable structure, although it may still be too involved for a weekend camping trip.
Wooden, Tapered-Wall Yurt: This yurt is more of a permanent structure. The outwardly sloping walls increase interior spaciousness, create a natural backrest, and enhance the building's strength. These yurts are most common for educational and resort settings.
Frame-Panel Wooden Yurt: Most often, these yurts are designed as permanent structures that work as a second home. They can be pre-fabricated to help keep the building cost reasonable, and they usually include most of the modern amenities we associate with contemporary lifestyles.

Ready to start your
yurt construction

?Find Pros
No Comments Yet