Menu
Cabinet Installation Companies in Denver, CO
Prescreened Kitchen Cabinet Contractors in Denver, CO
---
Reviews of Denver Cabinet Installers
Project: Install Cabinets
Arvada, CO
Matt did an amazing job and was the most sincere contractor I have ever met. I will be using him again in the future!
Project: Install Cabinets
Lakewood, CO
Benny was awesome to work with. He was very responsive to all our needs. Came back multiple times as our project moved along. We are very happy with how our kitchen cabinet install turned out. Great work and great guy. Would definitely highly recommend him!
Project: Install Cabinets
Denver, CO
Great attention to details and great to work with at a reasonable price.
---
Unscreened Cabinet Contractors in Denver, Colorado
---
Things to Consider Before You Add or Replace Cabinets:
What best describes your cabinet project?
Is this project part of a larger remodel?
Select the location of the cabinets:
Ideas & Inspiration from Denver Cabinet Contractors

.We also Install Kitchen cabinets that we can custom Build for you or from other cabinet suppliers. We do our own ...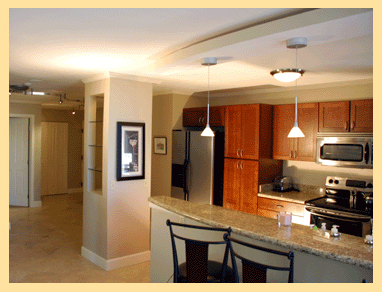 Our high-rise projects in the Lower Downtown area of Denver include custom designs and builds. ...

From the master bath to the personal vanity, from concept to completion, proper communication is necessary. Almost any ...

---
Denver Cabinet Remodeling
Replacing a Denver kitchen cabinet set is one of the best ways to reinvent your kitchen in one fell swoop. It's kind of like doing what they did to Stapleton International Airport, only kitchen style. Raze the old, bring in the new. And just like DIA put the old Stapleton to shame when it first opened back in '95, a new Denver kitchen cabinet remodeling project will leave you wondering how you ever put up with your old, rag tag bunch of cabinets in the first place.
Choosing the Right Kitchen Cabinet in Denver for You
Especially for those who haven't been through it before, choosing the right kitchen cabinetry for your home can be a daunting task. There are multiple things to take into consideration, including your kitchen's design, your personal tastes, your budget, the overall design of your home, and things like functionality and fit. And really, that list is just to wet your lips a little bit and get you thinking. When it comes to kitchen cabinetry, there can literally be thousands of different details to choose from. Despite that variety, we'll start simple. Before you even start thinking about which wood to go with, or whether you want stainless steel or colored laminate, you're going to need to select a style of cabinetry that's going to be right for you. To get the jump on making that decision, please read on.
The Custom, Semi-Stock, and Stock Dilemma
The choice between custom, semi-stock, and stock kitchen cabinetry is probably the first you'll be faced with as you begin down the long road that will eventually lead you to a beautiful new set of kitchen cabinetry. This is also a game we like to call "How Much Do You Have to Spend?" It's a little like choosing between the Broker, Wynkoop Brewery, and Chili's for dinner. They'll all serve you up a good meal, but there's no question that you're going to get what you pay for.
Custom cabinetry is the creme de la creme of kitchen cabinet remodels in Denver. It's custom designed, built, and installed for you by a skilled craftsman. That also means they're not cheap. You should expect to pay tens of thousands of dollars for an average sized kitchen cabinet renovation in Denver. Still, these cabinets are heads and tails above other options and are worth every dime if you have the means.
Semi-stock cabinetry refers to cabinetry manufactured in a factory setting by a large company, but which also has lots of options to choose from so you can still get "customized" cabinetry even if you can't afford the real deal. You can choose your own measurements, finishes, materials, door designs, hardware, and many other details, knowing you'll end up with a set of cabinets that is all your own at a price far below custom cabinet rates.
Stock cabinetry is the least expensive option of the three by a mile. Visit any Home Depot or Lowe's from Castle Rock to Fort Collins and you'll know exactly what I'm talking about. These cabinets are pre-designed, pre-made, and pre-measured. By mixing and matching you'll be able to get a set that fits your kitchen, and you'll probably get to choose from a few different finishes as well. Other than that, however, there isn't a lot of choice involved. Still, it's because they can turn these cabinets out on an assembly line that they come at such a great price to homeowners across the metro area.

The Faceless vs. Face Frame
This is the other decision that is going to lay the foundation for your new kitchen cabinetry. Besides choosing between the three choices above, you'll probably also be presented with the option of either face frame or faceless cabinetry (also called European or Euro style cabinetry). Both styles have equal proponents and detractors from a functional standpoint, so it really boils down to which style you like the best aesthetically.

Face frame cabinet making is the traditional way cabinets have been built in America. These cabinets have a solid wood face frame onto which doors are attached and drawers slide into. As such, they have also generally have more elaborate wood work, and a little more texture to them. Faceless cabinets, on the other hand, are held together by the cabinet box itself. The doors and drawers fit directly onto, and into, this box, and they cover the front of the cabinet box to its edges. This creates a seamless, streamlined, and more modern feel.

Can't decide between the two? Start by stepping back and taking in your home's overall design. Do you live in one of the metro area's surviving turn of the last century farmhouses, complete with Shaker style wood trim and grandma's curtains over the kitchen sink? If so, face frame cabinetry is for you. And on the other side of the fence, if you have a LoDo loft that looks like the set of a futuristic science fiction movie, faceless cabinets are going to be the perfect fit.

How Far to Take Denver Kitchen Cabinet Remodels
Any article on cabinet remodeling would be remiss not to at least mention the fact that pulling out your present set of cabinets presents the perfect opportunity to replace old flooring, appliances, countertops, fixtures, and to paint your kitchen a new color as well. It's not a necessary thing, by any means, but then we all thought the old rainbow Nugget uniforms were okay until we saw the baby blues. Now all it takes is one look at vintage footage of Alex English in his hot pants to put that debate to rest. That being said, you've been properly warned: the same thing often happens with kitchen cabinet remodels in Denver. Once the new cabinetry is introduced, the rest of the kitchen suddenly looks shockingly out of date. Regardless of whether you decide cabinets are enough or that you're ready for something more, you can rest easy knowing that either way, kitchen cabinet remodeling in Denver is an excellent home improvement choice for any homeowner to invest in.

Recent Requests for Cabinet Installation in Denver, Colorado:
---

Project Location:
DENVER
,
CO
80214
Date: 02/15/2017
Desired Completion Date: Within 1 week
Consumer Owns Home: Yes
---

Project Location:
Denver
,
CO
80229
Date: 02/15/2017
Describe your cabinet project: Install new pre-made cabinets
Part of larger remodel: No
Location of cabinets: Other
Request Stage: Ready to Hire
Desired Completion Date: Within 1 week
Already Purchased Cabinets: Yes
What kind of location is this?: Business
Property Owner: Yes
Comment: commercial install
---

Project Location:
Denver
,
CO
80205
Date: 02/14/2017
Describe your cabinet project: Install new pre-made cabinets
Part of larger remodel: No
Location of cabinets: Kitchen
Request Stage: Planning & Budgeting
Desired Completion Date: 1 - 2 weeks
Already Purchased Cabinets: Yes
What kind of location is this?: Home/Residence
Property Owner: Yes
Comment: Small 10x12 foot gallery kitchen. Small Job. I already have one quote, however am shopping around to find a contractor we like and that provides us with a good deal.
---

Project Location:
DENVER
,
CO
80238
Date: 02/13/2017
Desired Completion Date: Within 1 week
Consumer Owns Home: Yes
---
Project Location:
DENVER
,
CO
80232
Date: 02/05/2017
Desired Completion Date: Within 1 week
Consumer Owns Home: Yes
---
Project Location:
Denver
,
CO
80227
Date: 02/03/2017
Describe your cabinet project: Install new pre-made cabinets
Part of larger remodel: No
Location of cabinets: Kitchen
Request Stage: Planning & Budgeting
Desired Completion Date: 1 - 2 weeks
Already Purchased Cabinets: Yes
What kind of location is this?: Home/Residence
Property Owner: Yes
---
Project Location:
Denver
,
CO
80206
Date: 02/01/2017
Describe your cabinet project: Install new pre-made cabinets
Part of larger remodel: No
Location of cabinets: Kitchen
Request Stage: Ready to Hire
Desired Completion Date: More than 2 weeks
Already Purchased Cabinets: Yes
What kind of location is this?: Home/Residence
Property Owner: Yes
---
Project Location:
Denver
,
CO
80205
Date: 01/2017
Describe your cabinet project: Install new pre-made cabinets
Location of cabinets: Kitchen
Part of larger remodel: No
Request Stage: Planning & Budgeting
Desired Completion Date: More than 2 weeks
Already Purchased Cabinets: Yes
What kind of location is this?: Home/Residence
---
Project Location:
Denver
,
CO
80205
Date: 01/2017
Describe your cabinet project: Install new custom cabinets
Part of larger remodel: No
Location of cabinets: Kitchen
Request Stage: Ready to Hire
Desired Completion Date: Timing is flexible
What kind of location is this?: Home/Residence
---
Project Location:
DENVER
,
CO
80211
Date: 01/2017
Desired Completion Date: Within 1 week
Consumer Owns Home: Yes
---
Project Location:
Denver
,
CO
80231
Date: 01/2017
Describe your cabinet project: Install new pre-made cabinets
Part of larger remodel: No
Location of cabinets: Bathroom
Request Stage: Ready to Hire
Desired Completion Date: Within 1 week
Already Purchased Cabinets: Yes
What kind of location is this?: Home/Residence
---
Project Location:
DENVER
,
CO
80223
Date: 01/2017
Desired Completion Date: Timing is flexible
Consumer Owns Home: Yes
---
Project Location:
DENVER
,
CO
80221
Date: 12/2016
Desired Completion Date: Within 1 week
Consumer Owns Home: Yes
---
Project Location:
DENVER
,
CO
80236
Date: 12/2016
Desired Completion Date: Within 1 week
Consumer Owns Home: Yes
---
Project Location:
Denver
,
CO
80214
Date: 12/2016
Describe your cabinet project: Install new pre-made cabinets
Part of larger remodel: No
Location of cabinets: Kitchen
Request Stage: Planning & Budgeting
Desired Completion Date: Timing is flexible
What kind of location is this?: Home/Residence
Comment: quote for cabinets needs installed
---
Project Location:
lakewood
,
CO
80228
Date: 12/2016
Floorplan: I plan to maintain existing kitchen floorplan
Cabinets: Yes - I plan to move or update the cabinets
Appliances: No - I do not plan to move or update the appliances
Countertops: No - I do not plan to update the countertops
Sinks: No - I do not plan to update the sinks
Flooring: No - I do not plan to update the flooring
Lighting: No - I do not plan to update the lighting
Request Stage: Planning & Budgeting
Desired Completion Date: Timing is flexible
What type of cabinet updating are you interested in?: Install new pre-made cabinets
Comment: Kitchen
---
Project Location:
DENVER
,
CO
80219
Date: 12/2016
Desired Completion Date: Within 1 week
Consumer Owns Home: Yes
---
Project Location:
DENVER
,
CO
80227
Date: 11/2016
Desired Completion Date: Within 1 week
Consumer Owns Home: Yes
---
Project Location:
Denver
,
CO
80226
Date: 11/2016
Describe your cabinet project: Install new pre-made cabinets
Part of larger remodel: Yes
Location of cabinets: Kitchen
Cabinet Specialists or Remodel Pros: I just want cabinet specialists
Request Stage: Ready to Hire
Desired Completion Date: Within 1 week
Already Purchased Cabinets: Yes
What kind of location is this?: Home/Residence
Property Owner: Yes
---
Project Location:
Denver
,
CO
80237
Date: 11/2016
Describe your cabinet project: Install new pre-made cabinets
Part of larger remodel: Yes
Location of cabinets: Bathroom
Cabinet Specialists or Remodel Pros: I just want cabinet specialists
Request Stage: Ready to Hire
Desired Completion Date: Within 1 week
Already Purchased Cabinets: Yes
What kind of location is this?: Home/Residence
Property Owner: Yes
Comment: 4 cabinets to be installed with a cutout in the bottom of 1 for a laundry chute