Built-In Bookshelves Cost
The cost to have build-in bookshelves installed averages $2,509 or between $1,249 and $3,924 for a carpenter to do the job. If you buy the materials yourself, you can usually get a handyman in to install them for $30 to $130 per hour.
Built-in bookshelves & cabinets are sleek, effective solutions when you need to minimize space clutter. They're able to hold anything -- books, gadgets, decor -- without having to stand out by several feet. They're very elegant looking, and it's a great way to arrange your space's decor.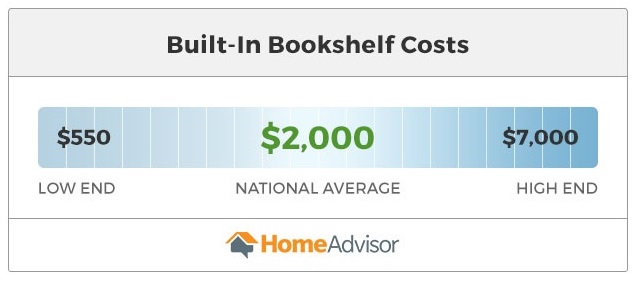 Some of the factors that can influence your total cost for built-in shelves include:
Materials: You can buy shelves made of various materials -- veneer plywood, birch, douglas fir -- but this means your price will vary just in buying them. Make sure to check how much the material can hold without sagging.
Construction: There are three different kinds of cabinets -- pre made, semi-custom and custom. The pre made cabinets won't cost much to buy, but the custom ones can run you a few hundred dollars. There are pros and cons to each type, so weigh them carefully before choosing one to invest in.
Labor: If you are installing a lot of built-in shelving, then you'll pay more in labor, whether to the handyman or the carpenter. You should take on an additional $100 to $200 for labor to the total cost.
Design: Shelving comes in various designs, in terms of width, height, depth and so forth. Some considerations to keep in mind when buying the right design include:

Height – If you install a shelving unit between 8 to 10 feet in height, it shouldn't cost much. However, shelving that's 10 feet or higher will take more time and resources to install, thus a higher cost.
Fitting in – If you need to remove molding, flooring or other elements to fit the bookshelf in the space, that will take extra work and time. Then you will also have to consider repairs.
Features – If you want to add more items to the shelving design -- doors, drawers, windows, etc. -- you'll pay more overall..

Accessories: Along the lines of features, you can add more accessories to your shelving unit for a more personalized look. A coat of paint, some accent carpentry and so forth can make it really appeal but will cost you more in the end.
Once you budget for this project and start looking for professionals, keep in mind their experience and contracts. You don't want to hire a handyman or carpenter with zero previous experience in this field. Make sure you to talk to at least 3-4 professionals before settling on the right one. With the contract, be sure to have it include materials, payment schedule, start/finish date and how the work will be done. That way you can make sure they follow the guidelines and don't ask for extra money if they take too long.
You can get built-in cabinetry in various forms, including:
Built-in, closed door cabinetry for your office
Entertainment center built-in shelving for your DVDs, CDs or blu-rays
Dining room built-in cabinetry which can have both open and closed sections for dinnerware and decor
Built-in bookcases in the living room or bedroom for your small gadgets and books
Before buying shelving, it's important to determine what the use of the cabinet will be, the material to use based on elasticity, what it will hold and the space it needs to fit into.
Wood Bookshelf Elasticity
| Type of Wood | Elasticity |
| --- | --- |
| Birch | 2.01 |
| Douglas Fir | 1.95 |
| Hard Maple (Sugar) | 1.83 |
| White Oak | 1.78 |
| White Ash | 1.77 |
| Shortleaf Pine | 1.76 |
| Black Walnut | 1.68 |
| Poplar | 1.58 |
| Cherry | 1.49 |
| Red Oak | 1.49 |
| White Fir | 1.38 |
| Ponderosa Pine | 1.26 |
| White Pine | 1.24 |
| Western Red Cedar | 1.12 |
When determining what kind of built-in shelving you need, consider the material it will be made from and its elasticity. Elasticity is defined as "the ability of an object or material to resume its normal shape after being stretched or compressed." In layman's terms this means you want a material to withstand the weight of your objects without sagging or cracking. Here are some common built-in shelf materials and their elasticity:
There are common standards of shelving including:
Base Model: 24 inches deep and 36 inches tall
Wall Depth: 12 inches
Wall Height: 83.5 inches (good for your kitchen or hallway)
For custom sizes, including corner cabinets or suspended units, or specialty items to store, they can be customized to your needs. For taller built-in shelving, aim for 72 to 78 inches so you're able to comfortably reach whatever is on the shelf. Whether or not it will sag depends on your shelving material and how much you load onto it. If your shelving or cabinets sag more than ¾ inches, it's not properly weighted and you should move materials off it to avoid further damage.
DIY vs. Building Your Own Shelving
The answer to this question is mostly yes. You can buy pre made shelving units from the local home improvement store, but do your research before making a purchase. You should also consult videos and tutorials beforehand. You will pay anywhere between $200 to $500 to install built-in shelving units yourself. The cost of the shelving itself will be anywhere from $25 to $150, depending on the size you need.
DO NOT BUILD THE SHELVING. That is rule number one from professionals. You run a lot of risk with it falling apart under the weight of your objects. You can design them, but you should rely on a carpenter to construct them or purchase pre made units from the store. This saves you a lot of potential headache down the road should the shelving fail for any reason.
That said, if you need a large unit of built-in shelving -- tall bookcase, shelving units that will take up a whole wall and so forth -- then you should probably go professional. They have the tools and previous experience to install your built-in shelving without a lot of problems or extra work needed.
Pros
Cons

It blends rather than stands out.
They can provide a lot of extra storage since they use a whole wall.
You can create a cohesive design with the shelving and your home.
The storage is more efficient and clean-looking.
You can easily add lighting for ambiance.

It's an investment you should seriously consider as a homeowner.
You can't take the shelves with you.
If you use a professional, it will cost more than DIYing the job.
Professional installation means having to leave the house during the work.
It's a very time-consuming process
Built-In Shelf Inspiration
To help you find the right kind of built-in shelving for your home, here are some photos of already installed units. Some might be the right fit for your home, while others might work as a basis for your personal shelving design. As always, do a lot of research through design magazines and the Internet to make sure you have a perfect picture in mind of what you want.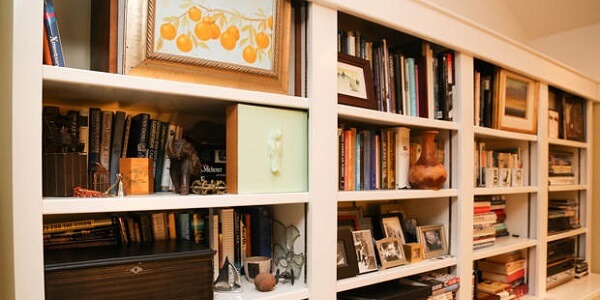 by Alice Carter, Moorpark, CA. Built in Bookshelves in California cost $1,950-$4,400.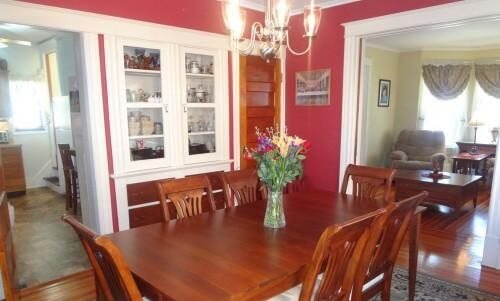 by Coffey and Son Construction, Broadalbin, NY. The average cost of built in bookshelves in New York ranges from $950-$3,400.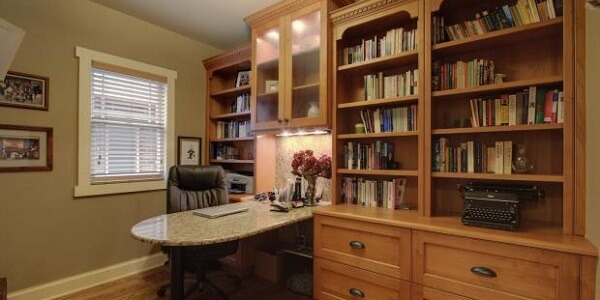 by Gunlock Homes, Inc. Denver, CO. Built-in bookshelving in Denver costs $1,200-$3,300.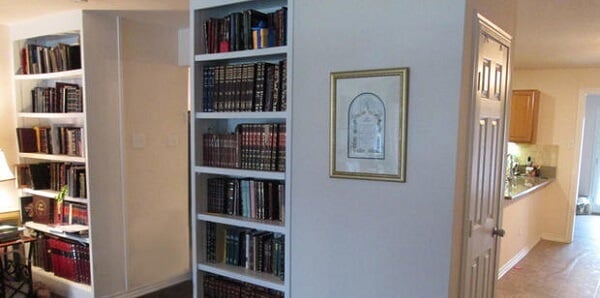 by InSync Home Design, Dallas, TX. The average cost of built-ins in Dallas ranges between $1,350-$2,850.
Thank you for submitting your feedback.