Topsoil, Dirt and Sand Costs
On average, homeowners pay $735 for bulk topsoil, dirt, sand, mulch, or rock, including delivery. Total costs between $322 and $1,148. Topsoil costs $12 to $55 per cubic yard. Fill dirt ranges from $7 to $12 per cubic yard. Sand typically falls between $15 and $40 per cubic yard. Prices include delivery.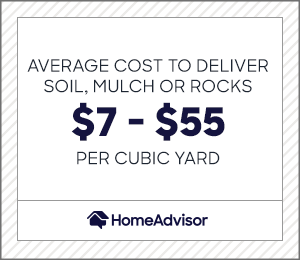 If you are getting your landscaping ready for the planting season, you may want to install soil, mulch, rocks, or any other type of decorative stone or paving. Since most homeowners do not own the size or type of vehicle that can haul such heavy and large loads, you will most likely need to have these materials delivered to your home. Providers often include delivery rates with the price of the product when buying in bulk.
Thank you for submitting your feedback.