July 13, 2021
Reviewed by Salvatore Cutrona, Licensed Master ElectricianWritten by HomeAdvisor.
Electric Baseboard & Heater Installation Costs
The average national cost to install an electric baseboard or wall heater is $791. Considering the factors that can affect rates, the final price for most homeowners falls between $394 and $1,202. Not including labor, a baseboard heater costs between $25 and $200 and a wall heater ranges between $60 and $120.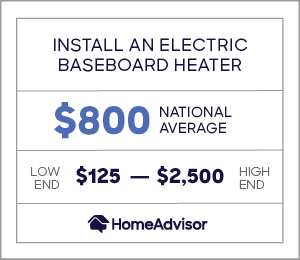 When it comes to picking home warming options, electric baseboards are one of the most affordable options on the market. They don't require ducts or vents and take up a small amount of space, so no major installation is required. However, it can still be difficult for homeowners to predict the cost to install one for their unique homes. The first step is to talk to a licensed electrician who can help you assess the best course of action for your home. Once you do that, there will be a couple of common factors that will affect the rate to install an electric baseboard or wall heater.
Thank you for submitting your feedback.