Powder Coating Prices
For either electrostatic painting or powder coating, you'll pay an average of $678 with a typical range of $336 and $1,041. Electrostatic painting averages $60 per hour with a typical range of $55 to $75 per hour for on-site labor. Powder coating runs from $40 to $600 per part - not including transportation to and from the shop.
Though some types of powder coating are technically electrostatic painting, the term is usually used to refer to the wet applied method. There are significant cost and application differences between the two. Both processes leave a durable, smooth and evenly-coated surface with no runs, brush strokes or spray marks. Talk to a professional near you to decide which method to use and to get a quote.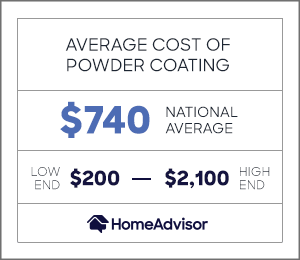 It costs anywhere from $200 to $2,000 or more depending on the part. Since this process can only be done in a specialized facility, you'll need to disassemble and ship all parts you need done. You'll have to pay for shipping which fluctuates based on fuel prices. Most objects also need disassembly and reassembly which can be a DIY project or a great task for a furniture assembler.
Powder Coating Cost Per Square Foot or Inch
Expect to spend between $1 to $5 per square foot or $0.07 to $0.40 per square inch for flat projects. Fencing runs an average of $3 per square foot. However, most projects are priced per project. These ranges are for reference only.
More commonly, per piece pricing takes into account multiple factors for most commercial applications, such as:
Type: Plastics, steel, aluminum, or cast materials such as iron.
Color: Though a wide range exists, color-matching to existing materials is difficult. .
Specific gravity. The industry standard is 192.3 square feet of coverage per pound of powder with a specific gravity of 1.0 at a thickness of 1 mil with a 100% transfer rate. This standard assumes the specific gravity – or the ratio of density of the solid to water or a solvent – is 1. As the ratio changes, as it does between many colors, so does the coverage per pound.
Component size
Number of components. Commercial pricing drops significantly with high volumes of components.
Prep time. Material type, shape complexity and previous coverings all affect preparation times.
Wages and overhead.
Sandblasting and Powder Coating Cost
Sandblasting costs $500 to $1,500 for exterior surfaces but is usually included in the per-piece pricing for smaller jobs. Sandblasting uses sand, glass beads or shell fragments to mechanically strip layers of paint, rust and other surface coatings.
Surface preparation is as important, if not more so, than the actual application process. Without proper prep, the final coat will likely fail quickly, causing chipping, bubbling and corrosion. Using a professional powder coat service insures against failure or recoating costs.
Get a Quote From a Powder Coating Pro
Average Cost of Powder Coating by Material
Because prices will also vary from shop to shop, it's impossible to give specific pricing by material, but expect to pay about 20 to 25 percent more for cast or wrought iron over steel and aluminum. Price differences are due to increased time and materials for surface preparation.
Thermoset vs. Thermoplastic
These two chemical categories have minor differences in benefits, use and cost. A professional shop will know which one is best for your project.
Thermoset is slightly more expensive but thinner and harder.
Thermoplastics is a little cheaper with better adhesion to metal and less heat resistance.
Powder Coating Patio Furniture Prices
Patio furniture coverings range from $40 to $250 though many places have a minimum charge of $50 to $100. Because of the exceptional protection, it's applied to all types of metal outdoor furniture.
Patio Furniture Starting Prices*

| | Steel & Aluminum | Cast or Wrought Iron |
| --- | --- | --- |
| Sandblasting | $20-$40 per item | $20-$40 per item |
| Table | $40-$100 | $90-$125 |
| Tea cart | $65-$100 | $65-$130 |
| Side or Arm Chair | $50-$80 | $70-$120 |
| Rocker | $55-$90 | $75-$120 |
| Glider or Sun Bench | $90-$120 | $100-$140 |
| Sun Bench or Love Seat | $80-$110 | $100-$140 |
| Stacking stools (each) | $40-$60 | $60-$80 |
| Bar stool | $70-$100 | $80-$130 |
*Urban locations may see prices up to 50% higher than this chart indicates.
Powder Coated Aluminum or Steel Fence
Installing new fencing costs $2,000 to $5,000 and usually comes already coated. You'll spend anywhere from $2 to $5 per square foot to coat bare fencing though most professionals determine the price by the overall project. You'll spend additional costs on shipping and disassembly of each section.
Consider electrostatic painting for fencing. Though less durable, it's done on site without shipping costs for $60 per hour. Any damages require repair prior to covering it. Fencing repair costs $250 to $750.
Playground Equipment, Lawn or Patio Railings
Expect to pay between $6 and $10 per linear foot for objects like posts, piping, tubing and railings. You can also make electrostatic coatings the final step to renew your kids play equipment. Fixing playground equipment costs $250 to $500 in addition to any final painting.
Powder Coating Appliances
Covering metal appliances starts at $150. It gives a durable finish with a vast array of color options to customize your kitchen. It also gives a facelift to aging but still serviceable appliances while unifying mismatched colors and designs.
Get a Quote From a Powder Coater
Electrostatic Painting Costs
Electrostatic painting costs an average of $60 per hour with a range from $25 to $100 per hour. This process, done on-site with wet paints, provides a less durable finish but usually at less cost and with faster results.
You'll need to wait 12 to 24 hours for the paint to dry, but you avoid disassembly and shipping costs and wait times. With very little waste, it's an environmentally-responsible alternative to traditional painting methods for fences, furniture and other metal fixtures.
Advantages & Disadvantages of Electrostatic Painting
Electrostatic painting comes with many benefits and drawbacks. Understanding when and where to use this method will help you when discussing your project with a professional.
Advantages of Electrostatic Painting
Little to no risk of overspray with the magnetic attraction making the paint wrap around the surface, which facilitates reaching difficult areas.
It can dry overnight without interrupting a home or a business's operations.
No drip spots or brush marks with uniform application.
More durable than many other liquid paints.
Electrostatic painting is eco-friendly with 98% efficiency traditional methods at 50% to 70% efficiency.
Prices will depend on the item being painted, but the process can be more cost effective than other painting methods due to low overspray and waste.
When Not to Use Electrostatic Painting
It only works on conductive surfaces. Most items in a household aren't made of metal so must use traditional painting methods.
Improper use of equipment could result in a safety or fire hazard, so it's often best to allow a certified professional to electrostatically paint a surface.
Get a Quote From an Electrostatic Painting Professional
Powder Coating vs. Electrostatic Painting
Understanding and comparing powder coating and painting helps clarify the cost differences between the two. Both usually use the same underlying idea of electrostatically charging a metal object and the coating material, so they attract. However, there are more differences than similarities.
Powder Coating vs. Electrostatic Painting

| Powder Coating | Electrostatic Painting |
| --- | --- |
| $50 to $600 per part | $55 to $75 per hour |
| Dry applied | Wet applied |
| High-temp cured | 12-24 hour air cured |
| Most durable | More durable than traditional coverings |
| Done in shop (requires transport) | Done on-site |
Powder Coating Uses, Pros and Cons.
Powder coating costs $50 to $600 plus freight. This works great on any high-temp resistant object like metal or plastic. Only objects that can withstand temperatures of 380 degrees to 580 degrees Fahrenheit can benefit from this method.
Done one of three ways, only two of which use electrostatic charging.
Uses a dry powder always applied in a specialized shop.
Materials must be shipped to and from a shop.
Most durable available.
Electrostatic Painting Uses, Pros and Cons.
Electrostatic painting runs $55 to $75 per hour or $200 to $1,000 or more per project. It's ideal for metal surfaces including railings, gates, banisters, metal doors, industrial equipment, fencing, and pipes. The method may be used on materials made from steel, aluminum, copper, or other conductive surfaces.
Uses a wet-applied paint with normal drying times or 12 to 24 hours.
Like dry methods, it provides an even and smooth finish for metal objects.
Usually done on-site but also available in a paint shop.
Not as durable but often better than standard paints.
Talk to a Pro to Determine Which Coating is Best For You
DIY vs. Hiring a Pro
The initial cost of $50,000 to $100,000 to set up a large-scale shop for large projects like patio furniture, appliances and fences make powder coating yourself impractical. Plus, making a mistake is costly and time consuming.
Electrostatic painting is a far more forgiving DIY project with lower startup costs for small projects running under $3,000. Plus, paints are easy to remove, don't require shipping or disassembly and you don't need to set up a shop. However, setup and prep requirements translate into time you can spend on other, more pressing projects.
Hire a professional and save yourself time, money and the headache.
DIY Coating or Electrostatic Painting and Equipment Costs
Powder Coating Equipment Costs
| | |
| --- | --- |
| Sandblast Cabinet | $3,000-$10,000 |
| Gun Unit | $2,000-$10,000 |
| Curing Oven | $20,000-$50,000 |
| Booth | $10,000-$50,000 |
| DIY Kit (with gun and oven) | $200-$1,500 |
Though you can get small DIY kits for under $1,000, you typically can't do any parts larger than 12 to 18 inches in length. Professional equipment can cost anywhere from $100 to $100,000+ depending on size and type.
Electrostatic Painting Equipment Costs
| | |
| --- | --- |
| Electrostatic Paint Sprayer | $600 to $8,000 |
When it comes to setup costs, electrostatic painting is far cheaper. All you'll need is an electrostatic sprayer for $400 to $1,500 with professional rigs running $3,000 to $8,000.
Why Trust Professional Help?
Licenses, insurance and warranties allow you to trust a professional and give you peace of mind. Get multiple quotes and read reviews in our professional powder coating directory of trustworthy professionals with a positively reviewed track record, insurance and references.
Since electrostatic painting uses electrical currents, it comes with safety concerns and shouldn't be attempted by the uninformed and inexperienced DIYer. The process requires painters to have the knowledge to use specialized spray equipment safely.
How do I find powder coating prices near me?
Use our prescreened professionals directory and search tool to automatically get powder coating prices near you.
FAQs
What is an Electrostatic Coating?
Electrostatic coating uses electricity to apply a high solid coating to conductive metals. Paint materials may be either powder or liquid.
The painting equipment is charged with one electrical polarity while the object being painted is charged with the opposite polarity. The process uses the "opposites attract" magnetic principle which eliminates waste and results in an even an smooth surface on complex and curved objects.
Is Powder Coating Expensive?
Powder coating is relatively inexpensive with small parts running only $50 each. Each project comes with different amounts of pieces – for example, a car engine cover may only have one part while a fence would have each post, post caps, railing and brackets for dozens of parts. The larger or heavier the part or longer the disassembly time, the more you pay in shipping or labor, respectively.
How Much Does a Powder Coating Oven Cost?
Powder coating ovens cost $10,000 to $50,000 for ones large enough to hold a car or truck. Small hobbyist ovens that hold objects up to a foot and a half in length run only a few hundred dollars but aren't suitable for home improvement projects.
What's the Cost of Powder Coating Steel vs. Aluminum vs. Wrought Iron?
Steel and aluminum cost the same to powder coat and depends entirely on the size of the piece They range between $40 and $600 or more. Add an additional 20% to 25% for the same pieces in wrought or cast iron.
What's the Cost of Anodizing versus Powder Coating?
 Expect to pay more for anodizing over powder coating. Costs vary, and shops won't quote prices without seeing the parts first . Expect to pay a minimum of $150 to $300, known as a "lot charge," regardless of size.
What's Black Powder Coating?
This uses black colored powder for the process. There are no other differences.
How Do You Powder Coat?
Powder coating process uses a dry powder that is either vat dipped or electrostatically applied to metal and high-temperature plastics. The process finishes by curing the objects in an oven at 380 to 550 degrees Fahrenheit.
How Much Does Powder Coating Rims or Wheels Cost?
A set of powder-coated wheels or rims runs $50 to $200 each depending on how many color stages are applied.
How Much to Coat a Bike, Car or Motorcycle Frame?
Bike and motorcycle frames range from $100 to $200. Car frames run $300 to $600 each.
Hire a Pro For Your Powder Coating Project
Thank you for submitting your feedback.