Last Updated: June 9, 2020
Written by HomeAdvisor.
Bars on Windows Cost
The average cost to install window security bars is $934. Most homeowners pay between $511 and $1,381. The exact amount depends on three key factors: the size of your window, the number of technicians needed, and the type of security bars you select. Aluminum security bars are the most popular choice, with pricing around $90 for a set without installation.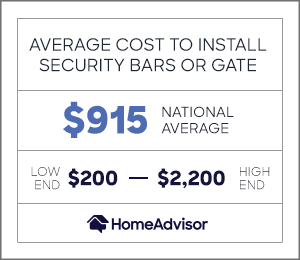 One of the most effective means of deterring burglars is to install security bars on windows in your home. They may also lead to lower home insurance premiums as your home becomes less at risk for a burglary.
It's important that one adds the correct types of bars and that they are done correctly for them to be effective. Hire a professional installer to meet safety and security needs.
Thank you for submitting your feedback.