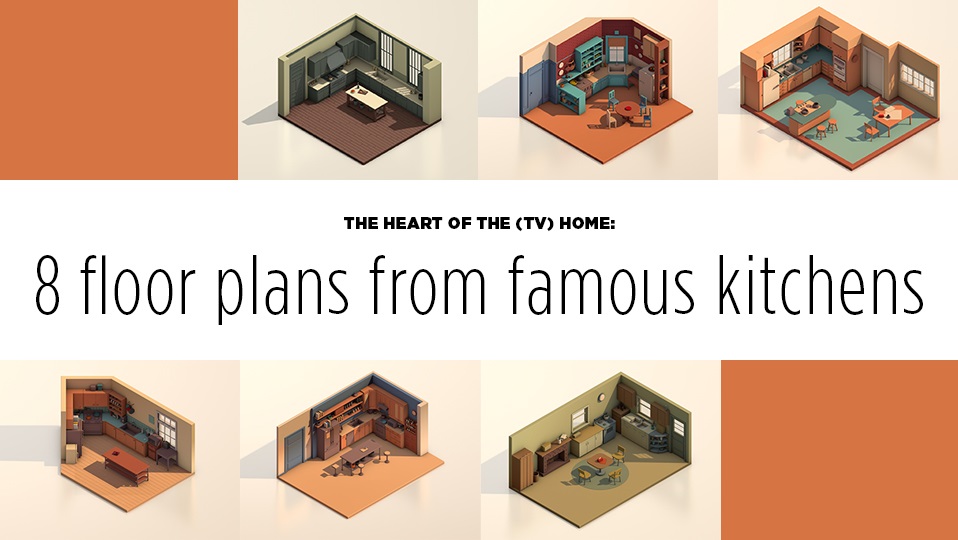 Are you remodeling your kitchen and looking for inspiration? Since the advent of television, our favorite shows have both reflected and inspired interior design trends. Just like in real life, the TV kitchen is the heart of the home. We decided to recreate some of the most well-known and iconic television kitchens to give you some design ideas.
Fresh Prince of Bel-air (The Banks' kitchen)
This kitchen offers plenty of space to hang out with your aunt, uncle, and numerous cousins. It's the central hub of your home, so a functional design is important. A large kitchen lends itself perfectly to two islands; use one for your cooktop and quick meals, and the other for kids' homework. Opt for a double wall oven for additional cooking space and glass-front upper cabinets to show off your impeccable organization skills.
Big Bang Theory (Sheldon's kitchen)
If something more modern and fun is your style, then a Big Bang Theory-inspired design is for you. This kitchen certainly makes the most of a small space. Start with hardwood flooring and wooden cupboards with some open shelving. Opt for chrome appliances and a tiled backsplash in muted green, then finish it off with a functional island that has plenty of additional storage space.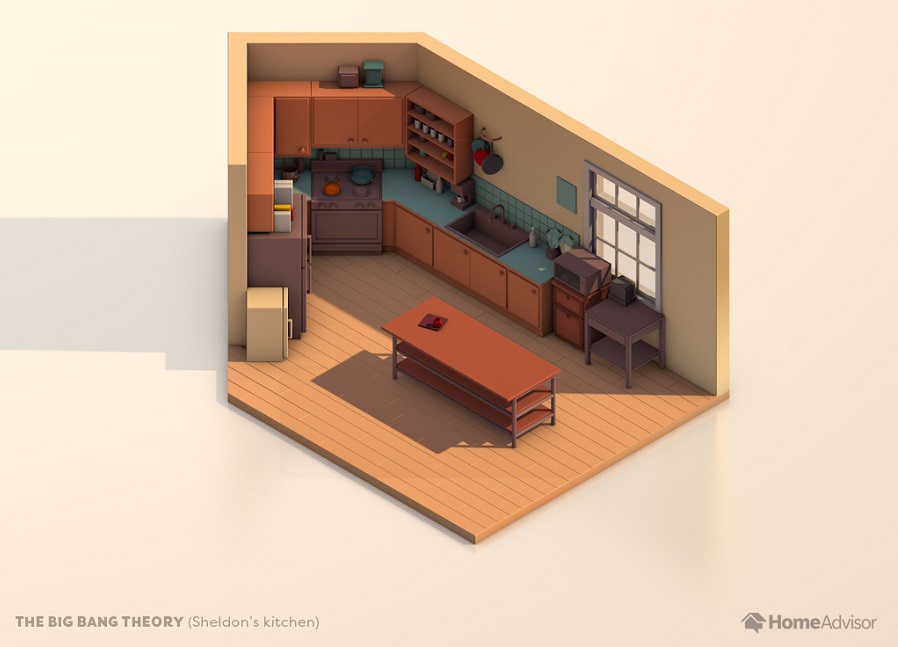 Friends (Monica's kitchen)
If your kitchen is the main hangout spot for your group of friends, you'll want to create an inviting, open space. Everything is on display here, and open shelving with clear jars for your sundries are great additions to the decor. Accessories adorn every area of the kitchen, from repurposed pots to plants and flowers. There's nothing muted about this kitchen, so opt for exposed brick on the walls and bold, turquoise cupboards. If you're changing your appliances, old-fashioned ones are a nice touch.
Malcolm in the Middle (The Wilkerson's kitchen)
It's unlikely that your family is as crazy as the one that occupies this kitchen, but if you have kids and a fondness for the '90s, this design is for you. The centerpiece of the room is the big family dining table, and the design offers plenty of counter space for meal prep. Choose warm colors and rounded edges for the furniture, and be sure to create a space where the kids can do their homework. If you want to go the go a step further, 90s-era appliances are a classic addition, and shouldn't be too difficult or expensive to obtain.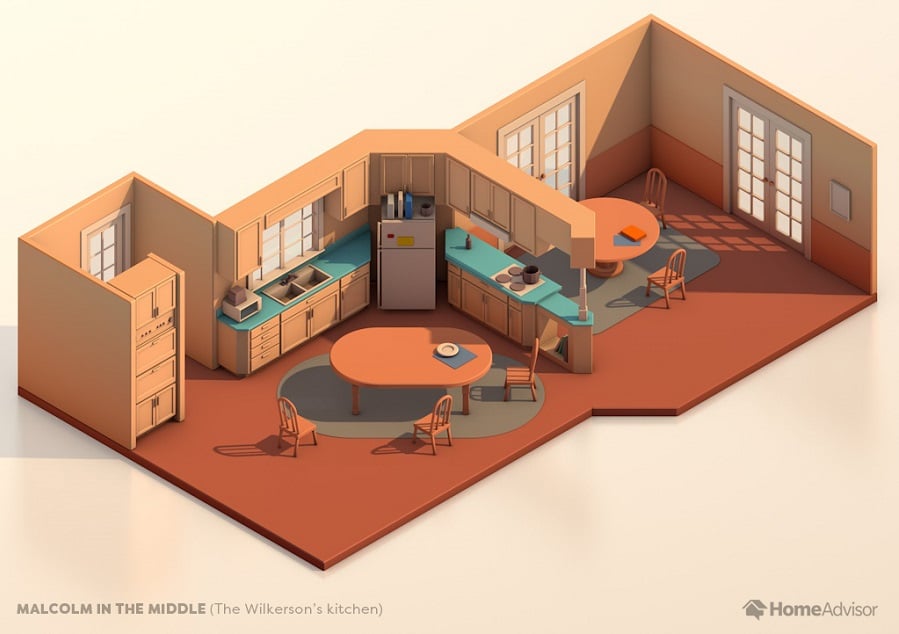 Mad Men (Don and Betty's kitchen)
If it's a retro 60's suburban feel you're after, you'll find all the inspiration you need in the Draper's Upstate New York kitchen. To achieve this look, choose rich pine cabinets and incorporate retro appliances and kitchenware from local vintage shops. While the island is great for kitchen prep and hanging out, the classic rectangular kitchen table is the place to bring the family together for a hearty meal.
New Girl (Jess's Kitchen)
If you're a young woman living in a loft apartment with three single men, this could be the design for you. Opt for moody blue walls to set the scene. An industrial-style counter is a great choice for the kitchen table, which doubles as a central island for family and friends to gather around. Open shelves offer the perfect space to display dishes or vintage items, and keeping the flooring simple allows the rest of your design (and the oversized fridge) to speak for itself.
Handmaid's Tale (Commander Fred's kitchen)
Commander Fred might be terrifying, but his interior design choices are not to be doubted. This kitchen is ideal for anyone looking to bring a post-apocalyptic, dystopian look into their home. Create a moody feel with dark paints like grey, dark green, or blue. Keep electrical lighting low and allow plenty of natural light in to create shadows across the room. Invest in a gorgeous set of copper pans and (though Gilead society might frown upon it) a range. A large island provides space for a few oversized baskets to keep things organized.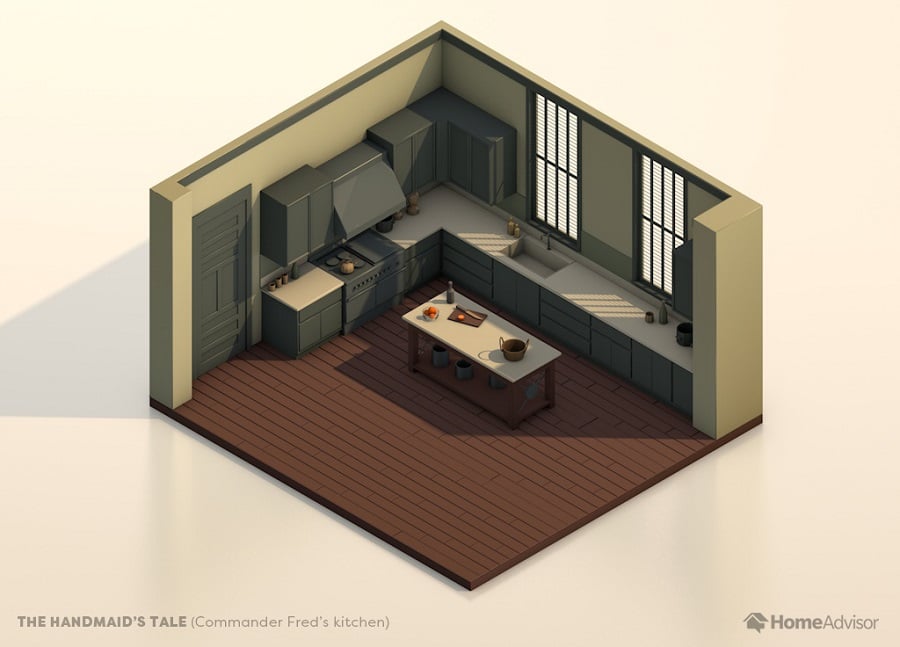 Stranger Things (Joyce's kitchen)
The Stranger Things world may be strange, but the Byers' kitchen is a pretty typical 80s design. Think rounded edges for the kitchen table and chairs, and be sure to incorporate plenty of wooden fittings into this design. Opt for neutral cupboards with 80s-inspired appliances. A flat wall lamp or an old radio will go a long way to finishing off that 80s look.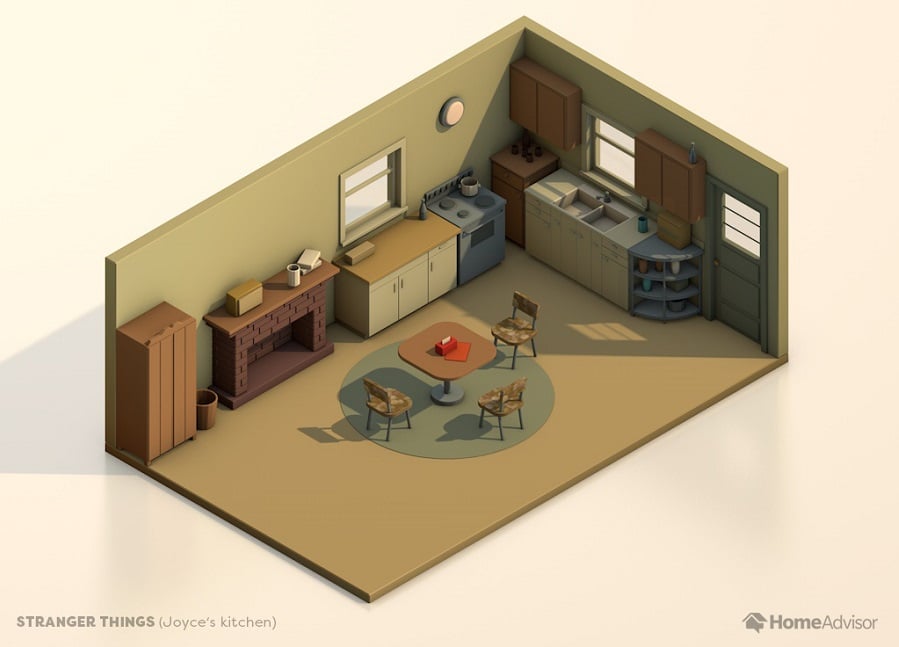 Next time you tune in to your favorite show, why not take some interior design inspiration? Whether you're doing a complete renovation or just want to incorporate some small touches, these designs should get the creative juices flowing.
Add this GIF to your site:
Click the text below.
Copy the selected text.
Paste the code on your website.
3 Comments