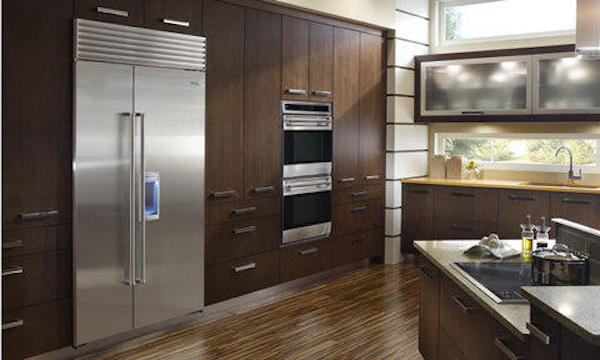 As a home improvement journalist, I already knew that modern appliances don't last as long as they used to. My neighbor's washing machine recently bit the dust. For several months, he had to set a heavy container of laundry detergent on the top-loading unit to keep it running during its cycle. In answer to his frustration, I set out to determine exactly why today's major appliances don't live up to the rest.
Answer #1: What the Internet Says
As a quick reference, the Internet has no equal. I asked Google: "Why don't appliances last as long as they used to?" Scanning the search results, I read a few of the articles and discovered from Stephanie Moore of Consumer Affairs that appliance manufacturers have been negatively impacted by the globalization of manufacturing. Essentially, companies can make appliances cheaper by manufacturing them overseas. Naturally, the tradeoff is that it becomes harder to conAdtrol the integrity of the product. Moreover, manufacturing costs are generally higher today than they were 10 or 20 years ago, meaning manufacturers needed to ship production overseas just to maintain the cost of older appliances, while no longer being able to provide the same dependability. Given the choice between paying for a modestly priced unit that is doomed to break down in a few years and a dependable unit that is double, triple, or quadruple the cost, most cash-strapped homeowners opt for former. What appears to be a bargain is, in fact, a poor investment. Justly or not, the homeowner, in turn, blames the manufacturer for poor craftsmanship.
Answer #2: What the Retailer/Manufacturer Says
You might think that if, indeed, the manufacturer has been forced to produce either substandard appliances or exorbitantly priced appliances, they would be open about the difficult position their industry has been put in. Why, after all, would you allow your good reputation to be dragged through the mud when you can simply explain to consumers the choice the free market has created for them? To this end, I set out to contact appliance manufacturers to get their side of the story. First, I contacted Maytag public relations department, who set about authorizing my press credentials and determining whether or not they wanted to grant me an interview. (They still haven't gotten back to me.)
While I waited for this open-ended process, I decided to head down to my local appliance store, Rex Appliances. I repeated my online query in person to the sales associate and was told to call 1-800-Frigidaire. Not to be so easily discouraged, I traveled to the nearby Sears, figuring their reputation would be enough to the information that I (and many homeowners) wanted. This time, I was told from a courteous sales associate to call the Sears appliance repair number. With the hope that one of these two numbers would hold the answer, I went home and dialed.
Frigidaire's automated system was down due to technical difficulties and, I was told by the automated voice, they expected to be up and running again within four hours. I dialed Sears instead. Here, I was responded to the automated prompt to connect to the repair center. After navigating through a few more options, I got to speak to a customer service representative, who forwarded me to what they thought was the right extension. This person then forwarded me back to the automated voice and around and around I went. Later that afternoon, I called Frigidaire's number and was told that all product information could be found at the manufacturer's website, although I could find no explanation there or at any other major manufacturer's website that would explain why nobody could build a quality machine for a reasonable price.
Answer #3: What the Independent Repairman Says
At this point, I decided to look up an independent appliance repairman and found the Repair Guy, Marcelo Fernandez, located in Chesapeake, VA. Having worked for a major appliance manufacturer in the past, Marcelo was a wealth of information. He says that it's true that the cost of copper (needed for the computer boards of many appliances) and moisture-resistant wiring has risen substantially over the past decade. But he also says other factors are at work besides manufacturing costs. The mandate to create more energy-efficient appliances, for example, has led to under-sized compressors and evaporator fans for refrigerators.
Maytag, Marcelo claims, has essentially under-sized "every compressor over the last five years." Voltage conversion has also led to myriad problems in a wide range of household appliances. Worse yet, replacement parts are in short supply, another side effect of production being moved overseas. Samsung and LG, two of the highest-rated appliance manufacturers, also produce appliances that are notoriously difficult to find replacement parts for. "A lot of appliance servicers won't even touch some Samsung appliances," Marcelo says, as he goes on to describe back rooms in Lowe's and Home Depot, where scores of appliance sit for weeks or months waiting on replacement parts.
Appliance Warranty Types
When purchasing an appliance, ask the dealer if the appliance is covered by a factory warranty or issued by the dealer. Some dealers and retail chains purchase appliances from the manufacturers without factory warranty to lower their costs. There are several drawbacks to this. First, if the dealer or chain goes out of business, you will likely be left without any warranty at all. When service is needed, the dealer will arrange for someone to service the unit at no cost to you. However, if you're unhappy with whom they've chosen, you're stuck with them. On the other hand, if the warranty is covered by the factory, you should be able to call any of their authorized appliance service agents to get the repairs done.
Always ask for estimated prices from service professionals before hiring a contractor for the repair project. For smaller fixes, like microwave repair costs, consult our Appliance Repair Guide for average prices.
Read Your Appliance Warranties Thoroughly
If you purchase a product for commercial/store use or for a townhouse, boarding house or apartment building with a common kitchen or laundry room, be sure to read the warranty restrictions. Most domestic appliance warranties are for single family use only. If the dealer assures you otherwise, get it in writing.Keep in mind that most warranties will only cover repairs to the unit that you purchased and do not usually allow for replacement of a product should it fail to function.
Conclusion: Shopping for New Appliances
Asked what manufacturer he recommends, Marcelo says, "High-end Whirlpool appliances, especially their Gold Series. KitchenAid and the Swedish manufacturer, Asko are also doing good things with their appliances." Marcelo also recommends looking into warranties and extended warranty services. Often, with installations like home siding, you can expect a product to last twice as long as the warranty suggests, as long as you maintain it. With appliances, however, you're more likely to see a unit with a six-year warranty start to experience problems at six years, three months. Take a look at an appliance's warranty versus its price tag. For overall value and long-term cost-effectiveness, dividing warranty length by initial cost is, perhaps, the most reliable way to purchase an appliance for your home over the long haul.
1 Comments