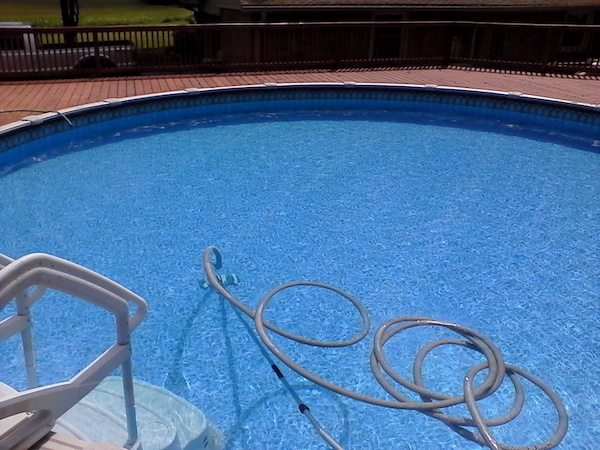 An automatic pool cleaner is a device that removes debris from your pool for you. Instead of using clumsy nets and other time consuming methods, with these time saving devices all you have to do is plug your new pool cleaner in and turn it on in order to enjoy a sparkling clean swimming pool experience. There are three main types of automatic pool cleaners, and each has their benefits and drawbacks.
The Suction Side Automatic Pool Cleaner
These units attach to the suction systems of your pool, or the pumps that draw water out of your pool to be filtered. With this type of pool cleaner, you attach the unit by hose to one of your suction ports, and let the pool cleaner do the rest of the work for you. Intermittent pulses of water randomly move the pool cleaner around your pool, while the debris it picks up is directed to the strainer basket, and in the case of smaller debris, to your pool filter. Suction side cleaners are much cheaper than other automatic options, though they do clog easier and you'll need to adjust their suction strength and hose length in order to make sure they are providing a sufficient pool cleaning.
Pressure Side Cleaners
A pressure side automatic pool cleaner operates in the opposite fashion as a suction side unit. These are connected to the return side of your filter system instead of the intake, and the pressure from your filter return gives them the power they need to traverse and clean your pool. On the up side, these pool cleaners circulate clean water throughout your pool, and they have a separate filter bag, so they won't speed up the contamination of your regular pool filter. On the down side, their filter bags can fill up and become ineffective if you don't empty them regularly. Once the bag is full, about all they're good for is stirring up the debris in your pool that they can't accommodate.
Robotic Pool Cleaners
This type of automatic pool cleaner is the cream of the crop when it comes to pool cleaning apparatus. A robotic pool cleaner is a stand-alone unit that you drop into your pool and plug into an adjacent electrical outlet. Once you do that, the rest is history. Your handy little robot makes its rounds in your pool until all the debris has been filtered completely out. As for the upside, since these units don't plug into your pool's pre-existing filter system they don't place any extra demands on pumps or added resistance to water flow. Their filters are relatively easy to clean out, as well, and they are available in a number of styles. Spend a little more for a computer chip operated model, or spring for a remote controlled unit if you like to play around from poolside. About the only downside is the electrical cord, but if you follow instructions there really isn't any danger there either.
If you're looking for a way to take the strain out of pool maintenance, an automatic pool cleaner is the pool improvement solution you've been looking for.
No Comments Yet