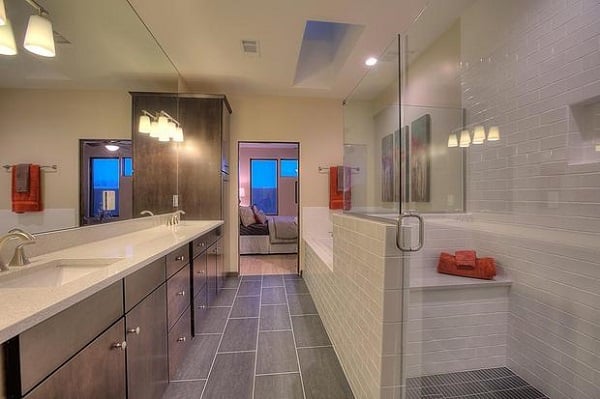 | Best | Use with Caution | Avoid |
| --- | --- | --- |
| Porcelain Tile | Bamboo | Carpet |
| Vinyl Sheets or Tile | Stone Tile | Hardwood |
| Luxury Vinyl Plank | Laminate & Engineered Woods | |
Choose a beautiful floor that matches the rest of your home's design, but also withstand the constant onslaught of water and humidity. If you choose the wrong material you might quickly end up paying to have it replaced. Start your project with this comprehensive guide on the best options for bathrooms.
On This Page
Best Flooring for Bathrooms
| Type | Best for |
| --- | --- |
| Porcelain or ceramic tile. | Durability |
| Matching to your kitchen or other baths. | Small Powder Rooms |
| Matching tiles or planks. | Kitchen and Bathroom |
| Sealed, stained and polished concrete. | Basement Bathroom |
| Vinyl sheet, plank (LVP) or porcelain tiles. | Waterproof |
The top floor coverings for bathrooms are durable, waterproof and beautiful. They come in many designs and material choices, including:
Stone
Vinyl
Porcelain
Ceramic
Bamboo
Engineered Hardwoods.
Most Popular Bathroom Flooring Options
| Type | Best for |
| --- | --- |
| Subway and Porcelain Tile | Durability and water resistance. |
| Luxury Vinyl Plank | A waterproof wood look and feel. Not all types are waterproof. |
| Engineered Hardwood | Real wood with high water resistance. |
| Vinyl Sheets | Waterproof flooring for tight budgets. |
Most Durable Bathroom Flooring
Choose tile for the most durable floor. It'll last 50 years or more. To help it last, reseal the grout at least once per year.
Best Flooring for Small Powder Room
Materials for small powder rooms isn't limited by water resistance. With no tub or shower creating a water hazard, you can use almost any type of material you'd like.
Best Flooring for Kitchen and Bathroom
Use matching porcelain tiles, plank or complementary design materials. If you already have hardwood in your kitchen, consider using a similar wood looking porcelain plank tile.
Best Flooring for Basement Bathrooms
Polished, stained and sealed concrete makes an excellent floor for basement baths. It's incredibly durable, waterproof and easy to clean.
Best Waterproof Flooring for Bathrooms
There are two main choices for waterproof flooring solutions:
Vinyl might have a cheaper look and feel, but it has some definite positives, including:
100% waterproof
Inexpensive
Easy to replace
Porcelain tile is hard, cold and more expensive, but it's great for a high-end look.
Waterproof when maintained.
Customizable for one of a kind looks.
High resale value.
Best Tile for Bathroom Floor
Porcelain and ceramic are the most popular bathroom floor tile. They're cheaper than natural stone, more water resistant and come in a wide range of colors, sizes and styles. Porcelain, a type of ceramic tile with a lower water absorbtion rate, makes the best choice of ceramic tiles.
Popular Bathroom Floor Tile
Popular tile options include:
Hexagonal, arabesque, fish scale, triangle, and octagon porcelain pre-laid sheets.
Subway tile.
Porcelain wood plank styles.
However, the best kind of tile for bathroom floors is the one that fits with your home's aesthetic.
Best Tiles for Bathroom Floor and Walls
Tiles for the floors don't always need to match the wall tiles. It doesn't matter if you go larger, stay the same size, go smaller or switch colors when you move from the floor to the wall. Just consider the:
Design
Ease of cleaning
Ease of sealing the grout
However, one tile you cannot use on the floors but should use on your walls is glass. It doesn't handle the high traffic or impacts a floor must, but it adds a distinct beauty as a wall or accent piece.
Best Tile for Small Bathroom Floor
There is no best tile for a small bath. They can benefit from a small, medium or large tile when done correctly. Always play to the lighting and overall design throughout your home.
Best Way to Lay Tile in a Small Bathroom
There is no best way to lay a tile in a small bathroom. Design options vary between each home. Always follow the aesthetic you have throughout the home. If you're unsure, hire an interior designer near you. Don't forget to budget an extra 10% for unique layouts like herringbone or multi-size configurations.
Best Type of Flooring for Bathroom Remodels
When remodeling, choose a flooring type with a higher ROI and upgraded look from the one you started with. For example, if you're ripping out that old vinyl sheet, consider moving to porcelain tile or luxury vinyl plank.
Best Vinyl Flooring for Bathrooms
Luxury vinyl plank options make the best vinyl floors. They're:
Durable and long lasting.
Easy to install without the need for a subfloor.
An upgraded look and feel.
Best Laminate Flooring for Bathrooms
Don't use laminate when better options exist. Some brands claim water resistance, but once damaged, you can't repair them. Engineered hardwood and luxury vinyl plank both offer better looks and durability for about the same price.
Best Wood Floor for Bathroom
Engineered hardwood made specifically for wet or below-grade installations make the best wood for the baths. Although tile or luxury vinyl plank both offer better water resistance, they don't exactly mimic the feel of hardwoods.
Best Bathroom Flooring Ideas
| Style | Recommended Material |
| --- | --- |
| Traditional and contemporary | Porcelain tile |
| Modern | Wood look tiles |
| Wood | Wood look porcelain or luxury vinyl plank |
| Creative | Epoxy, pebbles, stained cement, murals |
Get creative with combining styles and colors. Try epoxy, polished and stamped concretes and even glow-in-the-dark or luminescent paints.
Unique Floor Tile Ideas to Use With Caution
If you're looking for a unique bathroom floor, consider these tiles but use them with caution:
Glazed Terracota: A clay fired porous tile, it absorbes water quickly, damages easily but can be used in bathrooms in dryer regions with regular cleaning. But if you don't mind the many drawbacks, it'll give you a unique and beautiful floor.
Cork tiles: They make a soft and beautiful addition to your bath space, but with some downsides to consider. These floors easily bend and crack, allowing moisture through to the glues and subloor under the tiles. Mold, mildew and rot can quickly set it. Consider using these in a dryer area of your home.
Metal Tiles: You'll typically find metal tiles on walls. They make a great accent strip or backsplash but don't do as well on the floor. When wet, they're slick and they will dent easily.
Encaustic Cement Tiles: You'll get a beautiful and durable floor but with a lot of maintenance. Cement takes a professional who understands how to install and seal them. They stain and absorb moisture easily, but with regular sealing can last well over 100 years.
Best tile and non-slip bathroom flooring
Texture porcelain or natural stone tile make the top high-end choice with vinyl for the budget-conscious.
Textured tile: Requires grout sealing yearly, but it's durable and slip-resistant.
Nonslip vinyl: Requires no maintenance, it's waterproof and easy to clean.
Best Bathroom Flooring for Seniors
Luxury vinyl plank, porcelain tiles with texture or natural stone tiles make the best flooring for most seniors. Vinyl plank is maintenance-free while many stone products are naturally slip-resistant.
FAQs
What's the Best Flooring for Small Bathrooms?
Contrary to popular belief, the best flooring for small bathrooms isn't always a small tile. You can use any water-resistant material that works best with your homes overall design.
What's the easiest flooring to install in a bathroom?
Vinyl sheet makes the easiest flooring type to install. Consider luxury vinyl plank for an easy install with a luxury look. Vinyl can last 15 years or more when installed and cared for properly. Consider the different types of vinyl floors before choosing one to install.
How much does bathroom floor cost?
Bathroom flooring costs anywhere from $1,000 to $2,000 to install for 70 square feet.
Is carpet in the bathroom a good idea?
It isn't a good idea to put carpet in a bathroom or anywhere water is present. It's particularly susceptible to mold and mildew.
Can I use indoor-outdoor carpet in the bathroom?
You can use indoor-outdoor carpet in a bathroom although it's not recommended. If you do, get one low in VOC's (volatile organic chemicals).
What type of flooring is best for kitchens and bathrooms?
Anything water-resistant, like porcelain tile or vinyl sheets or planks make excellent flooring for kitchens and bathrooms.
No Comments Yet