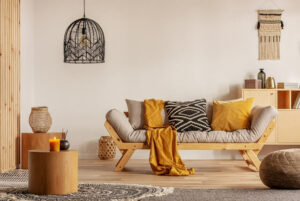 From foyers to kitchen islands, chandeliers are a stylish way to elevate any room's decor. These sophisticated light fixtures dress your home while adding brightness where you need it. But you can't get any old chandelier and expect it to deliver a breath of fresh air. This guide helps you find the best chandelier to complete the look of your home.
On This Page:
Best Chandeliers for Traditional Homes
Traditional homes are stately and elegant. And a classic chandelier is the perfect detail to enhance your classic architecture. These are the most handsome chandeliers for a home office that feels historic or the best dining room light to complement your fine china.
Candle-Style
If your home features wood, stucco or stone elements consider a rustic candelabra. Living and dining rooms are the best places for chandeliers that cast a candlelight glow. You can even use flickering bulbs that mimic real candles for a romantic setting. Use them to set the mood in your foyer or add charm to your bar area.
Shaded
Some of the best selling chandeliers feature shades in a variety of shapes and sizes. They offer an understated elegance that provides soft lighting to any room of your home. Put the spotlight on your four post Victorian bed with the best bedroom chandeliers. They add warmth and glow to your personal space.
Drum
Drum chandeliers offer shaded lighting with a single round shape that feels refined. They make the best bathroom chandeliers, with timeless elegance that reflects on mirrors. Use thicker coverings for added coziness and play with the angle to enhance your light decor.
To update the lighting in your traditional home, find light fixture installation services near you. New chandeliers can refresh your lighting while preserving the Colonial or Craftsman look of your property.
Best Chandeliers for Contemporary Homes
The best modern chandeliers emphasize your home's contemporary architecture. Their clean lines complete your stylish decor with a polished and fresh look. Create a contemporary look that stands out with these innovative chandelier designs:
Sputnik
With a fun name that screams edgy, sputnik chandeliers are a blast of light. These exciting fixtures feature casual exposed bulbs and emit brightness in all directions. They're among the best contemporary chandeliers because they stand out anywhere you install them.
Wagon Wheel
Looking for the best farmhouse chandeliers for your modern barnyard interior design? A wagon wheel light fixture delivers that rustic vibe you're looking for with a modern flair. For added texture, wrought iron chandeliers are a heavy-duty but luxurious lighting solution.
Geometric
For the modern home that pushes the envelope, geometric chandeliers are all the rage. Their eye-catching shapes and abstract patterns pair well with conceptual architecture. Some of the most popular forms include:
Best Vintage Chandelier Styles
Bring Old Hollywood back with the glamour of vintage style chandeliers. These light fixtures are the ultimate fashion accessory to add a palatial feel to your home:
Crystal
Lavish and ornate, crystal light fixtures are the best chandeliers for high ceilings. They make an impact in any large room and stand out in posh foyers.
Empire
Empire chandeliers are simply breathtaking. These striking pieces add drama to any room and are the best chandeliers for vaulted ceilings.
Tiered
Many levels of elegance come together in tiered chandeliers. These charming classics make your home feel poetic and dreamy.
Antique shops are among the best places to buy chandeliers. If your vintage light fixture is not in working condition, find a lighting repair company near you. These shops can help you restore its original brightness and enhance the beauty of your home.
FAQs
What is a chandelier bulb?
Chandelier bulbs usually have a pointed tip design that imitate a candle flame. They are a decorative lighting solution designed for chandeliers. Their sizes range from 12 mm to 39 mm in diameter.
Can I use LED bulbs in a chandelier?
Yes. LED candelabra bulbs come in a variety of tones, from warm yellow to cool blues. They offer a bright and clean light that works well for chandeliers.
How high should a chandelier be over a table?
Install your chandelier 30 to 32 inches from tabletop to the bottom of the fixture for an elegant and functional look. Adjust your chandelier's height to work with the size of your table and the space in the room.

No Comments Yet