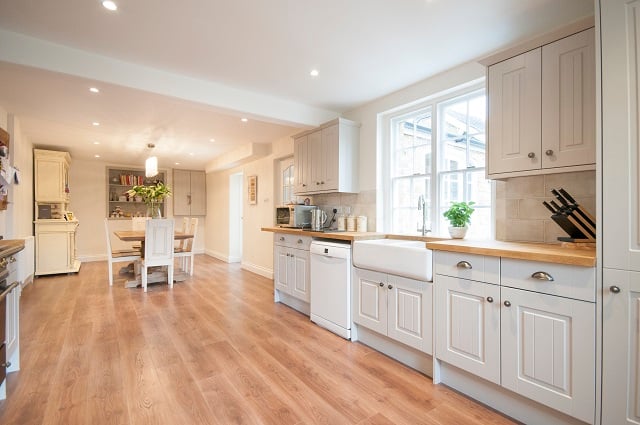 A good hardwood finish protects your flooring and gives it an excellent appearance. These days, you have options from a DIY-friendly water-based polyurethane to a professional acid-cured, and even the classic oil sealer. We'll walk you through the top six choices, with their benefits and considerations.
On This Page:
1. Best Hardwood Floor Finish: Acid-Cured
Acid-cured finish stands as the top pick for hardwood floors. This professional application uses alcohol and acid for a varnish that dries in a snap and holds up beautifully. Once complete, it shows off all the character in exotic species like Brazilian Cherry.
This type of finish might last up to 10+ years with good care. Unlike aluminum oxide, you can touch it up as needed.
2. Most Durable Hardwood Floor Finish: Aluminum Oxide
Aluminum oxide is the finish you buy when you don't want to deal with it at all. It comes already installed on the best prefinished hardwood flooring. Rated to last up to 25 years in a single application, it makes the surface much less likely to scratch or fade.
Although this type offers supreme durability, it's difficult to refinish. Aluminum oxide makes the surface so hard you may damage it with a sander. In many cases, you'll end up replacing the flooring instead.
3. Best Way to Finish Basement Floor: Water-Based Polyurethane
Water-based polyurethane is a standard choice for many environments, but especially those with more moisture. Homeowners often find this finish easy to apply, making it a reasonable DIY project.
It dries clear in a few hours, so you can put on multiple coats in one day. Although it's not as durable as oil-based options, it has low VOCs. That makes it a better choice for the basement or other rooms with minimal ventilation.
4. Best Hardwood Floor Finish for High-Traffic: Oil-Based Polyurethane
Oil-based polyurethane offers middle-of-the-road durability at an affordable price. The cheapest of the modern finishes, this type adds a warm glow to popular wood flooring options like white oak or maple.
Unlike the old-school oil sealer, it dries hard with several hours between coats. It's cheaper than water-based polyurethane, and usually needs fewer layers for the same finish.
5. Best Wood Floor Finish for Kids and Pets: Moisture-Cured Urethane
Moisture-cured urethane provides an extremely durable surface perfect for families with a lot of heavy traffic. The preferred option for bowling alleys, this finish can take whatever you want to throw at it without a scratch or scuff.
Moisture-cured urethane dries in 1 to 2 hours, making it difficult to apply. This means you'll need to look for professional hardwood refinishing near you.
6. Best Hardwood Finish for Historic Homes: Penetrating Oil Sealer
Although newer finishes make most of the old approaches obsolete, many owners of older homes still love the penetrating oil sealer. This traditional product typically uses tung oil, which absorbs well into wood and gives a low-gloss shine.
Oil sealer serves as a simple DIY project for patient people. It takes as much as 1 to 2 days to dry between coats. It's not as durable as modern options, which means you may need to touch it up every 2 to 3 years.
FAQs
What is the hardest wood floor finish?
The hardest wood floor finish is aluminum oxide, but it only comes on prefinished boards. If you want something durable you can add after installation, acid-cured is your best bet.
What hardwood floor finish is best for dogs?
Moisture-cured urethane is the most durable finish for homes with pets. However, It contains a lot of volatile organic chemicals (VOCs) that can aggravate pets and people, especially at first. If you're looking for a low-VOC alternative, water-based polyurethane is your best bet.
What is the best brand of polyurethane for hardwood floors?
Bona sells several highly-rated polyurethane hardwood floor finish products, typically through small, local distributors. Brands like DuraSeal or Minwax also rank well for durability and ease of application. They are available at businesses such as Walmart and Amazon.
Do you need to seal hardwood floors?
You have to seal unfinished hardwood floors to protect them from scratches and stains. The frequency depends on the type. For example, polyurethane products usually need refinishing every 3 to 5 years.
Refinishing hardwood floors costs $1,100 to $2,400.
What's the difference between wood stain and finish?
Wood stain adds a color to the surface. A finish adds a level of shine (e.g. matte, low-gloss, high-gloss) and seals the grain to protect against damage. Some companies, such as Minwax, offer products that do both at once.
No Comments Yet