Reviewed & Approved on October 2, 2020 by Dan DiClerico, Smart Home Strategist and Home Expert.
Written by HomeAdvisor.
Cost to Refinish Hardwood Floors
Refinishing hardwood floors costs $1,768 on average with a typical range between $1,075 and $2,489. You can expect to pay anywhere from $3 to $8 per square foot. For large and complex jobs, you might spend up to $4,000. The more area you have, the lower the square foot price. Adding in closets and other small, enclosed areas makes it a complex job, which increases the price.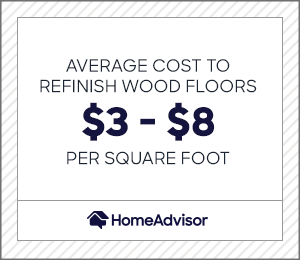 Hardwood floors add warmth and depth to any living space, and they're relatively easy to clean and maintain if they receive the attention they need. Before getting bids, though, homeowners should determine whether they need to refinish or recoat. Recoating simply adds a layer of protection, like varnish, without sanding down any gouges or discolored spots. This protects the floor and gives it an aged look. Refinishing requires sanding, which doubles or triples the price, but gives you a floor that looks almost brand new.
Thank you for submitting your feedback.