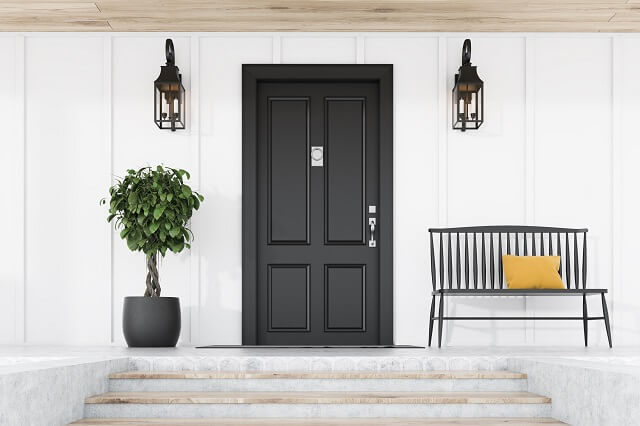 The best material for front doors depends on the look, design, and strength you want, but the standard options include wood, steel, and fiberglass. Your choice will also depend on your door installation budget and the size you want.
You want a door material that improves your home's curb appeal. So, here is a guide that covers different options to help you find the best material for a front door.
On This Page
| Material | Cost to Install or Replace | Advantages |
| --- | --- | --- |
| Wood | $40 – $5,000 | Aesthetically appealing |
| Steel | $500 – $4,000 | Resists bowing and cracking |
| Fiberglass | $150 – $5,000 | Never rusts, rots, or warps |
| PVC | $200 – $4,000 | Extremely hard to break |
| Wrought Iron | $1,500 – $7,000 | Offers optimal security |
| Aluminum | $100 – $2,000 | Less maintenance cost |
| Glass | $220 – $3,500 | Allows optimal entry of light |
| Composite | $40 – $1,000 | Great strength and durability |
1. Wood
Wood is the traditional option for the front door, and you can choose from different types of wood, such as pine, maple, mahogany, oak, and fir. It's easy to customize it into the size, shape, and style you want.
Wooden doors are famous for their beauty, but they usually need protection from the elements of weather. You'll also need regular door repair to keep it in great shape.
Pros
Cons
· Can be painted any color you want
· Very durable and aesthetically-pleasing
· Requires regular maintenance
· Expensive than most materials
2. Steel
Steel doors are the most popular in the US because they're energy-efficient and inexpensive. They are also strong and secure. Even though steel is mostly maintenance-free, it can rust in areas with high humidity. Steel doesn't warp or crack like other materials.
Pros
Cons
· Resistant to bowing and cracking
· Requires little to no maintenance
· Very energy-efficient
· Not the most beautiful front doors
· Limited designs and colors
· Susceptible to rust
3. Fiberglass
Making up to 40% of the front door market, fiberglass doors come in options that can be painted or stained. They don't rust or dent, and they can also come with wood grain. These doors tend to feature foam core, which makes them energy efficient.
Pros
Cons
· It's durable; never rusts, warps, or rots
· Hundreds of styles available
· One of the most expensive materials
· It's difficult to trim and fit in standard-size doors
4. PVC
PVC material ideal if you want a cheap option that's lightweight and energy-efficient. It's resistant to rust, and it has exceptional insulation properties. PVC doors are ideal for contemporary homes.
Pros
Cons
· Lightweight design
· Durable and energy-efficient
· Lack of styles and colors
· Likely to crack under pressure
5. Wrought Iron
Wrought iron doors are also secure and robust, and they offer elegant and timeless designs. They're high-end options, and they mostly have a steel base with other additions, such as wood and glass. However, they're heavy, making them hard to install.
Pros
Cons
· Durable, strong, and secure
· They offer timeless designs
· Costly options
· Quite heavy options
6. Aluminum
Aluminum provides a maintenance-free exterior that resists the elements. So, it won't rust, making it an ideal option for storm doors. However, the powder coat finish on aluminum doors can be damaged by water or moisture, leaving ugly stains.
Pros
Cons
· They're stable, durable, and strong
· Withstand different climatic conditions
· Easily stained by water
· Relatively more expensive
7. Glass
Glass is a contemporary material for doors. It's common with French doors and sliding glass doors. Glass doors are suitable for areas with warm temperatures, and they also allow plenty of natural light inside your space. However, glass is not an excellent insulator, unless you opt for double- or triple-panel glass.
Pros
Cons
· Provides ample interior light
· Customizable to maximize your curb appeal
· Lack of privacy
· Not secure; easy to break-in
8. Composite
Composite doors are made of various materials, including uPVC, glass-reinforced plastic, and timber. This construction makes them secure, durable, and strong. Materials in composite doors are picked based on the properties to create one strong door material.
Pros
Cons
· Great overall strength and quality
· Offers optimal security
· It's costly
· Likely to crack in hot weather
FAQ
What's the most secure front door material?
Wood, steel, aluminum, and wrought iron are the most secure exterior door materials. If you are concerned about security, pick a door with strong locks, which doesn't have a window or glass near the door handle. The door must not have a hollow core, and door installation pros should install it.
What's the most durable front door material?
The most durable front door material is steel. You're always sure to find the best steel front doors whenever you're looking for one. They are stronger than fiberglass and wooden doors. Also, they won't warp or crack.
Which material requires little maintenance?
Steel doors are also great options if you want a material that requires little to no maintenance. You only need to paint the door when you notice scratches or rust.
No Comments Yet