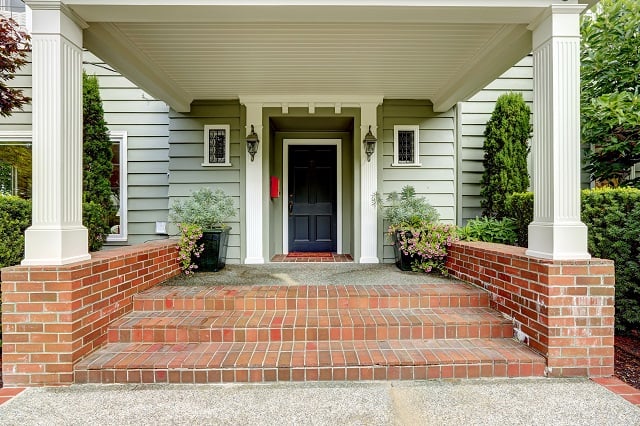 If you're looking for a weekend project to update the look of your home, painting your front door is an easy task you can complete on your own or with the help of a pro. Updating your entryway can offer a way to express your personal style and can be easily changed to enhance your home's resale value and curb appeal. While it's prone to chipping over time, touch-ups and repainting are easy ways to keep your door in good shape.
When to Paint
Be sure to note the time of year you choose to begin this project. Paint will dry faster on days that are clear and sunny. Temperatures are ideal between 40 and 90 degrees for oil-based, and 50 to 85 degrees for latex. Days with 40% to 70% humidity are great for drying. Latex can dry very quickly at high temperatures which can result in uneven application. Temperatures that are too hot or cold may prevent the paint from binding to the surface, resulting in cracks and flakes.
Exterior Door Paint and Primer
It takes around one quart of exterior paint, about $10 to $40, to cover a standard (80"x36") front door. Exterior formulas are more resilient against harsh elements. They also come in rust-resistant formulas for steel or metal doors. You'll also need to budget for primer and painting materials, after you determine which type is best for you.
It is important to identify the pre-existing paint or stain on your door. To do this, soak a cotton ball in rubbing alcohol and gently apply it to the door. If the paint does not come off, it is oil-based. If it does come off, it is latex. Do not apply oil-based over latex and vice versa. Acrylic, a type of latex paint, is a great choice for this project since it stands up well to sun exposure.
Priming beforehand is important for adhesion and to prevent cracking. Make sure that the primer and paint you choose share a base. Only use latex primer with latex paint and oil-based primer with oil-based paint. Paint will not adhere as well to the wrong primer.
Paint Color and Finish
The best way to choose the right color is to tape swatches from a home improvement store to the door to compare. Popular choices like black, white, red, yellow, grey, and dark blue, purple or green can transform the face of your home with contrast and color that you may not be able to grow in your garden. It's important to pick one that accentuates your home and its features. Red on a red brick home may not stand out, while a blue might contrast too much. In that case, consider a neutral color such as black, white or grey. For a home with a neutral siding like beige or grey, colors like green, yellow, or blue that can flatter the neutral's warm or cool tone. Choose a gloss or semi-gloss for a clean, modern look that lasts.
Try a few samples for around $3 to $5 per 8oz can. This is a good way to compare hues once you've narrowed it down to two or three choices. It is important to see the swatches at different times throughout the day since varying sunlight can alter the look of your exterior door.
Instructions
NOTE: Do not sand or strip paint models made in the 1980's or before. The surface may contain LEAD. Contact a lead paint removal service instead.
Lay a drop-cloth on the floor or ground in a well-ventilated area or outside in your yard. Set up two saw horses.
Remove the hinges from the door using a screwdriver or drill. Only remove the screws that secure the door to the hinges. The hinges should remain attached to the doorframe. Remove the door from the frame.
Place the door on top of the sawhorses. Ensure that they are evenly spaced beneath the door for even weight distribution.
With water and mild soap, scrub the door to remove any dirt or debris. Rinse with clean water and a clean cloth. Allow the surface to dry.
Use painters tape to cover all hardware including the doorknob, knocker, and windows. Use fine grit sandpaper to remove any chips or imperfections. If the surface already has multiple layers of paint you may need to strip the paint.
Apply primer using a roller. A brush may be required to get into grooves and around intricate detailing. Allow to dry. Apply a second coat if the previous color is still showing through. Allow to dry.
Paint in sections, starting with panels and grooves. Apply a thin, even coat with a roller to the flat surfaces. Use a brush for details and corners. If your door is wood, paint along the grain. Allow to dry according to manufacturer's instructions. Apply a second coat. Allow to dry 24 hours before reattaching to the hinges.
This project can be completed on your own. However, hiring a pro to paint your front door can turn a weekend project into a two-hour task. A door that looks brand new can change the overall look of your home and has the potential to reflect your individual style.
No Comments Yet