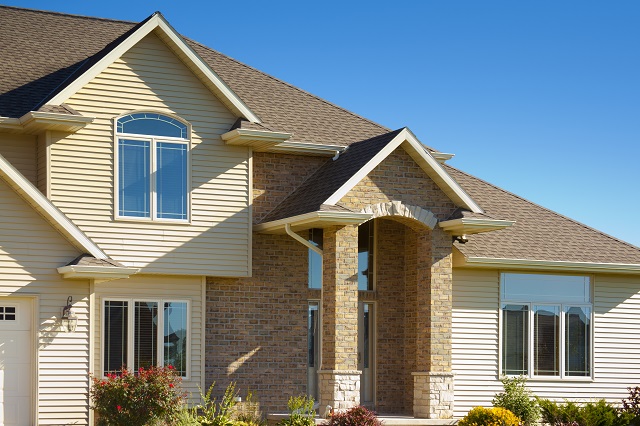 Having the best type of siding for your home will not only make it more beautiful, but it can also boost your resale value. But since it's a major part the house, it's worth giving it enough thought to make an informed decision. You will want to consider how long the material lasts, after how many years do you need to repaint, what types of repairs it might need over time, and, of course, the style you want and any restrictions your neighborhood associations might have.
On This Page:
Best Types of Siding
Vinyl
Vinyl Siding
Pros
Affordable
DIY-able for some
Lots of colors to choose from
Water- and bug-proof
Cons
Plastic feel
Too common?
Vulnerable in severe weather
Less energy-efficient
Pros
The versatility and low cost of vinyl siding easily makes it one of the best types of siding for your home or shed. Vinyl can also be bought at most local stores and is possible to do-it-yourself if you're somewhat experienced.
The wide collection of colors and styles also make it a great choice, and it is water and insect proof, which helps explain why it is one of the most popular sidings in America. It's especially the best siding for sheds, where looks might not be as important. HomeAdvisor has a tool to help you calculate vinyl installation costs.
Cons
Some homeowners do not like the plastic feeling vinyl siding has, and some designers feel it is too common. It does require some maintenance as it is susceptible to mold and grime.
The cheaper price point also means it is typically not as strong as other materials, so it has a hard time standing up to severe weather and is not as energy efficient.
Consult With Siding Pros
Fiber-Cement
Fiber-Cement Siding
Pros
Lasts a lifetime
Class-A fire rating
Insect- and mold-resistant
Light maintenance
Cons
Requires professional installation
Expense (because of labor)
Pros
If you want an upgrade from vinyl, but still do not want the costs and maintenance associated with wood siding, the best siding for your house might be fiber-cement. It is designed to last longer than vinyl (up to 50 years in some brands), has a class A fire rating, and is insect and mold resistant. Maintenance is fairly light too, though it might require repainting after about 15 years.
Cons
Fiber-cement is very hard to install on your own, as cutting is difficult and creates unhealthy dust. Also, it is heavy and can crack if not properly installed. These issues make installation costs more expensive than vinyl but still cheaper than wood.
Aluminum or Steel
Metal Siding
Pros
Low maintenance
Fire-, bug- and mold-resistant
Keeps home cool
Eco-friendly, recycled options
Cons
Aluminum dents
Rain and hail noise
Prone to rust
Fading finishes
Pros
Another good upgrade option from vinyl is Aluminum or Steel. It is very low maintenance and is resistant to fire, insects, and mold. It can also keep homes cool, which is important in warmer areas. Like vinyl it's possible to install yourself. It's also an eco-friendly choice, as many brands use recycled materials. All great reasons that make the costs of metal siding worth it.
Cons
Aluminum can easily dent, something to consider especially if you are less experienced in self-installation. It also carries sound more than other materials, meaning the impact of rain or hail will be louder throughout your home. Some finishes may fade over time, but could be easily repainted, unless there is damage and rust.
Brick
Brick & Stone Siding
Pros
Versatile
Color, shape and size options
Durability
Cons
Low maintenance
Not easy to DIY
Vulnerable in severe weather
Expense
Pros
Brick is a classic choice and can easily give your home a traditional look that will fit both in older and newer neighborhoods. It comes in an array of colors and shapes and stands well to weather and insects.
Brick's natural colors means it is low maintenance and requires no painting. If installed correctly, it needs very little repair as well. All of this makes brick the choice for many high-end homes. We can help you find a local contractorand get that classic look.
Cons
Brick is expensive and carries high installation costs. It is also not recommended as a DIY project, even for experienced homeowners. You might be able to cut some of those costs using brick-veneer, as opposed to real brick, but you still want it installed right the first time.
Talk to Local Siding Installers
Stucco
Stucco Siding
Pros
Lasts a lifetime
Fire- and insect-resistant
Great for dry climates
Cons
Requires professional installation
Expense (due to labor)
Vulnerable in wet climates
Pros
Stucco is another higher-end choice that's a classic, and is very common throughout the southwest in Ranch, Spanish-Mission and Mediterranean styles. The main benefit of Stucco siding is that if properly maintained, it will last a lifetime. It is also resistant to insects and fire, which makes it perfect for dry weather. The material also lends itself easily for architectural design.
Cons
Stucco installation is expensive, and it is necessary to hire a professional. Bad installation can cause cracks and moisture problems. This is also why Stucco is not recommended for wet climates. And of course, repair costs are also very expensive. To see if the old-world charm of Stucco is within your budget, here's a tool to calculate your stucco installation costs.
Wood
Wood Siding
Pros
Curb appeal
ROI
Eco-friendly
Lots of color and style options
Cons
Frequent maintenance
Restaining and repainting
Not fire- or insect-resistant
Pros
The main thing with wood- it is the real deal. No other material has the feel, smell, and warmth of real wood. More so, you can usually find wood that is native to your home's area, which will make your home blend in with nature in a way no other material can.
Wood siding is perhaps the best siding for houses, as it has huge curb appeal and is a great ROI in terms of resale value. It's also an eco-friendly choice and comes in colors and styles to really fit any design. HomeAdvisor can help you find a local wood siding contractor.
Cons
Wood has two main problems, though. First, it is not fire- or insect-resistant. This might not seem a big deal, but it does mean you could find yourself needing big repair if something happens. Second, it requires frequent maintenance and repainting. This includes power-washing and re-staining, which both might require a professional, depending on availability of materials and how comfortable are you with DIY repair.
Things to Know Before You Start
When choosing a siding material for your home, there are a few things you should consider:
Are you going to install the siding yourself or would you rather hire a siding company? A company might cost more, but there are some materials that will be very hard to use on your own.
How much maintenance you are willing to do? Some types of siding require repainting or more frequent repair, while others might last a lifetime if installed right but have a lot of upfront costs.
What's your budget? For example, you might have always wanted a real wood home, but the maintenance and installation might be too expensive, so you could consider wood-look vinyl instead. We can help you calculate your siding installation costs before talking to a professional.
Consult With a Siding Pro
No Comments Yet