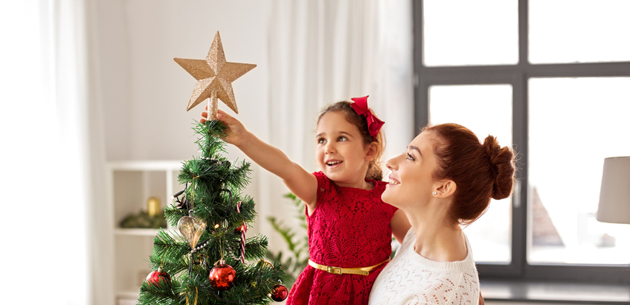 'Tis the season for holiday décor! And if you've decided to purchase a live Christmas tree this year, you may be wondering how to keep it healthy and fresh as long as possible. Here, we've compiled some first-rate tips to help your tree look its best all season long:
1. Choose The Right Tree:
When you visit your local Christmas tree farm or lot, be sure to choose a pine that can survive until the big day. A good selection will be mostly green in color with very few brown needles. Avoid trees with dry needles or brittle branches. If there is still sap lingering on the tree, chances are it was cut fairly recently and will last for a while.
Tip: When you leave, don't just strap your tree to the car and get on the highway! Protect it from harsh winter winds by first wrapping it in a tarp or blanket.
2. Find The Best Spot:
Once home, place your tree in an area far from heat sources and sunny windows. Excess heat and sun exposure can cause it to dry out quickly and become discolored. Instead, find a cool, shady spot for your pine. If you live in a particularly arid climate or simply want to keep your tree as hydrated as possible, consider putting a humidifier in the room as well.
Ready to start your
Christmas Tree Setup

?Find Pros
3. Water Regularly:
Before placing it in the stand, saw about an inch of wood off the base of the tree trunk. This will make it easier for the tree to absorb water. Once it's in the stand, add plenty of water – and keep adding it as needed. The waterline should never fall beneath the bottom of the tree. Though some websites suggest adding Aspirin, Sprite or corn syrup to the water, most experts agree that this is an unnecessary step. Plain water should work just as well. If you need an extra set of hands to help set up your tree, talk to a handyman.
4. Avoid a Fire Hazard:
Live trees are a festive holiday staple, but they can also create a fire hazard in your home if you're not careful. Stay safe this season and keep your tree healthy with constant watering. If it dries out, your tree can become easy kindling for a fire. Also, be sure to check all of your light strands, wires and outlets for frays or damage before plugging anything in. A local electrician can help with this inspection to give you peace of mind. Finally, remember to keep your tree away from any open flames, including wood-burning fireplaces and flickering candles.
5. Recycle It:
Once your tree has dried out, make sure to dispose of it responsibly! An old Christmas tree can be used to make mulch, compost or even a bird sanctuary in your backyard. If you want to avoid the hassle, contact your local recycling center to see where best to drop off your pine. Once your tree has found its new home, consider hiring a local cleaning service to help clear out old needles and wipe up sticky sap.
Ready to start your
Christmas Tree Setup

?Find Pros
No Comments Yet