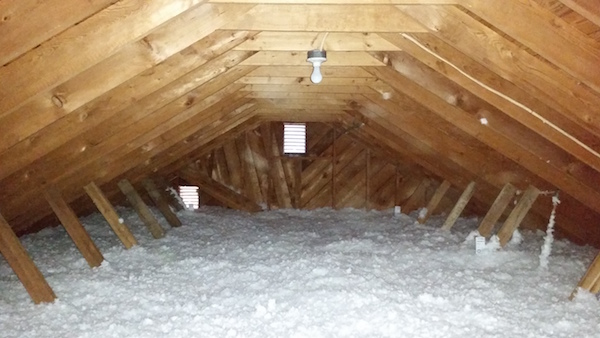 All walls need some kind of insulation otherwise you're risking a loss of heat and actual condensation and damage along the inside of the wall itself. By adding this barrier between your walls, you will be able to reduce drafting, dust build-up, noise pollution, and the temperature on your thermostat, creating savings on your utility bill. However, if you live in an older house with no pre-existing form of interior padding, then your best option is blown-in insulation. Unlike the common batting which is often installed in walls as the original construction is being performed, this loose fill material is literally pumped into the pre-existing wall through a small opening made by your contractor.
Get Some Help
This type of procedure may be more complicated than it sounds, especially if you're filling in around awkward angles or walls with a brick or stucco exterior. Though blown-in insulation is especially useful for these types of walls (you certainly don't want to tear down expensive structures just to install traditional batting), it does require special training and equipment. Even the handiest of handymen will need to hire a trained insulation contractor for this kind of task. Most crews are very experienced in making the proper hole or entryway into the wall and have specialized hoses, machines, pumps, and material in order to get the job done efficiently and effectively. Most jobs take less than a day including drilling, filling, and then re-plugging the gap they created in your wall (all of this depends on the size of your wall and how many holes they'll have to make). Qualified contractors will also match your paint to finish the job, clean up after themselves, and also provide information about the task they performed (including the type and amount of material they used).
Materials
Blown-in insulation comes in many different forms depending upon the type of project and your own personal preference.
Fiberglass: This type of padding is common in most houses, especially in a traditional batting form. It simply consists of thin glass fibers which trap the air. However, when pumped into a pre-existing wall, larger holes may have to be drilled because it takes more pressure to blow this material into the space. Yet it will also dry out quickly and is therefore especially useful for wetter areas that generate condensation.
Foam: This is a very powerful form of insulation (it has a very high R-value: the measure of insulation protection), but it isn't used very much today. It can shrink and form gaps, thereby negating the whole point of the product. And it can also expand, which could make the wall bow, bend and become damaged.
Cellulose: This is a very common form of blown-in insulation because it is so environmentally friendly and healthy to human contact. It is made from shredded and often recycled newsprint which is then treated with fire retardant. Also, it won't irritate the skin because it is non-toxic, yet still has the same R-value as any other material.
Ready to start your
Blown-In Insulation

?Find Pros
Cost
The cost of blown in insulation is very affordable, most of the time ranging from 60-90 cents per a square foot. Of course, they may have to charge a little extra for the drilling and painting, especially if they're dealing with more complicated exterior walls consisting of brick, stucco, or siding. Also, many times the contractor will have to overfill the area, pumping excess material into the wall in order to compensate for residual settling that may occur over time. However, this product is still very affordable and absolutely necessary for your home to stay energy efficient during cold weather seasons.
No Comments Yet