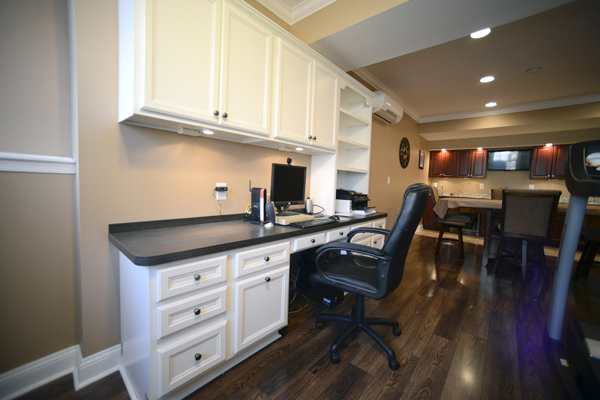 No matter the size of your property, optimizing the space you have can be a challenge. In smaller properties, however, the lack of available space can become an especially difficult problem. While you can go the route of limiting the amount of things you put into each room or simply deal with a large amount of clutter, built-in furniture is an option that will save valuable floor space, while letting you keep the room fully functional.
Murphy Beds and Loft Beds
Aside from adding a unique look to a room, built-in furniture like Murphy and loft beds can truly make the difference between a bedroom that's way too small, and one where everything has a place. Loft beds and Murphy beds can often be fitted with a mattress of your choosing, and can make a huge difference in a cramped space. These kinds of beds, since they are designed to save space, are often fitted with other features such as cabinetry or desks.
Murphy beds are built with sophisticated spring-lift mechanics that account for stability, sturdiness, and balance. This makes them easy and convenient to raise and lower so that a single person can handle the chore, sometimes just with the simple lift of a finger. Plus, they're perfect if you live in a small apartment because when guests arrive you'll no longer have to pull out the air mattress, sleeping bag, or unfold the futon: now they'll have a real bed all to themselves. And don't forget their function in larger homes as well. Room additions are expensive, and if you don't want to tack on a guest bedroom to your house, these wall beds are the perfect solution at a much more affordable price. If you have the extra floor space, why waste it? Instead, create an entire other room right in the same space.
Built-In Desks
You don't need a home office or a spare room to set up a pleasant and organized work space. Installing a built-in desk into a kitchen, a spare bedroom, or even under a staircase is a great way to create a small work area out of a small unused space.
When considering the design of your desk, remember that plenty of shelves and/or cabinets and drawers will help to keep the area clutter-free. Phone books, files, recipes, important papers, schedules and other information can all be stored here.
Installing a built-in desk is beneficial in a kitchen since it is a high-traffic room and is becoming more and more popular in modern homes. A kitchen desk can be used as a message center for keeping phone messages and keeping track of everyone's schedules, a place for homework, or to organize and pay bills.

Ready to start your
built-in furniture

?Find Pros
Other Built-In Furniture
Built-in furniture can take many forms, and each can bring a small space closer to its full potential. Tables that fold into a wall will provide a place to work or eat when needed, and a spot to stretch when they're not. Fold away benches and window seats (that can also double as a storage space) can increase the amount of people that can fit comfortably in a small room without being in the way.
For small rooms or cramped closets, built-in shelving, drawers, and cabinetry can be a life saver. You may also want to try these kinds of built-in furniture in bathrooms or living rooms to reduce clutter and store items that would otherwise be in the way. Garages are another great place for built-in shelves and cabinets.
Purchasing Built-In Furniture
Like many other home additions, built-in furniture is available in varying degrees of quality and cost. You can often find kits of pre-fabricated built-in furniture to install yourself, but if you want the best fit for the space, a custom job is the way to go. It will certainly cost more to have built-in furniture custom made, but when it comes to saving space, pieces that are designed specifically for your needs, and the specific room they're to go in are likely to do a better job of optimizing space, and may function better, as well!
No Comments Yet