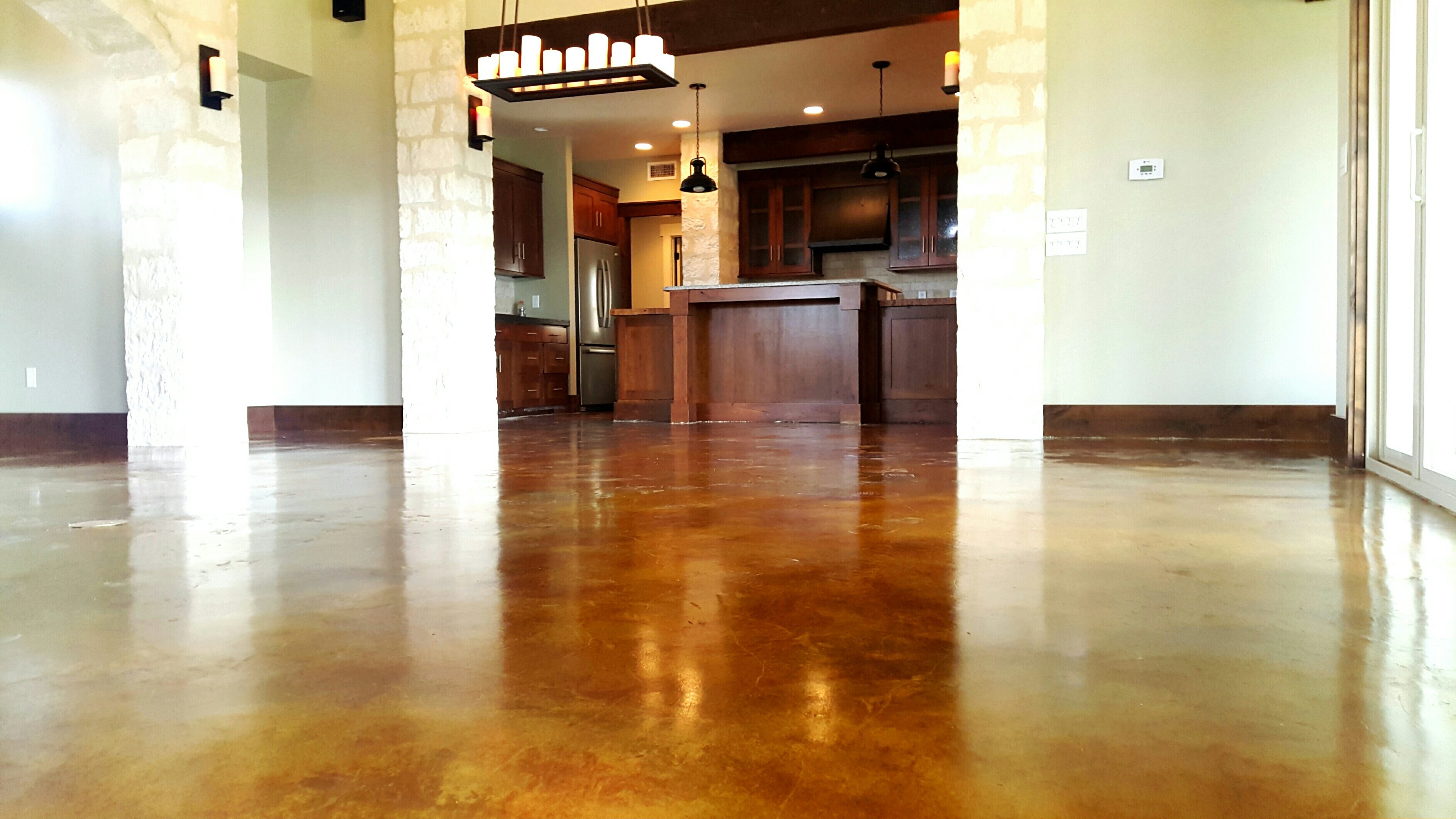 If you have a home, chances are you've got at least one concrete floor. There is something to be said for a material that can withstand all types of traffic, as well as weather anything Mother Nature might have in store. Unfortunately, what a concrete floor has in durability, it sorely lacks in pizzazz. While gray is not without a certain battleship-esque charm, we all know it will never be the new black.
Concrete floors are quickly growing in popularity. Of course, we're used to seeing concrete in finished basements and garages. However, in some new properties, concrete is replacing tile in kitchens, laundry rooms, and even bathrooms. It's well known that concrete is longer lasting, and requires less maintenance than other flooring options, but with the right treatment, a concrete floor can look just as beautiful, too.
Concrete Floor Paint
The most simple and most direct method to un-drab your slab is to paint it. There are a variety of specially formulated concrete floor paints available. A one-part epoxy concrete floor paint is cost-effective and easy to apply. The result will brighten up the surface in a short amount of time, though garages might need an annual touch up due to tire traffic. A more durable, more expensive 100% epoxy paint kit will take more time in the application, but will be more resistant to harsh conditions. Depending on how well it is initially applied and how well the cement itself is prepped, this kind of concrete floor paint can look spectacular and last a very long time.
Concrete Staining
Concrete floors can be stained, sanded, and sealed much like hardwood. Staining concrete is done using a special chemical pigment that reacts with the minerals in the concrete itself, permanently changing the concrete's color. Since the chemical reacts differently depending on the age of the concrete and the natural variations in mineral deposits on the surface of the floor, mottling and patchiness will occur that create a varied and unique effect. The concrete will then be ground and sanded till smooth, then polished to a high shine. After this is done, the floor is practically maintenance free. The drawback is that this effect is difficult to impossible to predict with great accuracy. In addition, while this technique can be used on both new and old concrete, in some instances of extremely damaged slabs, it is not recommended. The sanding and sealing process can also be used on concrete that has not been chemically stained. Stained concrete floors cost an average of $2,000.
Drawbacks
Though cost effective and extremely durable, certain aspects of a concrete floor may not be what some homeowners are looking for. When a glass falls onto concrete, it is likely to shatter. When a person falls on concrete it hurts. This should be considered before installing a concrete floor in an area where young children will spend a lot of time, such as a kitchen. Concrete is often cold underfoot. Many people with concrete floors find a rug not only helps with this discomfort, but can also really tie a room together.
No Comments Yet