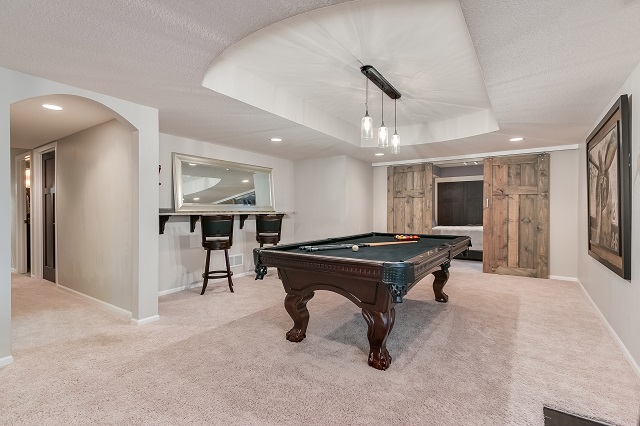 Photo by Finished Basement Copany – Denver, CO

Are you getting the most out of your basement space? Basements don't have to be poorly-lit areas where water heaters sit alone on the concrete floor. A basement could be one of the most versatile spaces in your house. It could be a family room, game room, craft or hobby area, home office — really, anything you wish you had more space for.
That same freedom that allows you to do anything with your basement is also what holds some homeowners back. With so many options, you may struggle to decide exactly what the basement should become. Refinishing or remodeling your basement is a project you should start planning for now, as it can add value to your home and enjoyment for your whole family.
What does refinishing a basement involve?
Finishing or refinishing a basement usually refers to hanging drywall, adding flooring and encasing any duct work or pipes so that the space looks more complete. Your downstairs space will be transformed, but you won't be making any major changes to its layout or utility.
Refinishing is primarily a cosmetic change, but it can do a lot for your home's value. Often, an unfinished basement's square footage cannot be included in the size of your home when you sell, but some areas allow the space of a finished basement to be added to your home's overall size. Even without adding the additional space, the National Association of Realtors estimates that finishing a basement returns 69 percent of your investment.
What will it cost to refinish your basement?
Because basements vary so much in size, cost varies significantly from one project to the next. A typical refinishing will run between $6,500 and $18,500, depending on the space and the types of fixtures and flooring you select.
The schedule for completing a refinishing job depends on how much work is being done and the size of your space. A professional crew might be able to put up drywall and install flooring in just a few days, while a more involved and polished construction could take several weeks.
What does a basement remodel include?
Remodeling is usually more intensive and can involve moving walls as well as adding plumbing and electrical lines. A lot of times, though not always, a remodeling project is done on an already finished basement.
Remodeling projects can also entail dividing a large, existing space into smaller rooms, like a family theater area, an office or craft room and a bedroom suite. The additional rooms can add enjoyment for your family and be extremely attractive to a potential buyer. For example, building a bedroom and bathroom in the basement can add several thousand dollars to your home's value at a lower cost than constructing an addition.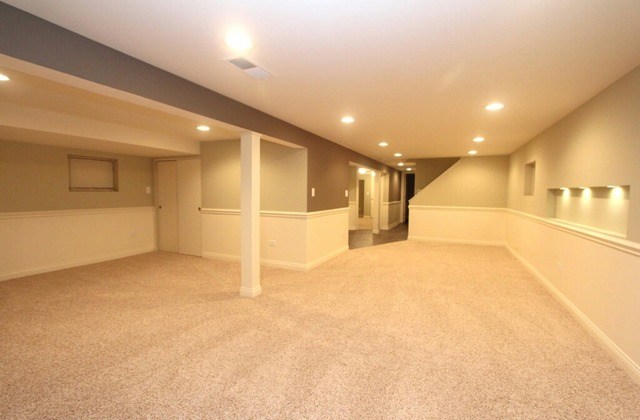 Photo by Costello Homes, LLC

What does a basement remodel cost?
You could spend anywhere from $10,000 to $30,000 for a full remodel that adds to the layout with things like bedrooms, bathrooms. This can quickly become more expensive if you add extras like a wet bar or home theater; these features could also significantly increase your home's resale value, if you plan to sell in the future.
Your timeline can also influence the final cost. If you're in a hurry, a professional remodeling crew can complete all but the most extensive projects in as little as 45 days. In reality you may have to allow more time for sub-contractors to make room in their schedules and materials to be ordered and arrive. If you choose to do some or all the work yourself, a basement remodeling project could take several months.
Imagine having more space to do the hobbies you love or an amazing area to relax and watch movies with your loved ones. Whether you choose to complete some simple refinishing work or you're planning a complete remodel, the ability to better utilize the basement in your home will pay dividends.
No Comments Yet