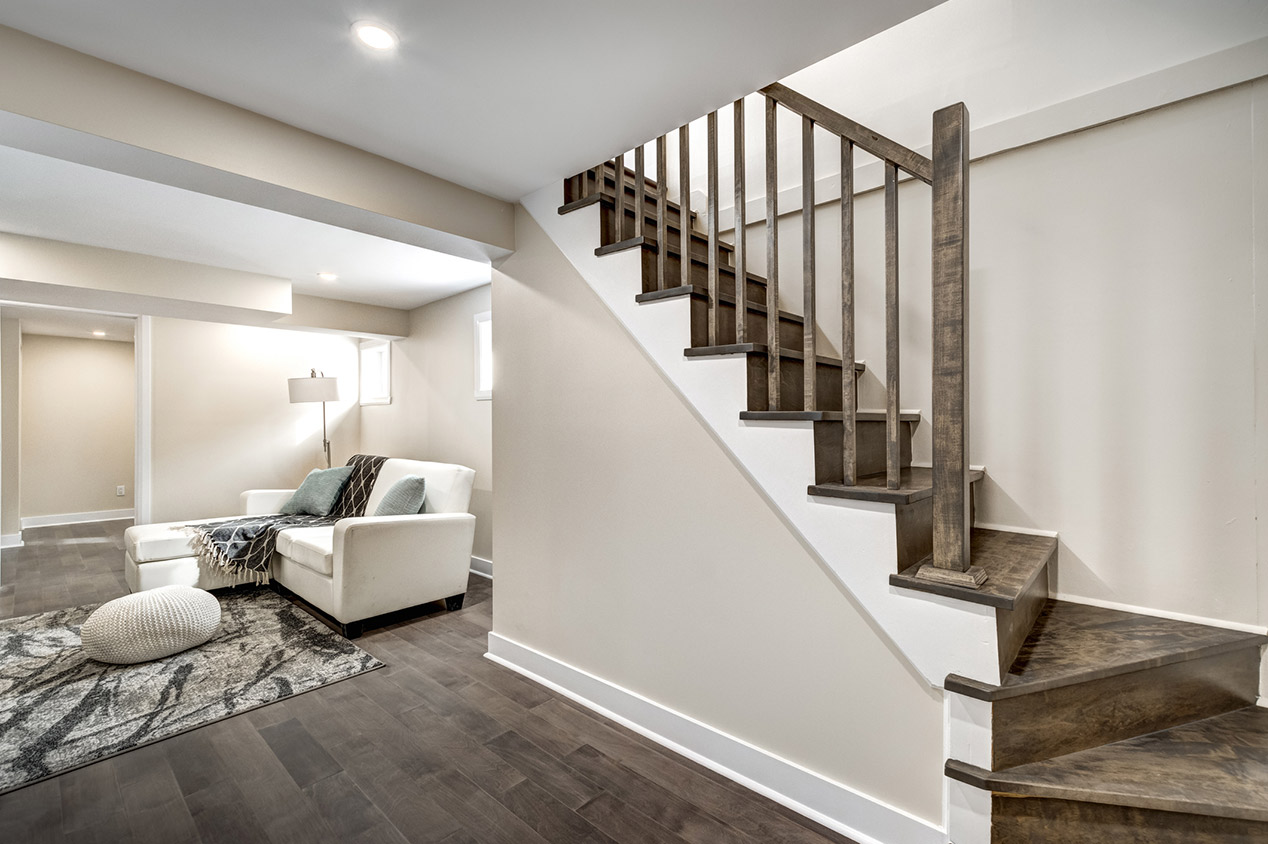 Anatoli Igolkin/iStock/Getty Images Plus via Getty Images
Reviewed by Bob Tschudi, Expert Home Building and Remodeling Contributor.Written by HomeAdvisor.
The main difference between remodeling and refinishing a basement is that refinishing simply "finishes" or makes over the space without altering the use, layout, or structure. Whereas remodeling involves redesigning the space, making structural changes, altering the layout, and changing the purpose of the space.
On This Page:
What's the Difference Between Remodeling and Refinishing a Basement?
Remodeling and refinishing are often used interchangeably, but there are several key differences between the two. The most crucial difference is that remodeling involves reworking the space into something new, while refinishing just involves putting the finishing touches on the existing space, without changing its form or function.
Remodeling a Basement
Remodeling a basement costs more than refinishing a basement because there's more involved in a remodel.
Fully remodeling a basement costs between $10,000 and $30,000, or $30 to $70 per square foot. This includes adding walls to create new rooms, plumbing for a bathroom, ductwork for HVAC, and electrics for a living space. Other tasks included in a remodel include:
Design and architectural plans
Permits and inspections
Waterproofing
Framing
Insulation
Wiring and electrics
Plumbing
Drywalling
Ceiling
Flooring
Finishing
Refinishing a Basement
Refinishing a basement costs $2,800 to $34,000, depending on the complexity and scope of the refinish as well as the size of the basement. The cost works out to between $7 and $23 per square foot.
Refinishing involves hanging drywall, painting, closing in ductwork, adding pipes and wires, installing new flooring, placing electrical outlets, and installing lighting. While these tasks are also included in a remodel, refinishing is done within the existing space. When you refinish a basement, you don't alter the layout, add walls, rooms, plumbing, or change the purpose of the space—you simply give it a makeover.
Start Your Basement Refinishing Project
Remodeling vs. Refinishing a Basement: Which Is Better?
Remodeling a basement isn't always necessary, nor is it always the smartest option. Refinishing is a good way to uplift the space for minimal cost, but isn't always practical without some form of remodeling first. Find out when it makes sense to remodel or refinish.
"The total square footage of a finished basement can be added to the above ground square footage if it meets certain safety and code requirements," says Bob Tschudi, Angi Expert Review Board member and general contractor in Raleigh, NC. "The code is quite specific on things like the minimum size of window, the size of window wells, and so on. If you can meet the requirements, then there is additional value from remodeling."
Cost
A full basement remodel starts at $10,000, although this does include finishing. A basement refinish (without a remodel) starts at $2,800.
If the space is perfectly functional as-is but needs some finishing touches like drywalling, some electrical outlets, and a nice paint job, refinishing is the best option in terms of cost.
DIY vs. Hiring a Pro
Refinishing is generally more DIY-friendly because the jobs don't involve structural changes. If you have the time and skills, you can at least handle the job yourself.
Remember, though, that for anything to do with electricity, such as adding a new outlet, or with plumbing or HVAC, you'll need the proper permits as well as the right set of skills. So, for anything other than the basics like hanging drywall and painting, you're still better off hiring a contractor to finish your basement.
When it comes to remodeling, this is a job definitely best left to the professionals. Hire a local construction manager to take care of the entire project and let them worry about hiring electricians, plumbers, architects and other specialists as well as acquiring permits and making sure the work is up to code.
Appearance
Remodeling and refinishing should result in the same standard of quality finishing, as a remodel isn't complete until the final touches are done. The difference in appearance relates to the purpose of the space. If your basement is open plan and you just want to refinish it and use it as a home theater or a fancy workshop for all your craft and DIY projects, then refinishing is ideal as you can create a light, bright space on a reasonably tight budget.
If, however, you want to create an extra living space for in-laws or a teen, you can't have one big open-plan space. Instead, you'll need to remodel to create a bedroom and/or living area and at least a bathroom.
"You'll also need to have proper egress windows or doors so that occupants can get out and rescue personnel can get in if there is a fire," says Tschudi.
ROI
An unfinished basement cannot be counted in your home's square footage when you're trying to sell. But in some locales, a finished basement can be counted, increasing your home's worth by square footage alone.
Even if the square footage can't be counted, you'll recoup up to 70% of the cost of having a finished or remodeled basement with the resale value it adds to your home.
Which Is Best for Your Home?
It really depends on what state the basement is currently in and what you want from the space. If the basement is already the right shape and layout and has all the ductwork, wiring, framing, and plumbing in place, then a refinish is the right option, as it saves you spending unnecessary money on remodeling when the space is already basically functional. For example, if you need a recreational space or a workshop, you most likely don't need multiple rooms, a kitchen, and a bathroom. So an existing open-plan layout would be ideal.
However, if the layout is all wrong, then you'll have to go with a remodel. Adding rooms or making any other structural changes requires a professional remodel. Similarly, if you're adding a bathroom or kitchen, a remodel is necessary because you have to add plumbing, heating, cooling, and ventilation.
Find a Basement Remodeling Pro
No Comments Yet