On This Page:
Most modern homes take advantage of the benefits of updated manufacturing and materials, containing fiberglass or acrylic bathtubs rather than traditional porcelain-coated cast iron or stainless steel. Affordable, attractive, and durable, fiberglass is nevertheless prone to cracking and pitting overtime. Fortunately, repairing a cracked or damaged fiberglass tub or shower pan is a simple and straightforward DIY job that most homeowners can do to save themselves money over an expensive replacement.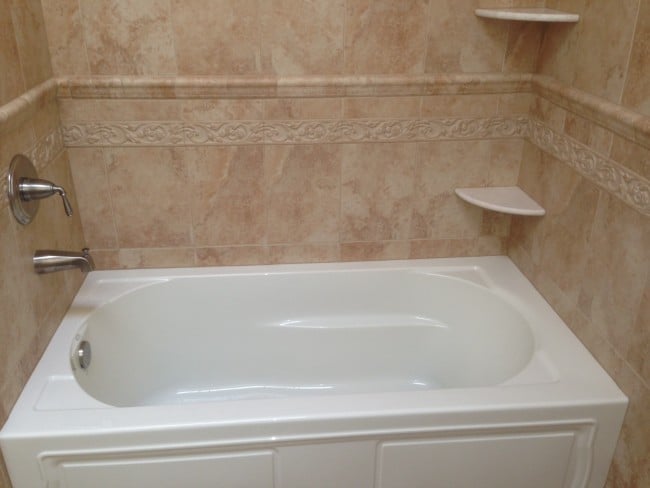 Steps to Repair a Fiberglass Tub
No matter how bad a crack or an indentation in a tub may look, the repair process is the same as if it was a little pit. In either case, it's surprisingly simple. By using a basic epoxy bathtub repair kit with a few essential items, repairing a fiberglass tub takes as little as one day, with most of that time spent inactive as the compound dries.
What to Look for in a Repair Kit
To make your repair simple and stress-free, look for an all-inclusive kit that has everything you need to complete a fiberglass tub repair. Minimally, this should mean all of the following:
Polyester resin/epoxy in putty or paste form
Liquid hardener
Mixing stick and tray or mat
Sandpaper of various grits
Protective gloves
Colorants for common tub hues (i.e. almond, off-white), if needed
Finishing polish
For larger cracks and pits, it may also be necessary to purchase fiberglass mesh. This added layer of support reinforces the putty, making it stronger and less likely to dimple. As a general rule of thumb, use mesh for any crack wider than a quarter-inch or an open hole that is too large to fill in with the resin mixture alone.
Step-by-Step Repair Guide
Filling a small hole or crack in fiberglass is a simple process that only takes all day because the mixture must harden between steps. For this reason, this is a good job to begin in the morning and complete throughout the day between other home improvement projects.
Prepare the area by cleaning the area surrounding the hole or crack. Use rubbing alcohol, acetone, or a similar solvent capable of removing oils, soap scum, and glass fibers.
If using fiberglass mesh, lay it over the crack or hole to measure, and then trim it so that it is slightly larger than the opening it is to cover. More than one layer may be necessary for especially deep holes.
While wearing protective gloves, mix the resin putty and hardener as directed by your repair kit, adding colorant if working with a non-white tub. Use the provided mixing stick and tray and put it atop a piece of scrap cardboard to prevent accidental spills onto porous bathroom surfaces.
Immediately spread the mixture into the crack or hole, or on top of the fiberglass mesh. Take care to work it in thoroughly to get it into all crevices and prevent dimpling. Don't be afraid to pile the mixture atop the hole in an effort to fill it in completely; you will be sanding it later.
Allow the mixture to set up in the hole for 2-3 hours or longer for larger, deeper holes. Once set, use the sandpaper to carefully smooth the surface. This might take some time and elbow grease.
Use the finishing polish to complete the patch and help the new area blend into the tub.
Do You Have a Fiberglass Tub?
If you're not sure if you have a fiberglass tub in your bathroom, use the following test to confirm: knock or press on the outer wall of the tub using your hand or a wooden utensil. During this time, listen for a hollow sound and feel for movement or "give" in the material. If these characteristics are present, you have a fiberglass or acrylic tub. If not, and the sound is more like a thud and the material feels very solid, your tub is more likely ceramic-coated metal.
Repairing a Fiberglass Shower Pan
If you're repairing the fiberglass pan of a shower stall, the method you use to complete a patch is no different than in a larger tub. However, because most of the surface of the shower pan is horizontal and flat, it is possible to repair and reinforce larger holes and pits with scrap plywood in addition to epoxy, but only if you have access to the back or bottom of the pan. Some quick steps are:
Spread epoxy on the plywood and press it onto the crack, from the unexposed side of the pan, to seal it.
Apply the upper layer of epoxy on the exposed surface and sand it down.
Fiberglass Tub Care and Maintenance Tips
Like most home fixtures, when it comes to the health and beauty of your fiberglass tub, prevention is the best solution. The number one way to do this is through regular cleaning with the right type of cleaner and methods. Don't wait until a shower or tub looks dirty to clean it. Instead, commit to a 3-5 minute scrub once a week. Fiberglass responds best to mild soap, like dish soap, or even just a paste of baking soda and water. This is because the coating on fiberglass is thin and subject to wear over time. For this same reason, it is important to never use abrasive cleaners on fiberglass fixtures.
To maintain the luster of a single- or double-piece fiberglass tub, you might also consider giving it a regular polishing using automotive finishing products designed for fiberglass. However, be careful never to use waxing products on the floor of a fiberglass tub or shower, as this poses a safety risk when the shower is in use.
---
1 Comments