April 5, 2021
Reviewed by Jeff Botelho, Licensed Journeyman Plumber.Written by HomeAdvisor.
Bathtub Installation or Replacement Cost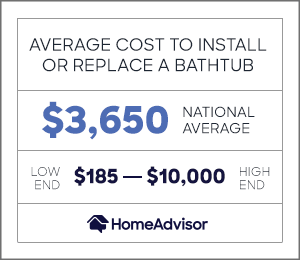 The average cost to install a bathtub is $4,384, but can range from $1,459 and $7,325, depending on the type of tub and modifications needed. The average cost of the tub itself ranges from $200 to $8,500 or more.
Adding a new tub or replacing an existing one can help you create a luxurious spa environment for your entire bathroom. However, this project can also be time-consuming and labor-intensive. Unless you're a skilled carpenter and plumber, it's probably in your best interest to hire a professional to do the job.
Thank you for submitting your feedback.