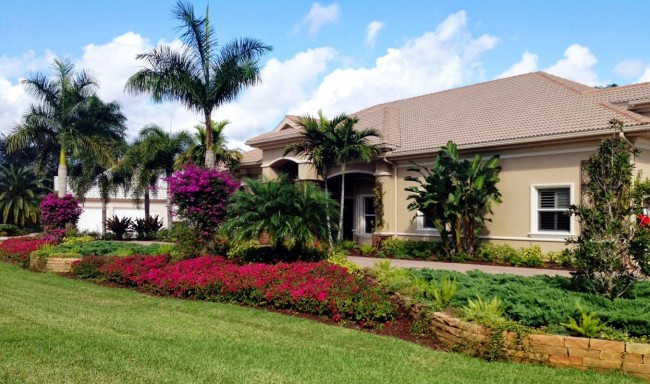 First impressions count for homes as much as they do for people, and your front yard curb appeal is a key factor in making that first impression a good one. If your home lacks curb appeal, you can take several steps to spruce it up; if you plan well, it doesn't have to cost a fortune, either! Here are a few entryway ideas that will enhance how your home looks to passersby, prospective buyers, and, of course, invited guests.
Entryway Ideas and Front Yard Curb Appeal Enhancements
While your entryway and landscaping are probably the most important areas for creating a good first impression, curb appeal encompasses everything visible from the street in front of your home. Tackling it all at once can be overwhelming, but improving just one of the following areas could boost the appeal of your entire home.
Front Door Choices
Your front door should be both functional and attractive; if your entryway door sticks, doesn't lock properly, or is simply an eyesore, there's definitely room for improvement. A good coat of paint is one of the most effective and affordable entryway ideas out there, but if your door isn't functioning properly, hiring a handyman to improve its swing can do wonders. If you're considering door replacement, today's exterior doors can come with energy-efficient windows that allow light in without letting hot or cool air escape. To top off the project, choose an attractive screen or storm door that enhances the entire doorway and allows light and fresh air to enter your home during good weather.
Upgrade Light Fixtures
Outdoor lighting that matches the architectural style of your house will go a long way in increasing your front yard curb appeal. Lights that mount to the house or are fixed underneath the portico make your home inviting for guests; make sure to either light your house number or move your numbers to a well lit area to make finding your home easier for visitors, delivery drivers, and emergency services. Landscape lighting is another important consideration. Here, less is often more as it can detract from your front door. Consider low-voltage landscape lighting; it is easier to install, uses less energy, and often looks better than traditional outdoor lighting fixtures.
Entryway Accessories
Don't skimp on small items such as doorbells, door knockers, and house numbers. A handsome brass doorbell sells for as little as $10, and is a far better option than plastic. Same goes for doorknockers, house numbers, and mailboxes. Keep the finish on all these accessories consistent with each other and with your lighting fixtures.
Landscaping Ideas
Your front yard curb appeal is not going to shine to its fullest without some good landscaping! A small vegetable garden is a very inexpensive addition that adds a lot; similarly, a few potted plants or flower boxes (real estate experts recommend yellow flowers when trying to sell!) can breathe life and color into a hum-drum entryway. Ideas are everywhere; take a drive around your neighborhood and see what features others have included in front of their homes. Perhaps a brick or stone paved path will be the key to better curb appeal. Maybe a fruit tree or bench will be the element that puts your front yard curb appeal over the top. Keep your eyes open when you travel and you're sure to find one or two elements that not only work for other, but will work for you, too!

No Comments Yet