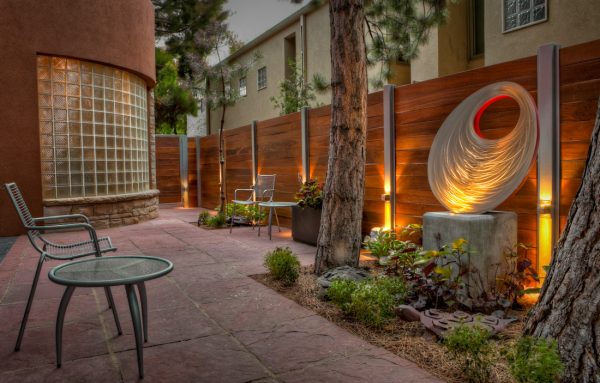 Any gardener will tell you that the best gardens usually involve the placing of "garden bones." Garden bones are more permanent structures that you build the rest of your garden around. This can be something as organic as evergreen trees or as stylized as metal garden art. Of course, garden art can function as more than just the framing structure for your garden. It can provide you with a place to sit or lounge as you enjoy your garden or simply enhance the stroll through your backyard.
Custom Garden Art
You may have a very specific idea of what you want. Garden styles are various and prescriptive, and by the time you add your own touch to the appearance of your garden, you may have trouble finding what you're looking for. It may not occur to you, but contractors are out there who specialize in customized decorative pieces for your home. You can tell them the material you want and the design you want and they can make it for you. Depending on what you want, you may have to pay a premium price, but if you're working within a budget, the contractor may have suggestions to produce something similar within your price range.
Use Recycled Items for Garden Art
Recycled items may not be the first thing that comes to your mind for garden art, and admittedly, it's not for everyone. If you're looking for a way to spruce up your garden on a truly limited budget, this may be the way to do it. Old newspapers or soda cans aren't going to work, but any number of household items can be reused as garden art long after they've worn out their welcome indoors. Old furniture, especially unique coffee tables, storage cabinets, or baby cribs, can be garden gems. Plus, you'd be surprised how your old bathtub can be transformed into a beautiful piece of garden art. Even though newspaper doesn't last and has no particular visual appeal, other household items such as old clothes, book covers, or other flat items of possible sentimental or aesthetic value can make for one amazing scarecrow.
Garden Art Alternatives
Garden art can be almost anything, even when it's not called garden art. Garden furniture, most commonly benches but also tables and chairs, is great for livening up your garden with an artist's touch. Trellises or other walkway coverings are an ideal way to create a secluded, romantic atmosphere to your garden. Birdbaths, bat houses, and other artificial wildlife habitats can be just as decorative as any other piece of art and are just as integral as the flowers you plant to create a wildlife garden.
Metal Garden Art
Metal may seem like a strange material to include in your garden, but it offers a flexibility and affordability that few other materials can. Be it a classic wrought iron bench or gate, or a more custom metal sculpture, you're bound to find some piece of metal garden art that will greatly enhance the look of an outdoor space. Metal fabricators can create a wide variety of customized metal garden art, including animal sculptures and other complicated and decorative designs. For larger garden items, such as gazebos, a metal like aluminum may be the only way to make the project feasible, as it is a lot cheaper (and more durable) than wood.
No Comments Yet