Keeping your home comfortable even when temperatures drop needs a good heating system, and selecting the right one requires some careful research. Two popular home heating systems in North America are heat pumps and furnaces. These systems can often be confused with one another, but they're quite different. In this guide, we'll discuss the unique attributes of heat pumps and furnaces, their pros and cons, and which one is best for your home.
On This Page:
Forced Air Furnaces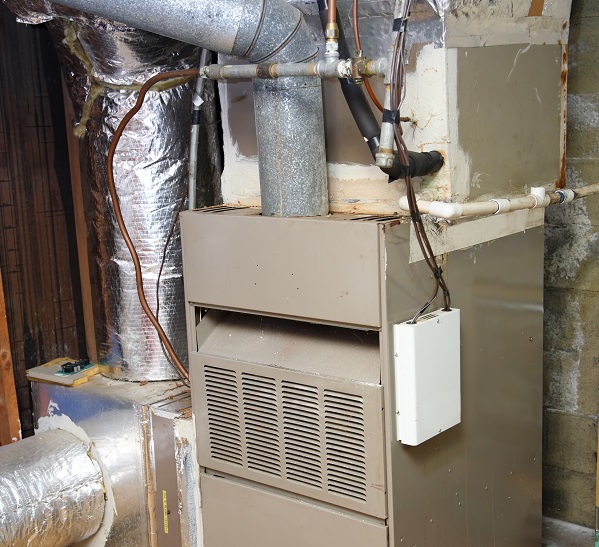 Forced air furnaces are one of the most popular heating systems installed in the US. They can run on electricity, oil, or gas. The key attribute of a furnace is that it uses a flame plus a medium (oil, gas, etc.) to distribute heat through air ducts and vents. When the air cools, it's recycled back to the furnace to be reheated and redistributed. Here are the types of forced air systems available.
Gas/Natural Gas
A gas system needs a pilot light or ignition to combust the gas for continuous heat. As a safety precaution, a heat exchanger blocks any dangerous combustion elements from entering the air. The cost of gas heating depends on the market prices. It's usually delivered through an underground pipeline, so you won't have to fuss with refilling a tank.
Electric Furnaces
Electric resistance furnaces simply use electricity to heat the air and send it into your home. The blower and element activate when you turn up your thermostat to match the desired temperature. This system allows homeowners to avoid the chore of ordering propane.
Propane & Diesel Fuel
These run on the same principles of combustion to heat the home. Fuel can come in the form of diesel (often called oil) or propane. Oil systems are old-fashioned and are common in older homes, while propane is its costlier but effective counterpart.
Forced Air Electric Heat Pump
Electric Heat pumps are different from furnaces in one big way. There is no pilot light or combustion involved. Instead, external heat, pulled from outside or the ground, flows into the home. A compressor takes heat from the outside and uses a refrigerant to convert it into gas. This gas circulates through a coil that condenses the heat which heats the air, which the blower motor sends into the home. There are two main types of electric heat pumps.
Air Source
This is an economic choice for mild climates as it does double duty as an air conditioner and heater. It draws on air from the outside and converts it to either hot or frigid air. This system is incredibly efficient when temperatures are above freezing but needs more energy to keep a home warm when temperatures fall below freezing.
Ground Source/ Geothermal Heat Pumps
Ground source units are also known as geothermal heat pumps. It functions just like the air source heat pump except that it draws heat from the ground. This is a more expensive unit but it's also more efficient because it draws from the constant temperatures underground.
Can Heat Pumps Run on Electric and Gas?
Heat pumps can also run on gas. Gas heat pumps, also called absorption heat pumps, run on a natural gas engine. Gas heat pumps differ from electric heat pumps in these ways:
They don't use refrigerants like electric heat pumps.
Gas energy can be less wasteful than electric heat pumps if you live in an area where natural gas is affordable.
Like electric heat pumps, they're more efficient than furnaces in temperate climates.
Mini-Split or Ductless Pumps
No ducts? No problem. A mini-split, or ductless heat pump system, doesn't need ducts. These systems come with an outdoor compressor and an indoor unit that sends hot or cold air into your home. A hole makes way for a conduit to connect the compressor to your home's interior. Here are some of this its benefits.
Stops energy loss through ducts.
No ducts are good for people with allergies since no dust gets trapped.
Mini Splits are ideal for add-ons or historic homes.
It's costlier to install than a standard heat pump.
NEed Help Deciding from an HVAC Pro?
What are the Differences between the two HVAC Heating Systems?
How do furnaces and heat pumps compare? This next section will compare all the different systems already mentioned in categories relevant to homeowners.
Local Climate
The best system for your property will depend on where you live.
Heat Pump
Pros
It's over 100% efficient in temperate climates and can serve as both a heater and air conditioner.
If your winters average around 30-40 degrees F, heat pumps are the perfect fit for your home.
Cons
This system doesn't fare well in extreme heat or cold.
If there's a huge temperature differential in either direction, it will need more energy to keep the desired internal temperature.
Frost can also affect the outdoor compressor's efficiency.
Furnace
Pros
Newer models can be up to 98% efficient in heating the home.
They fare better in extreme climates because they don't depend on the outdoor temperatures to convert to heat.
If your winters are bitterly cold and have temperatures consistently below freezing, this is the right system for your home.
Cons
You'll need a separate cooling system to beat the heat in the summer.

Winner in the Temperate South: Heat Pump

Winner in the Cold North: Furnace
Costs
Heat Pump
Annual operating costs for highly-efficient models are around $850 for both heating and cooling. Expect the costs to go up or down depending on the size of your home and the quality of your heat pump system.
Average heating costs per year for electric Heat pumps: $500.
Average heating costs per year for geothermal heat pumps: $259.
Energy efficiency will take a nose dive if the auxiliary heat ever activates, which can happen when temperatures fall below freezing. In fact, the electric strip backup costs up to 5x more than the regular heating mode.
Furnace
This system is great for cold climates because you won't need to switch to auxiliary heat when temperatures drop.
If you have harsh winters, you'll save more money with a furnace since the heating system is more efficient below freezing than a heat pump.
Fuel and natural gas prices will fluctuate based on market prices. Electricity is more stable in costs. Here are the costs for a season of heating a home:

Propane: $1,550
Natural gas: $850
Electric resistance: $900
Oil: $820

Winner: Tie!
Installation/ DIY-able
Can you install the system yourself or should you hire a heating pro?

Heat Pump
Pros
Though it's possible to make this a DIY project, experts highly caution homeowners to not try a DIY heat pump installation unless they're highly experienced.
Cons
Installing a heat pump system from scratch is even more difficult than replacing an existing unit because it requires extensive knowledge.
The average cost of a heat pump system alone ranges between $700-$2,800, while the system plus installation costs between $5,000-$8,200.
Furnace
Pros
It's possible to switch out a furnace yourself if you have the rest of the system already installed, but you'll need some experience and the right tools to do the job well.
The average cost of a furnace is around $660, with the system plus installation averaging at $1,950.
Cons
If you need to install a furnace from scratch, call a professional. The process can be just as complicated as installing a heat pump.
Proper installation will help avoid common pitfalls.

Cheaper to Install: Furnace
Size
Which system takes up less space in your home?
Heat Pump
Pros
The bulk of this system is outside, but some components like the indoor coils and the backup heat are inside your home.
In general, it's slightly less intrusive than a furnace.
Mini splits don't need ducts, so they're great for saving space indoors.
Cons
You'll need space in your home (basement, crawl space, mechanical room) for the indoor coil unit and any backup furnace.
Furnace
Pros
Newer systems are more efficient and take up less space than older models.
If you live in a climate that rarely needs to use the air conditioner, you can get by with a furnace and window units.
Cons
You'll need to accommodate a fully functional furnace inside your basement, crawl space, or mechanical room.
These are larger than the indoor components of heat pumps.
If you need an air conditioning system, you'll also need to devote space to it outside.

The Most Flexible: Heat Pumps
Need Installation Help from a Pro
Energy Efficiency
Three acronyms can help you understand system or model energy efficiency:
AFUE: Annual Fuel Utilization Efficiency. An AFUE of 85% means that 85% energy becomes heat, while 15% is lost. Note: a system's AFUE doesn't account for heat losses in ducts, which can be up to 35% more after the initial AFUE percentage.
SEER: Seasonal Energy Efficiency Ratio. This scale, which starts at 1, measures the cooling output divided by electricity used. The higher the number, the more efficient it is. Only heat pumps and air conditioners use this scale.
HSPF: Heating Season Performance Factor. This scale is basically the "SEER score" for heating. It's only attributed to heat pumps.
Heat Pump
AFUE: In climates with moderate temperatures: over 100%.
SEER: The new standard for heat pumps is 13 SEER which marks significant savings in cooling, but older units can have 8-10 SEER scores.
HSPF: A standard heat pump has an 8.7 while a high-efficiency one has a 9.5, showing that it's less efficient in heating.
Furnace
AFUE: varies between 55% to over 95% depending on what type of fuel and furnace you use. This is the only measurement for furnaces.
Older and less efficient systems will fall between 56% to 70% AFUE.
These are the rates for average efficiency furnaces.

Gas: 80%
Fuel: 80%
Electric: 95%-100%

Most Efficient (except in cold climates): Heap Pump
Energy Savings
Which system is better for your utility bills?
Heat Pump
Pros
Heat pumps are a boon for your energy bills if you live in an area with winters that average above 35 degrees.
In this case, homeowners can experience a system that's over 100% efficient year-round with a newer heat pump.
Cons
If you get an unexpected cold snap and have an inefficient backup system, expect to pay top dollar for auxiliary heating.
It's common for homeowners in traditionally warm climates to receive a $500 heating bill for just one month if they use auxiliary heat too much during a cold snap.
Furnace
Pros
If you live in a cold area, furnaces will keep you comfortable without the inordinate and unpredictable costs of a heat pump's auxiliary heat.
Oil and propane fuel deliveries will refill the tank on an as-needed basis.
Cons
Costs for fuels like propane and natural gas can fluctuate, making the price of keeping a warm home costlier at various times.
Homeowners should research which energy source is the most affordable for their area.

Winner: Heap Pump in temperate & Furnace in freezing weather
Maintenance & Repairs
Heat Pump
Average cost to repair a heat pump: around $350 per incident.
High to low ranging between $1,200-$70.
Average repair range is $150-$550.
Forced Air Furnace
Average cost to repair a furnace: Around $280 per incident.
High to low ranging between $900-$60.
Typical range between $130-$450.

Most Affordable to Fix: Furnace
Safety
Heat Pump
Pros
Heat pumps run on electricity, therefore they don't have any CO2 risks.
Cons
Electric heat pumps can leak refrigerant when idle. If this occurs, you should call a professional at once and have no contact with the liquid as it can cause health problems.
You'll know when there's a leak when your system is not running well, but you should also get regular inspections.
Forced Air Furnace
Pros
When it's installed correctly, furnaces have backup protection systems that guard against fumes entering the home if the pilot does not light.
Cons
If any backup systems fail, there are fumes and CO2 risks.
Propane and gases have higher risks for explosions, while electric furnaces don't carry that risk.
Don't use gas furnaces in small square-footage areas for these reasons.

The Safest: Heat Pump
Get Estimates for Your Project from a pro
Dual Fuel or Hybrid – Heat Pump and Furnace Combo
Dual fuel or hybrid systems are best for homes situated between temperate and cold climates. Hybrid systems have the perfect backup heat that keeps your house sufficiently warm without burning expensive auxiliary heat. Though combo units are more expensive than regular heat pumps, you'll win in utilities and comfort in the long run. Backup heating can come in three forms; a gas, fuel, or electric furnace unit. The furnace component can help you reach warm temperatures more quickly and affordably than auxiliary heat.
How to Tell Which System You Have
The quickest way to tell is to look at your thermostat. Do you have an emergency heat option? If so, you have a heat pump. If not, the signs point to having a furnace.
Heat pumps should be outside, while furnaces are usually in a basement, crawl space, or mechanical room, though they can be outdoors. When in doubt, look at the product label and do a quick Google search to confirm what kind of system it is.
Which is Best for Your Home & Location?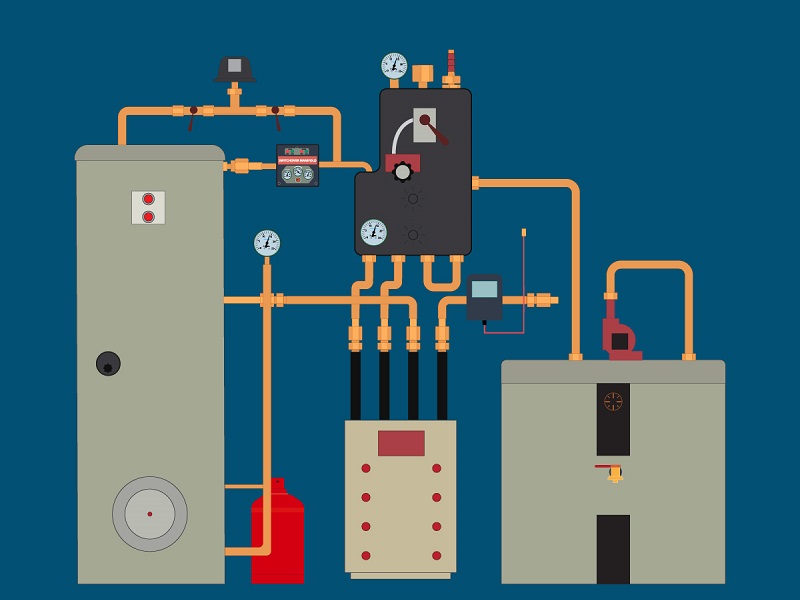 Warm climates and coastal areas: Heat pump
States included in this area: California, Arizona, Montana, New Mexico, Texas, Oklahoma, Louisiana, Mississippi, Alabama, Georgia, Florida, South Carolina, North Carolina, Virginia, Kentucky, Tennessee, Hawaii, Missouri, Delaware, New Jersey
Find a heat pump installer near you.
Temperate climates with some cold months: Combo/Hybrid system
States included in this area: Nevada, Utah, Kansas, Nebraska, Indiana, Ohio, West Virginia, Maryland, Pennsylvania, Iowa, Illinois, Maryland
Find a HVAC installer near you.
For cold climates with a few warm months: Furnace with air conditioner or hybrid system
States included in this area: Colorado, Wyoming, Minnesota, North Dakota, South Dakota, Montana, Wisconsin, Michigan, New York, Connecticut, Rhode Island, Vermont, Maine, Massachusetts, New Hampshire, Washington, Oregon, Idaho
Find a furnace installer near you.
Other HVAC Systems
Gas Packs
Gas packs are a combo/hybrid system that has both heating and cooling elements in the same unit. Electricity and the heating system power the air conditioning using propane, gas, or oil. Gas packs are also installed on roofs in areas where there's little to no snow accumulation.
Convection Heating
Convection heating systems are the predecessor to forced air. It's like a forced air system without the help of a blower fan to move the warm air around. There are a few systems that use convection, like wall convection units, oil heaters, and electric baseboards. They send slow trickles of heat into a room and are better suited for small apartments or homes that rarely need a strong source of heat.
Radiant Heating from a Boiler
Boilers usually power radiant heating systems. They use water or steam instead of combustion. Boilers send steam or hot water through pipes to radiant baseboards, wall, floor systems, or coils. Radiant heating doesn't send air through vents but simply heats a surface that emits a strong heat. Radiant heat warms up objects and people more quickly than it heats the air and is incredibly toasty in extremely cold climates where forced air loses too much efficiency through ducts.
Water Heaters or Hydronic Coil
Hydronic coil systems pump hot water through a heat exchanger that then heats the air in the home. This system is more common in Europe than in North America.
Electric Baseboards
Convection baseboards run on electricity and are ideal for small rooms. They're cheap to install but aren't energy-efficient. They're suited for climates where you don't need heat often, as it only sends a small flow of heat in the room through a long metal framework through convection.
Heat Pumps vs. Air Conditioners
Heat pumps do double duty as heaters and air conditioners through the outdoor compressor taking heat from the outside (or ground) and converting it to hot or cool air with the help of a small indoor unit. Air conditioners, on the other hand, may look like a heat pump's compressor but will only create chilly air.
Looking for an HVAC Professional?
Best Brands & Models
Heat Pump
Furnace
Combo Units
Trane
Trane
Trane
Carrier
Carrier
Carrier
American Standard
American
Standard
Armstrong
Lennox
Lennox
Lennox
Bryant
York
Daikin
Coleman
Goodman
Maytag
1 Comments