New Heat Pump Cost
The average cost to install a heat pump is $5,613, typically ranging from $4,068 and $7,160 depending on the size of and type you need. Mini-split systems run up to $14,500. Geothermal and solar tend to cost the most at $6,000 to $40,000. Except rare cases, pros include all materials, equipment, permits and labor in the project bid. For labor alone, expect 15 to 25 hours to install at $75 to $125 per hour.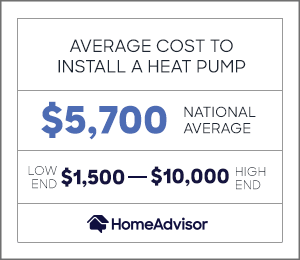 Because heat pumps run more efficiently than most furnaces, installing one can lower your heating bill by as much as 50%. As a bonus, it can replace a central air conditioning unit. For those of you in northern climates who already have a furnace, keep it on hand as a backup for extreme cold snaps since pumps don't do well below freezing.
Thank you for submitting your feedback.