July 16, 2021
Reviewed by Robert Tschudi, Home Building & Remodeling Expert.Written by HomeAdvisor.
New Heat Pump Cost
The average cost to install a heat pump is $5,613, typically ranging from $4,068 and $7,160 depending on the size of and type you need. Mini-split systems (installed) cost from $2,000 $14,500. Geothermal and solar tend to cost the most at $6,000 to $40,000. Except rare cases, pros include all materials, equipment, permits and labor in the project bid. For labor alone, expect 15 to 25 hours to install at $75 to $125 per hour.
For most homes, a centralized heating/air conditioning system is installed with ducts to deliver the conditioned air to all interior spaces. To do this, homeowners have several choices, including gas furnaces/packs (which both cool and heat air) or heat pumps (which also cool and heat air). There are several types of heat pumps—the ductless mini-split described above, the "air-to-air" heat pump, the geothermal heat pump, and solar heat pumps.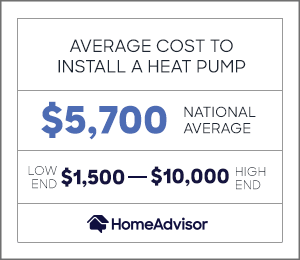 Because heat pumps run more efficiently in warmer climates than most furnaces, installing one can lower your heating bill by as much as 50%. As a bonus, it can replace a central air conditioning unit. For those of you in northern climates, note that heat pumps don't do well below 40 degrees Fahrenheit.
As a rule of thumb, heat pumps are more efficient for areas where the temperature is warmer (above 40-degrees Fahrenheit low) and gas furnaces are more efficient for colder climates. But there are many opinions and factors to consider. Ask your HVAC technician for the pros and cons of each.
Thank you for submitting your feedback.