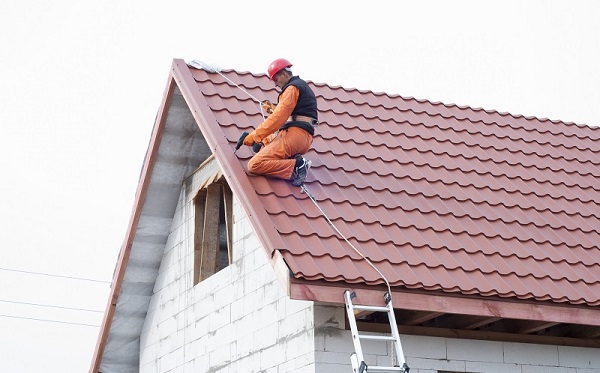 Reviewed by Bob Tschudi, Home Building and Remodeling Expert.
On This Page:
Questions to Ask a Roofer
Hiring a roofer is one of the most important decisions you'll ever make for your home. Few projects have a greater impact on energy-efficiency, long-term inhabitability, and homeowner peace-of-mind.
Roofing can often feel like a grudge purchase – something you need but take for granted. It's natural to feel disinterested as people don't usually comment on how nice your roof is. Since it's such an important part of your home, you need a pro who will install, repair or replace correctly. Here is a list of questions that can help you save money and aggravation when it's time to put on a new roof.
Things to Ask When Getting Roofing Quotes
The cost to install a roof runs about $7,600 on average. The total is often the first thing homeowners think about, but it's just one part of the hiring process. Don't rely on a verbal quote. Ask for all pricing information in writing, with a date if possible.
To get accurate estimates, ask these questions:
Which areas of my home do you need to inspect to provide an estimate?
May I have a detailed breakdown of each expense?
How does the material affect installation costs?
Can you quote a price for possible repairs common to roof installation or replacement?
What is the cost of roof removal?
Does the estimate factor in material price increases?
For hail or wind damage, how much will my homeowner's insurance cover?
What Else to Ask a Roofer Before Hiring
Roofing contractors must follow state guidelines to offer services. You want to verify that they follow the law and will work to ensure a satisfactory completion on your project. Ask these questions and follow up on the answers:
What is your legal business name and address?
In municipalities that require it, do you hold a current license as a roofing contractor?
Which types of insurance do you have, and how much coverage do you carry? At minimum, you want your contractor to have general liability and workers' compensation insurance.
Are you bonded? This covers unpaid subcontractors and suppliers.
Will you provide at least three references for my research?
What warranties do your preferred manufacturers have?
What are the rules on filing a warranty claim?
Do you guarantee your work?*
Will you perform roofing repair or maintenance?
How will you protect your workers' safety while on my property? You want them to be OSHA compliant.
What steps will you take to avoid damaging my home or property during installation?
How will you ensure the project is completed on time?
* Some contractors don't offer guarantees. They could still be a reasonable choice, but you want to know their limits before hiring them.
Questions to Ask a Roofing Company
Working with a roofing company isn't the same as hiring an independent contractor. These questions can help you get a sense for how the company will work on your project:
Who will be completing the work?
If you hire subcontractors, what is their contact information?
What are the qualifications of the workers coming to my home?
Can I speak to the roofer in charge before starting the project?
Who do I contact for questions or updates?
Hiring a Roofing Contractor
Research Roofing Options
When hiring a roofer, it's often best to start by researching various materials and systems before talking to contractors. Many roofs aren't installed according to the manufacturer guidelines. This is a handy piece of information to get before asking pros for recommendations.
You don't need to understand everything about roofing, nor do you need to have the answers about the style you want. But you need to be able to ask the right questions. Otherwise, you'll have no idea which contractor is right for you. The most important skill you want is competent flashing—that's where the roof intersects with vertical structures, such as chimneys, dormers, and other roof components. Flashing is where the leaks happen and installation has to be precise to be correct.
Contact Multiple Contractors
Contact several roofers and request an on-site estimate. If possible, call them during the off-season, usually winter. They'll probably have more time to talk with you in-depth. They may even offer a discount for signing onto the project early.
Ask to see projects they have completed in your area and talk to the homeowners. Consider skill and experience over a cheaper hourly rate. An inexperienced, inexpensive roofer who doesn't install it correctly will just cause you to hire someone else to fix the mistakes.
Balance Costs and Value
It may be easier to think of the process as a game that requires you to balance your budget against what you want. Try asking yourself these questions:
What's the least amount you need to spend over the next 20 years, while still having an aesthetically pleasing roof?
Should you buy that premium metal roofing to minimize your summer cooling expenses?
How costly will repairs be if you select basic asphalt?
How much will you save over other high-end materials if you choose the more sophisticated laminate asphalt for your roof?
Once you have some ideas and a budget, crunch the numbers with your roofer. Then, you can make a decision with an informed strategy in mind.
Establish Expectations
Consult with your roofer about which materials are best for your home. You'll also want to establish expectations for project length (subject to weather) and communication throughout the project.
Try to secure a warranty on the work. Be sure to separate manufacturer and contractor guarantees. The manufacturer only covers defects/failures in the roofing products, and usually doesn't guarantee a bad installation.
Stay Informed During Installation
If you've done your homework choosing a product and an experienced roofer, the installation will be a stress-free process on your part. Plan to inspect the work done on your home every day, even if you're not present during the work. Keep in touch with the contractor or project manager so you'll know how things are going.
It wouldn't hurt to offer the workers something to drink if you're there. Some homeowners put out a cooler with bottled water and ice every day of the job. A little extra courtesy will go a long way to ensure these workers treat your property with immaculate care and continuous respect.
Roof Replacement Checklist – Prep Steps
Before your roofing professional shows up on the first day of the project, you have some work to do. Here's some tips to help you have a smooth start:
watch the weather forecast
let your neighbors know the schedule
move vehicles and portable equipment away from the home exterior
cover the items in your attic
trim the grass so fallen nails are easier to spot
secure furniture inside the house
locate outlets on the outside of the home for the roofers' use
make a plan to remove or reinstall satellite dishes or antennas
No Comments Yet