Photo: RgStudio / E+ / Getty Images
Maintaining your home can feel like a full-time job. As chores change on a monthly and seasonal basis, it's hard to remember everything that needs to be done. Keeping a regular home maintenance checklist and schedule will ensure that your house is in order year-round.
Spending time each month on a handful of tasks will keep your home looking great and functioning well, and can save you from unforeseen damages. You can follow the simple steps outlined here to save money on costly home repairs, reduce your energy consumption and extend your appliances' lifespans.
If any jobs on your maintenance checklist don't fit your skill-set, you can also hire a local general contractor at a reasonable rate so each area of your home receives the proper care it needs.
Monthly
By organizing a regular home inspection and cleaning routine, you can be sure that you're never overwhelmed with maintenance tasks.
Here's a monthly checklist to accomplish for a safer and more efficient home:
Make sure your fire extinguishers are easily accessible, have sufficient pressure, and have an intact pin and tamper seal.
Replace dirty HVAC filters for more efficient temperature regulation.
Vacuum any bathroom exhaust fans, intake panels, heat registers, and vents to improve indoor air quality throughout the house.
Clean the garbage disposal/kitchen drain with a mix of baking soda and vinegar. Add lime, lemon or orange peels to eliminate any odors and ice cubes to sharpen the disposal's blades.
Rinse your stovetop vent with a mix of degreaser and hot water for better airflow.
Unclog shower, bathtub and sink drains using a snake or drain cleaner to remove debris and prevent build-up and water pooling.
Dust surfaces in your home (tables, window blinds, etc.) to prevent dust build-up, remove allergens and extend the lives of your HVAC filters.
Clean your dryer duct with a vacuum and vent brush to remove a potential fire hazard and save about $20 per month on your utility bill.
Check your water softener. If it's a salt softener, add salt once every three months.
Monthly Home Maintenance Checklist Printable
You can use this free printable checklist to keep track of all your monthly household chores.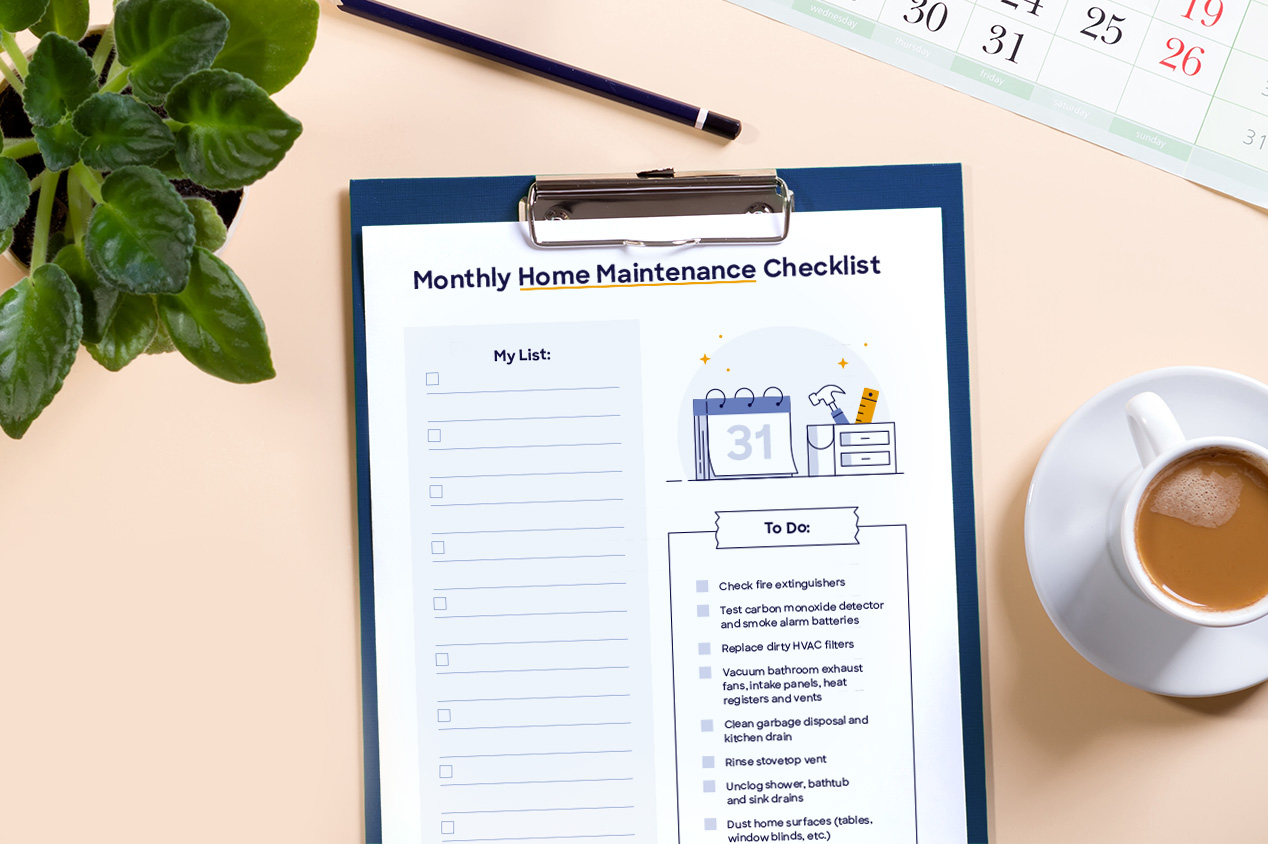 Spring
Photo: Popartic / iStock / Getty Images
We're all familiar with "spring cleaning," but after enduring months of harsh winter conditions, your home will also need interior and exterior upkeep.
Use this spring maintenance checklist to address any seasonal damage and prepare your home for sweltering weather and rainfall:
Restock your first aid and emergency preparedness kits.
Get your AC unit serviced by an HVAC professional. Spending ​​$125 to $175 per year on an inspection can extend your unit's lifespan and save you thousands in repair or replacement expenses.
Clean your home's siding and windows with a pressure washer or scrubbing pad to prevent mold or mildew from building up.
Check the exterior drainage to make sure water flows away from your home. If not, there are DIY drainage kits that are easy to install—or, you can hire a local drainage installation professional.
Clear your gutters and downspouts of any accumulated debris to prevent water from pooling on your roof and to protect against potential damages from leaks or overflows.
Trim and prune the trees, plants, and shrubs around your yard and AC unit, and make sure power lines near your home are unobstructed.
Inspect your roofing for leaks and any damaged, loose or missing shingles. Repair or replace as needed, or consider hiring a roofer.
Check sprinkler heads for damage and remove insulation from outdoor water faucets.
Examine the lawn sprinkler system for leaky valves, exposed lines, or malfunctioning sprinkler heads and test to see if the yard receives water evenly.
Fix or replace damaged window screens and door screens to prevent bugs from entering your home.
Chimneys should be inspected and cleaned at least once per year. You can contact a local chimney sweep for expert cleaning and inspection.
Reverse your ceiling fans so they rotate counter-clockwise and force cold air downward.
Spring Home Maintenance Checklist Printable
Here is a printable resource so you can cross off every item on your spring home maintenance checklist.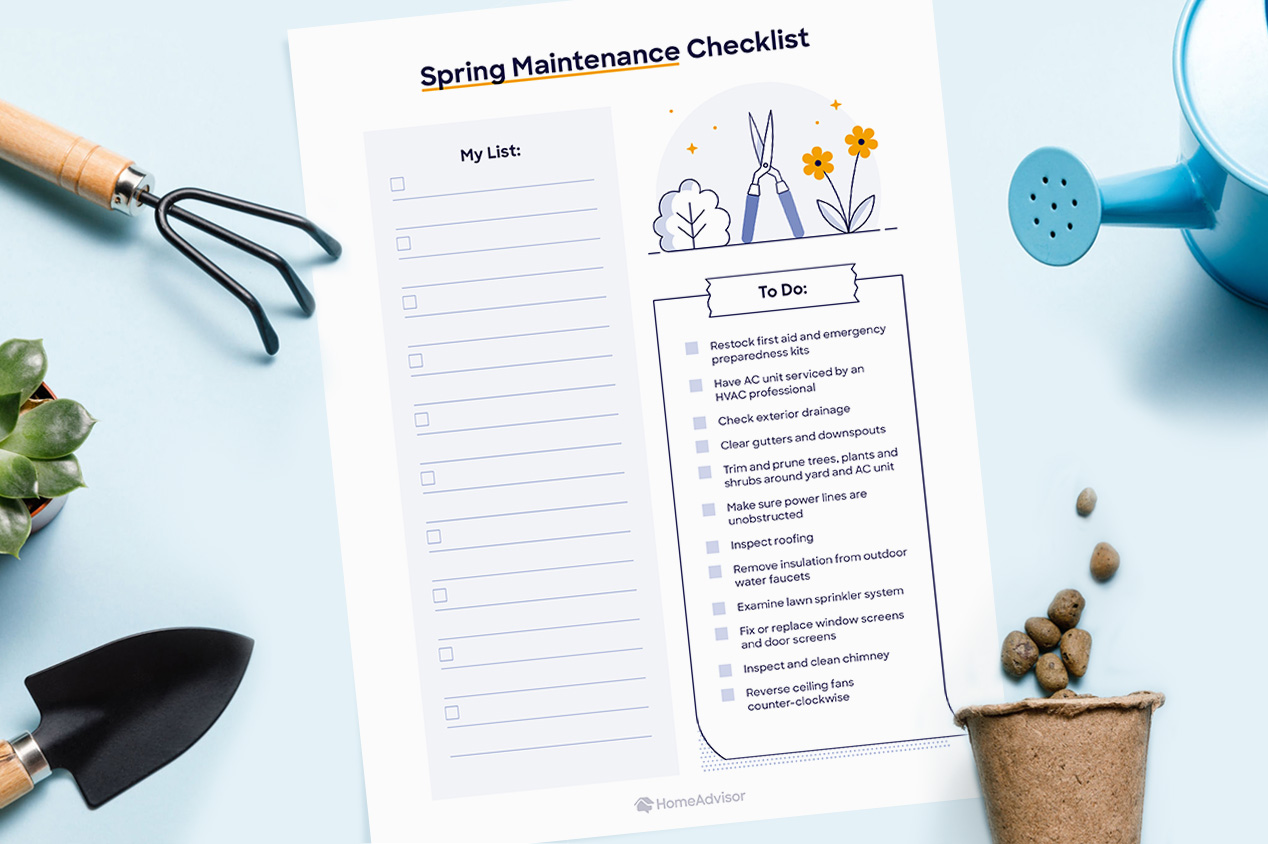 Summer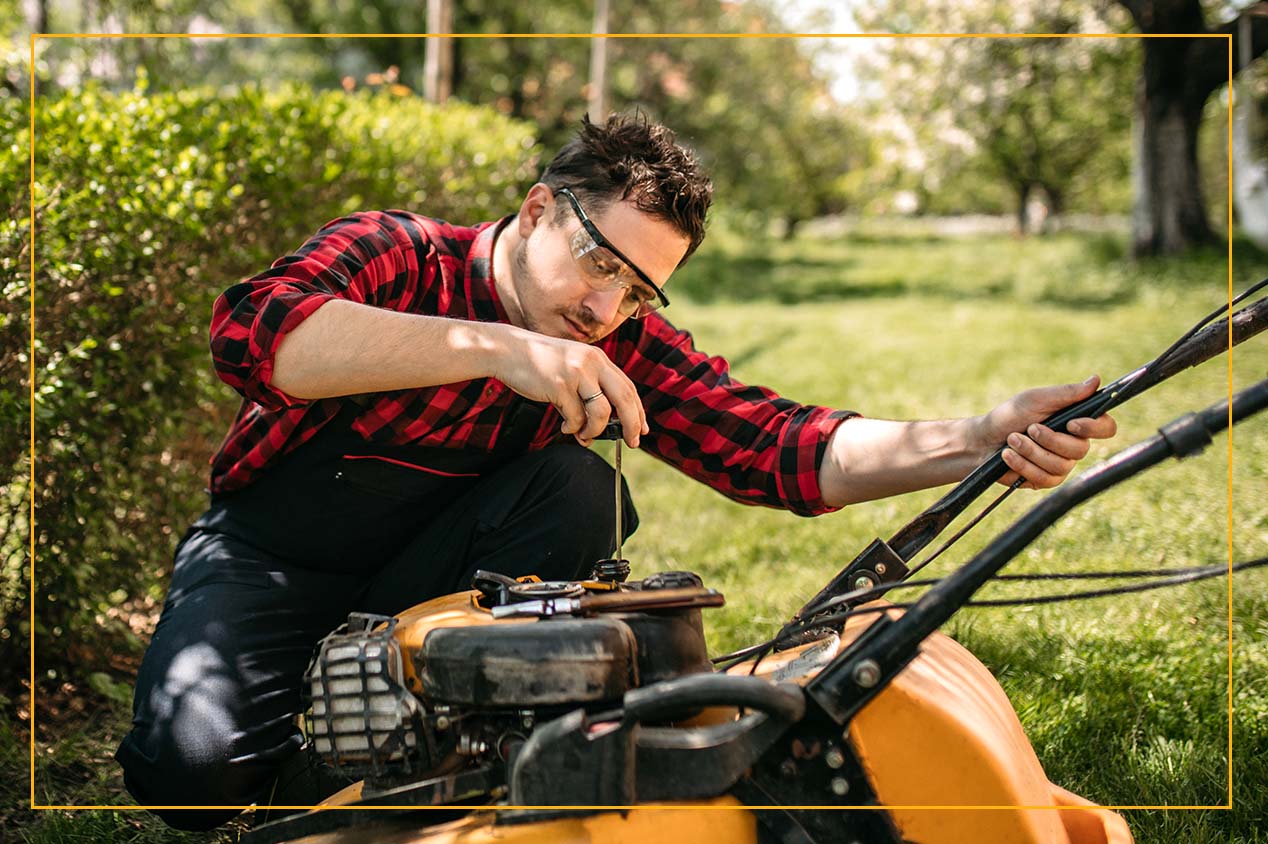 Photo: hobo_018 / E+ / Getty Images
With longer days and warm weather, summer is an ideal time for taking care of outdoor chores and cleaning up areas inside the house that may have been overlooked in the colder seasons.
Here is a quick summer home maintenance checklist of tasks to complete at the beginning of the season so you can focus more on leisure activities with peace of mind.
Apply oil to your garage door chain, garage door, and door hinges.
Organize and clean your garage to free up space and remove dust or mold build-up.
Clean behind your refrigerator and vacuum the freezer coils to remove dust and keep the refrigerator's cooling system operating smoothly.
Reseal the tile grout in your home (e.g., bathrooms, kitchen) as needed to prevent dirt and water from getting between tiles, provide a better look and extend the tiled surfaces' lives.
Clear out basement window wells of accumulated debris.
Thoroughly scrub or power-wash your deck/patio area. Check the floorboards to see if they need restaining or if any are loose and need replacing.
Mow and weed your yard to keep your lawn well-maintained and prevent animal and bug infestations.
Summer Home Maintenance Checklist Printable
Print out this free checklist to stay on top of your summer home maintenance chores.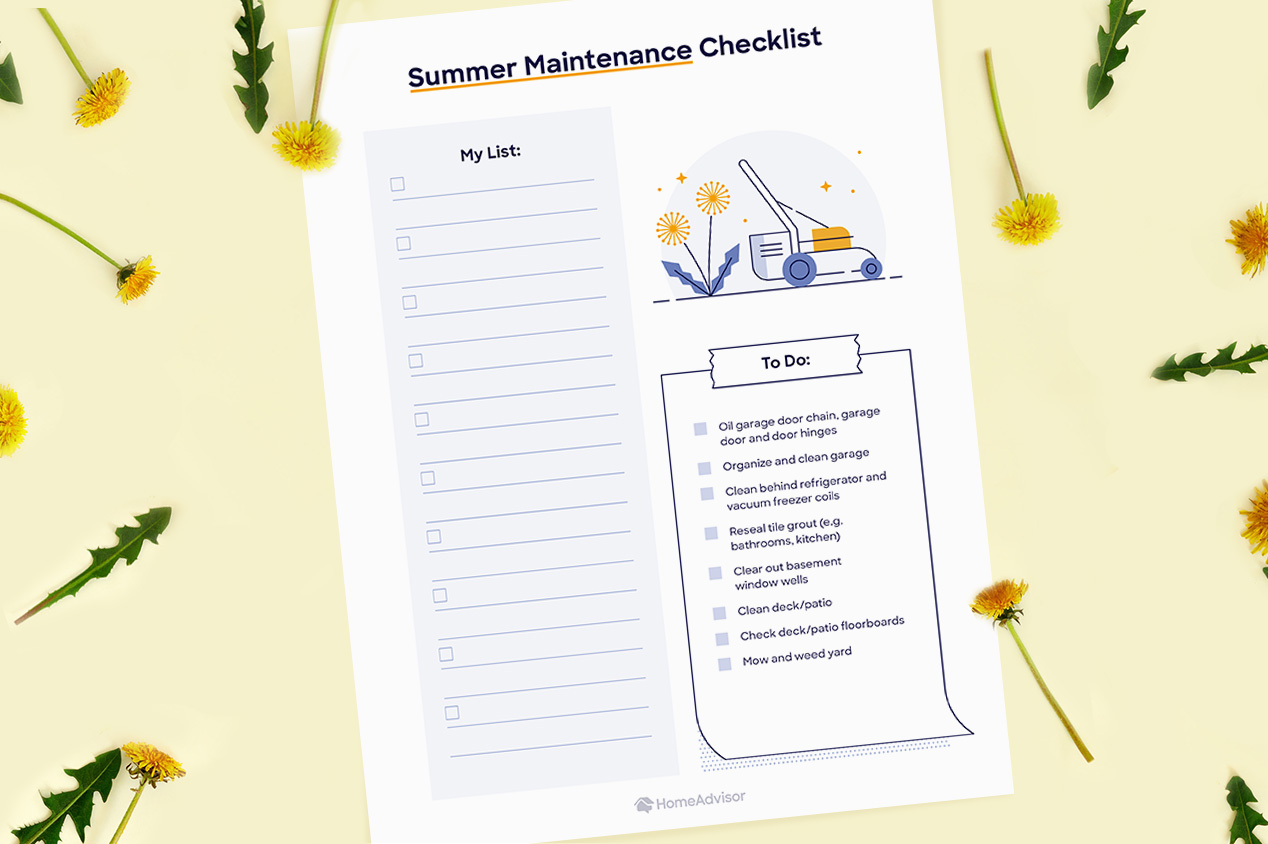 Fall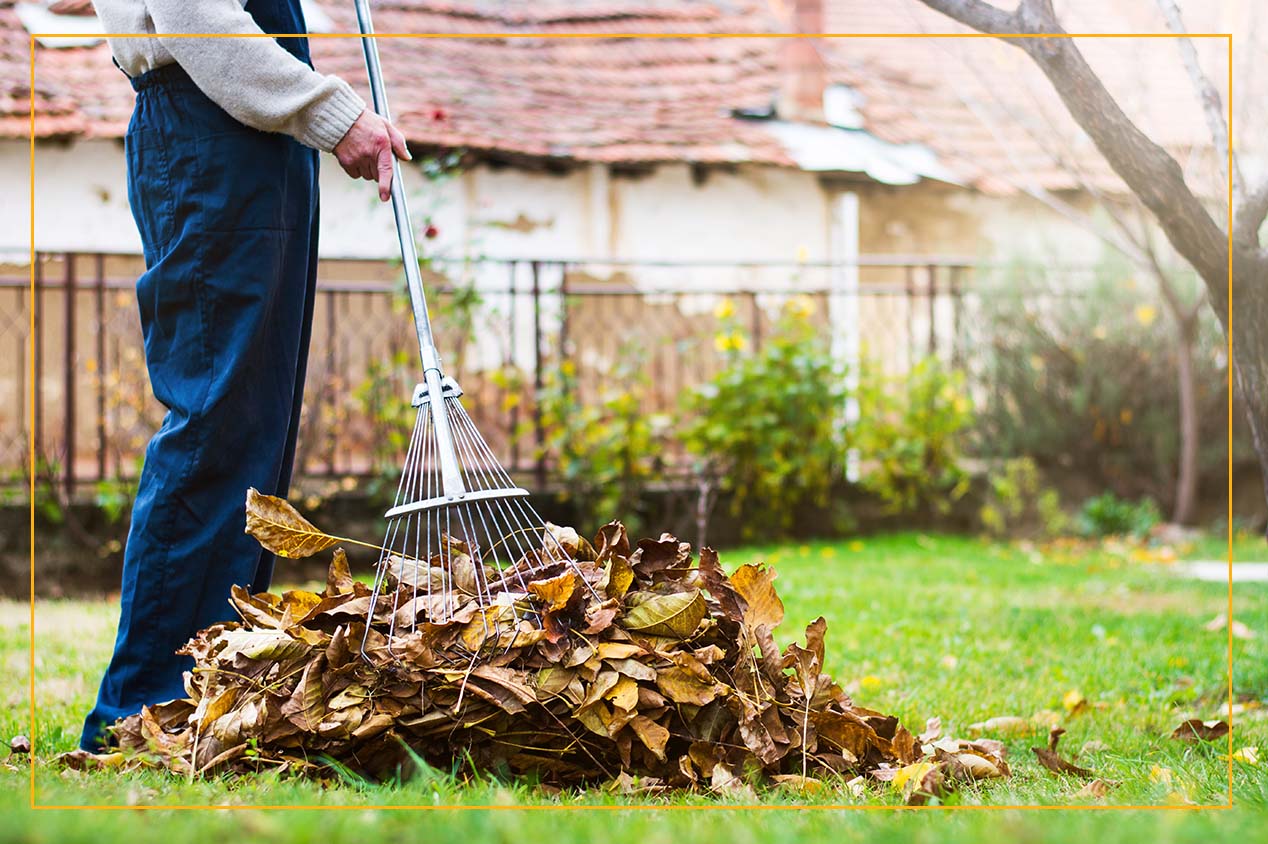 Photo: Creative-Family / iStock / Getty Images
Fall is generally the perfect time of year to tackle major home improvement projects and prepare your house for winter.
Here is a comprehensive fall maintenance checklist to accomplish while the climate is still favorable for indoor and outdoor home repairs:
Drain your water heater and remove any sediment. Test the pressure relief valve and check for warning signs like leaks or loud pops and cracks, which may indicate that the heating element is failing.
Confirm your attic has sufficient insulation to reduce your home's heating and cooling losses and prevent ice dams from forming on the roof. While up there, check for leaks, cracks, mold, or pests.
Open your heating vents and make sure they are unobstructed by furniture, drapes, etc. to allow for proper airflow.
Have a local furnace repair professional inspect, service, and change your furnace filters for greater unit efficiency and to prevent breakdown.
Clean your fireplace flues and inspect for any damages.
Reseal any cracks in your driveway or walkway. Depending on the surface material and your experience level, it may be advisable to seek a driveway paving contractor near you.
Fertilize and reseed your lawn in addition to regular mowing and raking.
Check the exterior caulking around windows, doors, siding gutters, etc., and recaulk as needed to keep your home sealed and waterproof.
Test your sump pump to ensure it's draining properly. Pouring water down the sump pit to a certain level should activate the pump.
Reverse ceiling fans so the blades rotate clockwise and disperse warm air that rises to the ceiling.
Drain hoses and sprinkler systems, and turn off and insulate outdoor water faucets.
Give your exterior siding a fresh coat of paint.
Stock up on winter gear like snow shovels, de-icing salt, ice scrapers, etc.
Fall Home Maintenance Checklist Printable
This printable checklist will help you remember every area of the home that needs attention in the fall.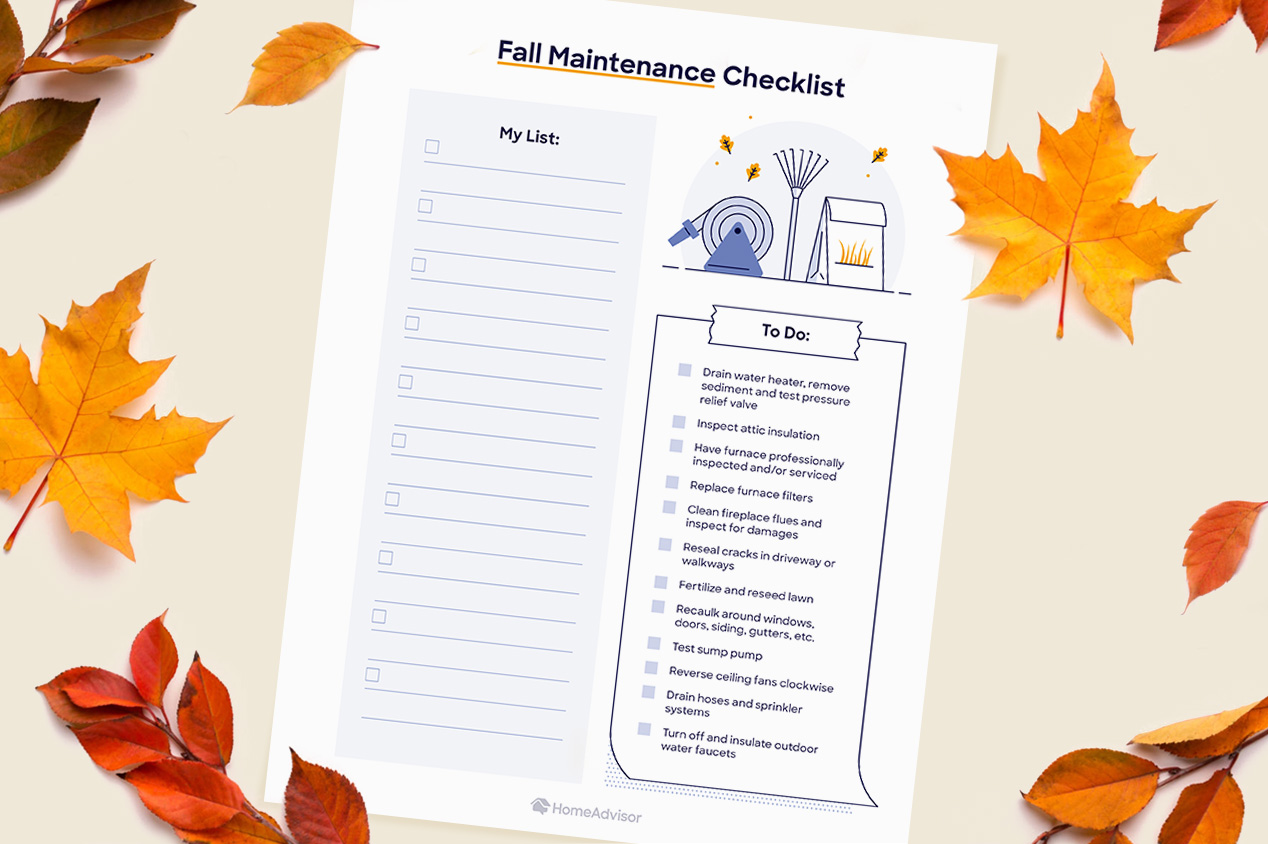 Winter
Photo: Ivan Pantic / E+ / Getty Images
Between freezing temperatures and heavy snowfall, winter tends to be the harshest time of year for your home. Fortunately, your work in the fall should have the more challenging tasks completed.
With those resolved, check out this winter home maintenance checklist full of additional projects you can take on:
Test your heating system at the beginning of the season.
Weather-stripping your doors and windows using caulk or expanding foam is an easy and cheap way to keep warm air inside and cold air outside.
Monitor your gutters and roof for ice dams and icicles, which strain the structures and can cause water damage when they melt. Consider installing a roof heating cable or heat tape to prevent ice build-up or consult a local roofer to find the best ice prevention option for your home.
Clean your basement and periodically check for leaks whenever snow thaws. Properly seal basement windows so no cold air enters.
Apply a fresh coat of sealer on your deck to protect against winter elements.
Cover or remove any window AC units and close any vents that were open for warmer weather.
Remove showerheads and faucet heads to clean out sediment for improved water pressure.
Caulk showers and bathtubs and regrout bathroom tile.
Secure any loose door handles, knobs, or racks around the house.
Check to make sure locks, latches, and deadbolts on your doors and windows are working properly.
Winter Home Maintenance Checklist Printable
Use this checklist so you can be sure your home is prepared for the winter.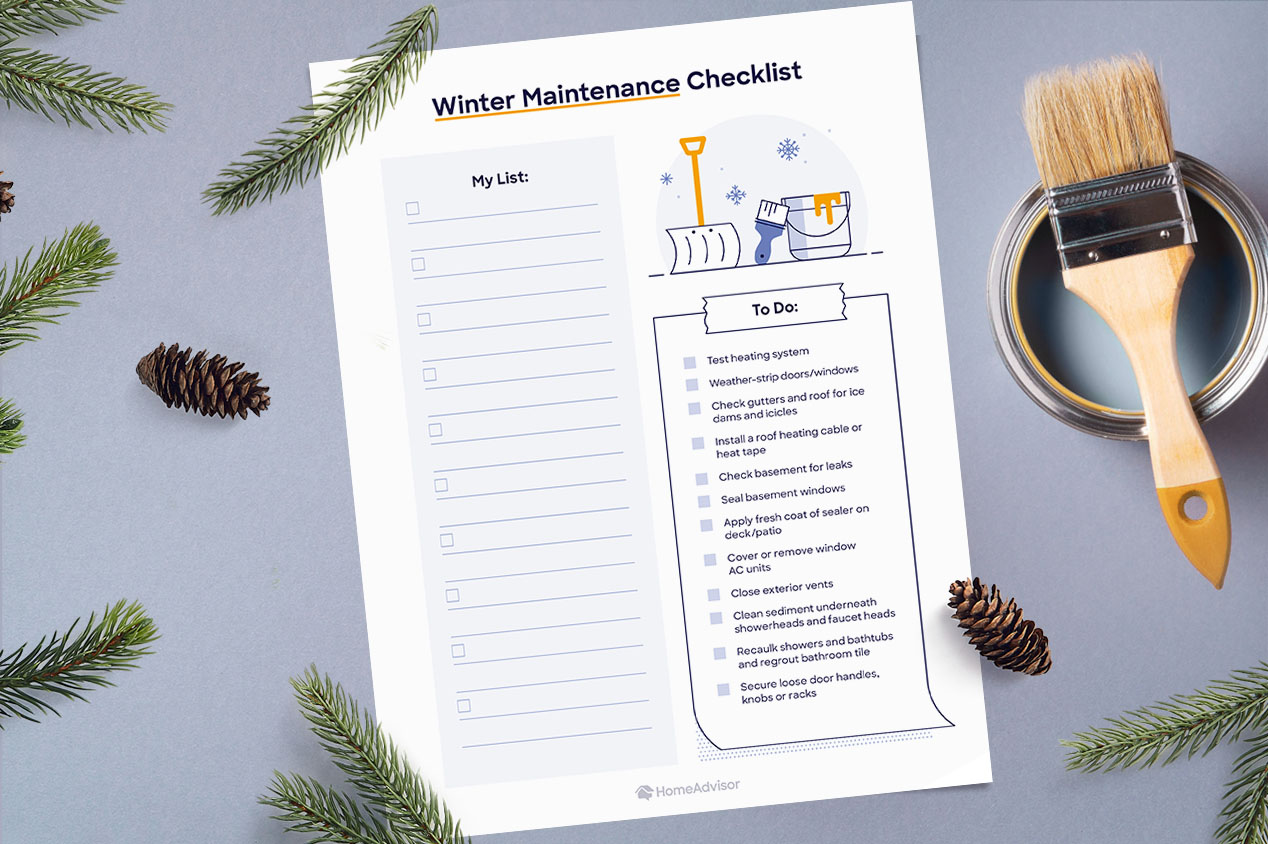 Benefits of Home Maintenance
It may seem like a lot of work, but the benefits of keeping an annual home maintenance schedule are well worth the effort. Here are a few examples of how regular upkeep and cleaning around your house can pay off.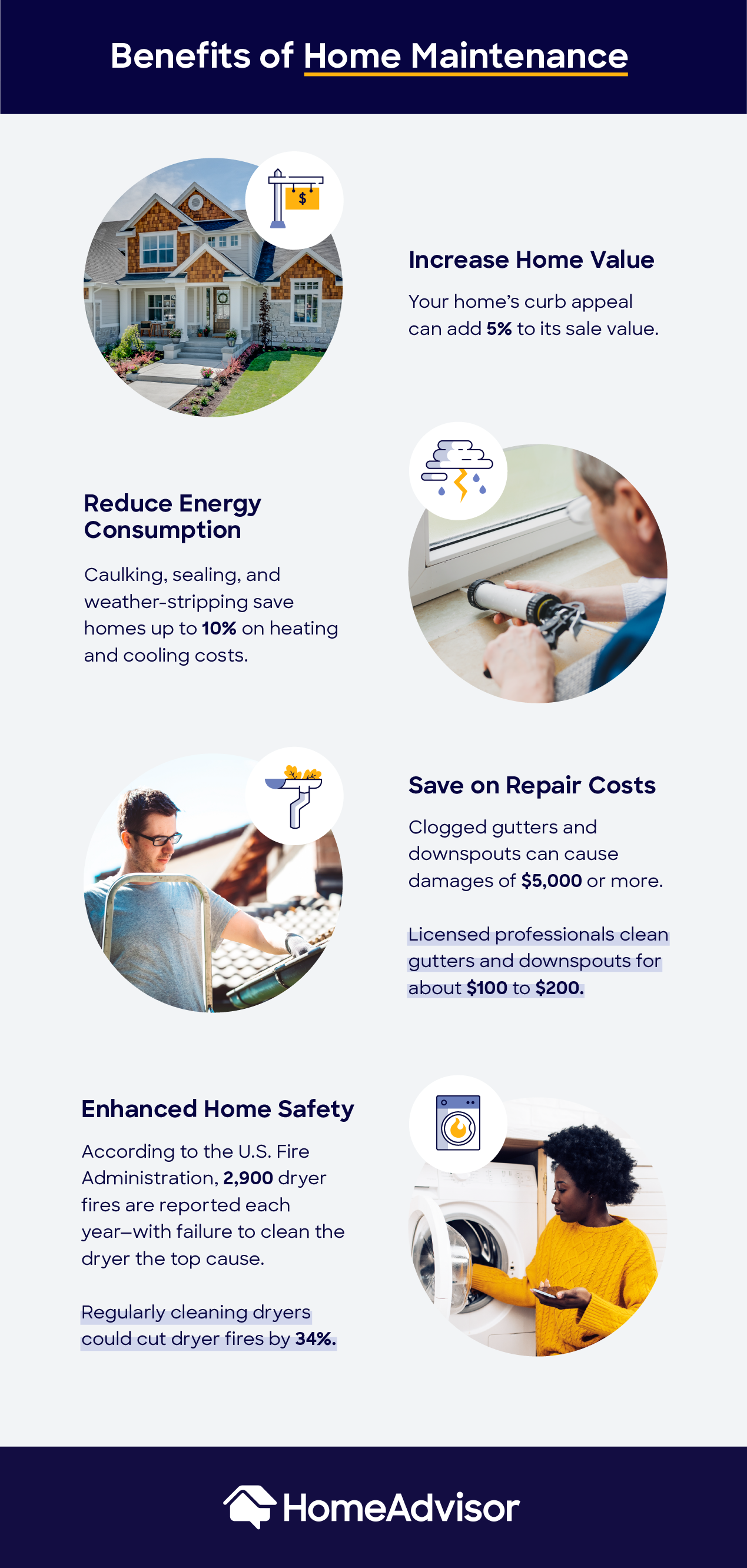 Photos: PC Photography / iStock / Getty Images; veryulissa / Shutterstock; Ziga Plahutar / E+ / Getty Images; MixMedia / iStock / Getty Images
Increase Home Value
Buying and owning a home is a major investment, so it would be wise to protect it with regular maintenance. Completing the annual chores we've outlined will not only enhance the functionality of your home but will also keep it aesthetically pleasing and well-maintained.
Should you place your home on the market, consider whether prospective homebuyers would rather invest in a space that's been looked after or one that appears rundown and may require extensive repairs.
Lower Energy Consumption
Your house consumes a lot of energy throughout the year. Optimizing your home and appliances for each season in combination with regular cleaning can significantly reduce your home's energy consumption and lower your utility bills. Additionally, your appliances should be working more efficiently and last longer as a result.
Save on Costly Repairs
Conducting regular inspections around your home should help you identify tiny repair jobs before they turn into larger, more expensive problems. For example, an average roof repair costs around $550, whereas replacing a roof costs about $8,500.
If you're closely monitoring your home, you can spot where you may need to spend a few hundred dollars to address small issues to potentially save thousands of dollars down the road.
Enhanced Home Safety
Performing regular home maintenance will help you preventatively address potential hazards before they become a health risk to you or your loved ones.
For example, removing lint from your dryer duct each month drastically reduces the chances of a dryer fire occurring. Further, if you're regularly monitoring and testing your smoke alarms, carbon monoxide detectors, and fire extinguishers, you can rest assured that you will be prepared and alerted in the event of an emergency.
Now that you have the essentials for your home maintenance checklist, there's no shortage of additional maintenance and home improvement projects you can check out for further inspiration. If you'd like professional help for any project, this resource will help you find the best local home and property maintenance services to fit your budget and needs.
No Comments Yet