Aesthetics Take the Cake
HomeAdvisor – the largest digital marketplace connecting homeowners with pre-screened home improvement professionals — received more than half a million service requests for kitchen improvements in 2015. Interestingly, homeowners focused on fashion over function — primarily seeking to hire HomeAdvisor professionals to modernize the appearance of outdated cabinets, countertops and fixtures.
If homeowners' attention on aesthetics in 2015 is any indication for what's to come in 2016, remodelers should prepare to complete more of the following projects:
Update Countertops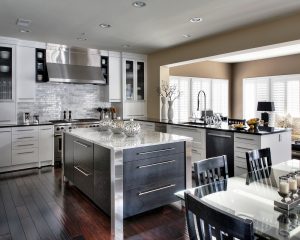 Countertop updates were in high demand in 2015, with 18 percent of homeowners seeking a professional to install new countertops through HomeAdvisor. The most commonly installed countertops included:
Ceramic
Concrete
Corian
Granite
Quartz
Slate
Soapstone
Wood
Homeowners most frequently installed granite countertops, for which they reported paying an average of $3,100-$4,500. Quartz also gained popularity, which may in part be attributed to the release of an expanded color series from Silestone by Cosentino. On average, homeowners report paying $2,866 to install new countertops.
Update Cabinets
Homeowners also focused on cabinet upgrades, with 17 percent of homeowners seeking a cabinet professional through HomeAdvisor. Homeowners most commonly chose red oak, cherry and laminate when installing new cabinets; and many chose to save money by hiring a professional to reface, paint or stain their existing cabinets. On average, homeowners report paying $4,635 to install new kitchen cabinets, which typically represent about 10 percent of a homeowner's kitchen remodeling budget.
Update Fixtures and Features
While homeowners focused most on cabinets and countertops, they focused also on updates to sinks, appliances, lighting and flooring (these accounted for 16 percent, 14 percent, 14 percent and 13 percent of projects, respectively). Further reflecting homeowner's attention to aesthetics, these projects also represented a significant amount of homeowners' remodeling budgets:
All in all, homeowners currently appear to be embracing evolving home trends and technologies – focusing increasingly on the aesthetic impact of their spaces. Stay tuned. HomeAdvisor looks forward to tracking and reporting on whether the focus on an improved kitchen aesthetic continues through 2016.

Ready to start your
kitchen remodel

?Find Pros
2 Comments