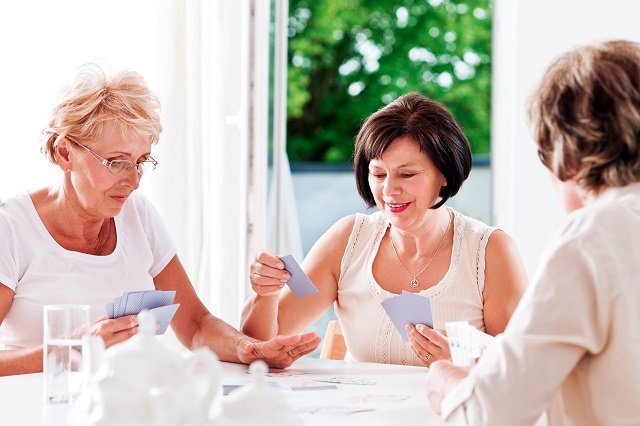 Nothing is better than an evening with friends. For some of us, that means heading out for a bite to eat, meeting at the movies, or spending a night at the museum. For many of us, however, there's nothing more relaxing or fun than gathering around the kitchen table to snack, laugh, and play a hand or two of our favorite card game.
Bridge, specifically, has been a favorite way to pass the time since the early 1900s. In addition to being easy to learn and inexpensive to play, Bridge offers an opportunity to socialize and strategize. That's why this game attracts a wide variety of players and participants, including Warren Buffett and Bill Gates. Of course, the ease and accessibility of the game also make it an attractive way for aging adults and people with disabilities to spend their leisure time.
Whether you have been playing with the same group of friends for years or are starting a brand new tradition, hosting a bridge night at your home is a great way to take advantage of every benefit the game has to offer. Before you send out the invitations, there are a few things you can do to ensure the experience is challenging in all the right ways — and none of the wrong ones. Read on for a checklist you can use while planning your ultimate bridge night to keep it accessible, safe, and fun for everyone.
Ultimate Bridge Night Accessibility Checklist
These easy, inexpensive tips will make your bridge night safer, more accessible, and a lot more fun for everyone.
▢ Make sure there is enough light.
The proper lighting can ensure you, and your guests can navigate your home without hazard, not to mention make it easier to see your hand. To avoid harsh overhead lighting and maintain a laid-back atmosphere, use lamps or strands of decorative lights to brighten things up, or utilize smart lighting that can be controlled from your phone to adjust it throughout the evening as needed. You can also add task lighting in areas where more focused light is required, like around the playing surface and along walkways.
▢ Eliminate background noise.
While it may be tempting to put on music to give the night more ambiance, it may make it more difficult for your guests to hear the conversation. If a night without background music just isn't your speed, you can always try playing it at a low volume in an adjacent room.
▢ Create space.
If any of your guests have mobility issues or low vision, clearing walkways can help them feel safer and more comfortable as they move from room to room in your home.
▢ Remove floor coverings.
If you're having guests over, you certainly want your home to look its best. While a rug can really pull a room together, it can also be a tripping hazard. Consider removing floor coverings before your guests arrive. If you can't, be sure the edges are secured to the floor to reduce the risk of tripping.
▢ Install temporary modifications.
You certainly don't want to make costly accessibility accommodations, permanent modifications for one evening, but there are some relatively inexpensive, temporary features you can add to your home to increase accessibility. For example, fastening a piece of plywood over your stairs can serve as a wheelchair ramp, while stick-on or suction handrails can make your bathroom safer and easier to use.
If you could use more accessibility in your home full-time, talk to a local wheelchair ramp installer or accessibility contractor.
▢ Offer a variety of snacks.
Serving a variety of different foods ensures that your guests with food allergies, sensitivities, or autoimmune diseases will have something to snack on while they play and during breaks in the action. A fruit-and-veggie tray is always a great start, and vegetarians and vegans in the group will also appreciate it.
▢ Swap out the soap.
In addition to food sensitivities, some guests may be sensitive to scents. Hand soap, scented candles, and air fresheners may be irritating or cause adverse effects. Have some unscented soap on hand to place in the bathroom, and refrain from lighting candles or spraying scents.
▢ Ask your guests what they require.
The best, easiest way to ensure your guests are safe is to ask them if they have any special needs, and then do your best to fulfill them. A quick call, text, or email asking about mobility concerns, food allergies, or other accommodations will not only allow you to better prepare, but it will also show your bridge buddies that you care.
In the end, a great bridge night only takes two things: a full deck of cards and a good group of friends. However, taking the time to work your way through the extra preparations on the checklist above can make it safer, more accessible, and more fun for you and your guests.
No Comments Yet