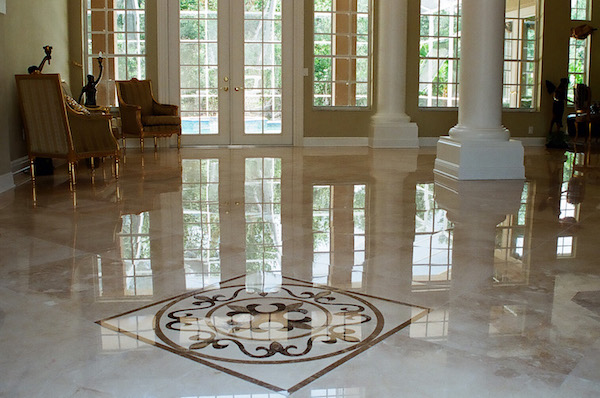 What is it about natural stone that people are so drawn to? Maybe it's the timeless appearance, the fact that it's not manmade, or simply that it stands out as an elegant addition to any home. Either way, there's no denying its popularity when it comes to surface renovations, and this is especially true for the most used section of the house: your floors. In fact, the most high-end of products, marble flooring, has made a serious jump in terms of sales and installation. Why is this? Well, there are many reasons marble floors are back in style, but the real question is: Were they ever out of style?
Why Marble Floors?
It adds instant value to a home, never needs replacing, and has that aged, European style that's always fashionable. And though it was once rare and exotic, it's now become much more accessible. For instance, it used to be imported only from Italy, but now it s mined throughout the entire world. It was once only available in giant slabs that required custom-fitting, but now marble flooring comes in tiles that are easily installed. But this doesn't mean it still doesn't retain its original value. It continues to have characteristics that people enjoy—the unique shades, the high polish, and the sophisticated sheen. It's just that with tiles you have more options. You can now make interesting patterns and mosaics, buy any color to match any design style (rustic Tuscan or simple chic), or create other features in the home (backsplashes, fireplaces, or even countertops).
Types of Marble Flooring
There's a great deal of variety available, so here's a small list of terms to be familiar with:
Veining: Small lines of color what gives this natural stone its unique look. In fact this veining affect is often referred to as "marbleized" when describing other items.
Gloss: A highly polished version of the stone that makes it reflective and shiny.
Tumbled: A process that distresses and ages the stone so it appears dulled. This soft look creates a milky, creamy color, making it seem buffed rather than glossy.
Honed: A no-gloss variety that has a flat, matte, or satin finish. It creates an earthy affect that's become popular due to its less formal appeal. Plus, it reduces risk of etching.
Etching: With everyday foot traffic, the surface may slightly wear by slowly removing its initial polish.
The Drawbacks
First off, though marble floors certainly add value to the home and have become more accessible, they're still expensive (in the neighborhood of $6-10 per square foot). Therefore, it may be best to use it sparingly: install it in a foyer or small bathroom as opposed to an entire kitchen. Also, there are imitation vinyl tiles available that may be a cheaper alternative.
Second, since it's such a hard material, it's virtually maintenance-free (little risk of scratching, cracking, or chipping). However, depending on foot traffic, it may require occasional re-sealing—annually for a kitchen or bath, every two years of other areas. And no matter which style you prefer, it should be polished and buffed when it gets dull.
Third, since it's made of rock, marble floors can feel a little cold, both literally and figuratively. If over-installed, it can be a bit hard and cavernous, and in the winter it can get downright chilly to the toes (but this means in the summer, it provides some natural cooling). Unless you want the house to feel like a concert hall or court room, you may want to put down some nice rugs to warm things up (polished stone can get slick though, so make sure you have enough traction beneath these carpets and your feet as well).
Fourth, it's porous, so it can absorb dirt and it isn't stain resistant. Therefore, it will need to be cleaned often with some soap and warm water. Note: Its sheen can be hurt by any acidic materials, so when cleaning never use commercial products containing chlorine.
How much does marble cost? Check out out True Cost Guide for more.
No Comments Yet