Prices in the chart are on a square foot basis and do not reflect total cost.
If you want your home's kitchen, foyer and bathrooms to reflect your elegant taste, marble floors offer a perfect solution. The subtle veining and distinctive shine make marble highly desirable in both older homes and new construction. Understanding the cost of marble floor installation helps you plan your project with a practical budget in mind.
Most homeowners pay about $10 to $20 per square foot for professionally installed marble flooring, but a number of factors affect the total cost. For example, choosing a specialty or engraved marble or requesting a custom design will result in a higher price per square foot. Learn more about these factors below.
On This Page:
How Much Does Marble Itself Cost?
When you decide to install marble flooring, you can either buy the marble tiles yourself or source them through the company or contractor who installs them. Many contractors enjoy discounts from the suppliers they use most often, so buying the materials through your contractor might shave a few dollars off your project cost.
If you decide to buy the marble yourself, the price depends on the quality or grade of the tile as well as any special finishes or engravings.
Basic marble tiles start at $5 per square foot without any discounts or special pricing
Expect to pay up to $10 per square foot for higher-grade marble flooring
Engraved, polished, painted or specialty marble flooring can cost up to $40 per square foot
If you love the look of engraved marble floors, you can reduce the cost by purchasing just a few engraved tiles to create a border or mosaic on part of the floor. Use standard tiles for the rest of the space to keep your overall project budget in check.
Several factors impact marble's quality and price:
Grade: Manufacturer's grade marble A, B, C or D. Grade A offers the least inconsistencies and the strongest structure, while Grade D might feature more inclusions, stronger veining and a softer surface.
Size: Most marble tiles are 12" by 12" or 12" by 18". Custom sizes add to the price and larger tiles cost more.
Thickness: Thicker tiles offer more durability but greater price tags. Marble tile thicknesses ranges from 1/4" to 3/4".
Finish: Smooth finishes typically cost less than tumbled finishes. The latter produces less slippery tiles, which makes them ideal for wet areas like bathrooms and kitchens.
Return to Top
Typical Installation Costs
Some homeowners attempt to install marble tiles themselves, but they often face obstacles in the process. For one thing, the soft nature of marble tile makes it extremely fragile. If you break tiles during installation, you'll incur more costs. Additionally, cutting marble tiles can prove tricky if you lack experience.
Hiring a professional to install marble flooring makes more sense for most homeowners. Installation costs typically range from $3.26 to $7.02 per square foot, which does not include materials. You'll pay more if you want the installer to place the tiles diagonally instead of horizontally.
The base installation rate might not include certain extras, such as:
Floor Removal: If you want the installer to remove the old flooring, you'll receive a bill for labor and material disposal.
Furniture Moving: You can move your furniture yourself or hire your installers to complete this step.
Special Arrangements: If you want your marble floor to include a border, motif, mosaic or other special design, you'll pay extra.
Subfloor Repair/Replacement: Marble tiles need a solid subfloor. If your installer discovers that yours needs repair or replacement, expect additional costs that were not included in the estimate.
When you request quotes from installers, ask them to itemize the services covered under the contract. If you need something that isn't on the list, ask them to give you a quote for those services, as well, so you can accurately compare estimates.
Return to Top
Characteristics of Marble
When heat and pressure encounter limestone in its natural state, marble is formed through crystallization. Marble contains a variety of natural materials, including sand, chert and silt, and is categorized as calcite, magnesium or dolomite. Contractors use marble not only for flooring, but also for countertops, backsplashes and other construction applications.
Understanding the characteristics and properties of marble helps you care for it properly.
Porosity: Cleaning and polishing your marble floors will reduce staining. If you spill acidic liquids on marble, such as vinegar, wipe them up immediately to prevent penetration. Over time, marble can discolor due to exposure.
Softness: Since marble is one of the softer natural stones, it can get scratched and dented over years of foot traffic. A sealant protects the surface from scratches and maintains its glossy appeal.
Veining: Veins — the lines of color that run through marble — vary from one stone to the next. Some people prefer heavy veining (which is less expensive), while others prefer a homogenous appearance.
Durability: Compared to other types of flooring, marble lasts much longer. As long as you care for it based on the manufacturer's instructions, you shouldn't have to replace it.
Health: Unlike carpet and other soft flooring options, marble is easy to clean and hypoallergenic.
Cleaning: Soap and water will keep your marble flooring clean. Avoid letting water sit on the surface, however, especially if you install a low-grade stone.
Density: Marble's high density makes it appropriate for high-traffic areas as well as long-term use.
Fragility: Although marble is solid and reliable once installed, it can break easily during shipping and installation. Installers must take care not to set it on uneven surfaces.
Variety: You can find marble in almost infinite colors and intensities. White marble remains the most recognizable, but black marble and colored marble also enjoy great popularity.
Some homeowners avoid marble because of the installation costs, but you can save money with this stone in the long run because you won't have to replace it in the near future. Many people also appreciate the high-end appearance of marble. Since it is less popular than granite, it can also create a surprising addition to the home.
Return to Top
A Little More About Marble Flooring
In homes, marble flooring suits an elegant and high-end aesthetic. You can use it any room of the home, but it's most commonly found in foyers and entryways as well as wet areas of the home, such as kitchens and bathrooms. If you live in a cold area of the world, consider layering rugs over your marble floors. The smooth surface of the stone does not retain heat well, so your bare feet might not enjoy contact with the surface.
To clean marble floors, choose a cleaning solution intended for this particular stone. If you use a product with a high pH balance, you could stain or discolor the stone because of the acidity. If you accidentally use too much water, dry the floors with an absorbent towel. In less-trafficked areas, regular dust mopping usually proves sufficient to keep marble floors clean. Use a non-abrasive dusting pad so you don't inadvertently scratch the floors.
Although higher grades of marble feature fewer impurities and less veining, all marble has some variation. If you install it yourself, you might want to arrange the tiles in different configurations to decide which combination looks best to your eye. For many homeowners, the variations are the most appealing aspect of marble tiles.
Return to Top
Types of Marble Flooring
Marble serves as a catch-all term for several types of stone tiles. When shopping for the perfect flooring material, consider your home's overall style and your personal design aesthetic to find a marble tile that fits your family.
Start with the most basic classifications of marble:
Dolomite: Magnesium carbonate saturation greater than 40 percent
Magnesium: Saturation of magnesium between 5 and 40 percent
Calcite: Magnesium saturation of 5 percent or less
The concentration of magnesium carbonate in marble impacts its color variation and texture. None is superior to the others; it depends on your preferences.
Beyond those classifications, several types of marble flooring exist:
Carrara: If you want a uniform appearance, carrara marble delivers. Its white surface with subtle veining makes it a popular choice for consumers who want a clean, homogenous floor.
Calacatta: This marble resembles carrara's base, but has more veining and adopts a warmer tone. It pairs well with warm colors in a space, such as red, orange and yellow.
Breccia: For homeowners who want a darker stone with more of a dramatic impact, breccia marble provides a good choice. It comes in many colors, including browns, greens and reds.
Emperador: High levels of variation and grain set emperador marble apart from other varieties. Brown emperador tiles remain most popular for floors because they hide dust and dirt more efficiently.
Cultured marble: Pure marble mixed with cement and other ingredients produces cultured marble, which offers a more homogenous surface. If you dislike the variety of pure marble, this solution might prove more attractive.
Crema marfil: Many marble varieties feature white as the base color, but crema marfil takes on a beige or cream-colored hue. Lots of variety and yellow tints characterize this marble.
Several hundred varieties of marble exist, most of which are identified by their countries of origin. The above, however, remain the most popular.
When you decide to install marble floors, you must also select the finish. Each type of marble can be finished in multiple ways, so the end product should reflect your desires for the space in which you install it. The two main finishing options are:
Polished marble: Choose this finish if you want the most shine and gloss out of your floors. The marble will produce reflections when the light hits it right and make your space feel larger.
Honed marble: Select this finish for high-traffic areas where you might have difficulty maintaining a polished floor. A honed finish has a satin surface and does not reflect as much light. It is also coarser, which means less potential for slip-and-fall accidents.
Return to Top
Different Marble Floor Designs
A simple tiled layout might appeal to you if you prefer a less obtrusive marble floor design. However, you can get creative with marble and turn your floor into a work of art with decorative designs.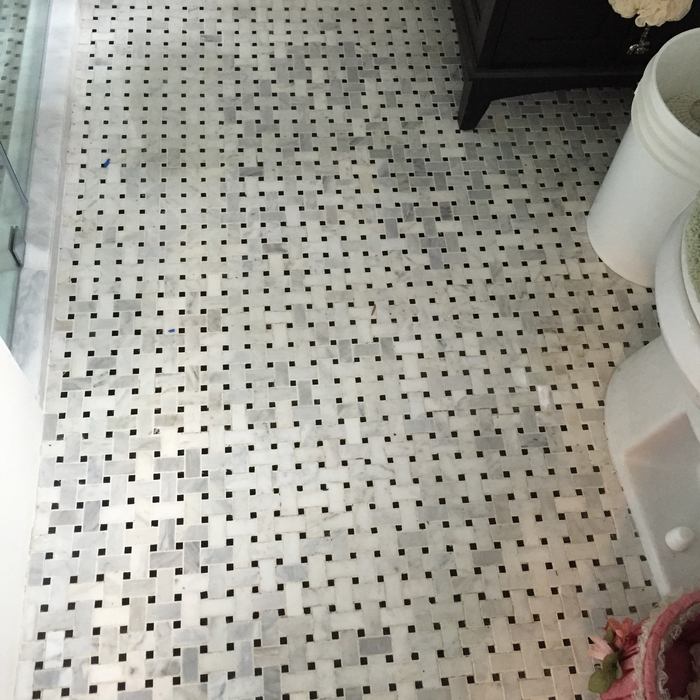 Photo courtesy of Smart Construction & Design in Encino, CA
Repeating Patterns
A marble tile with one corner stained in a different color or with a border around the edges will create a repeating pattern. This can help draw your eye into the room or reflect patterns in your artwork and furniture. Depending on where the variation occurs, you can create a checkered pattern so the corners of all the tiles are darker or lighter than the rest.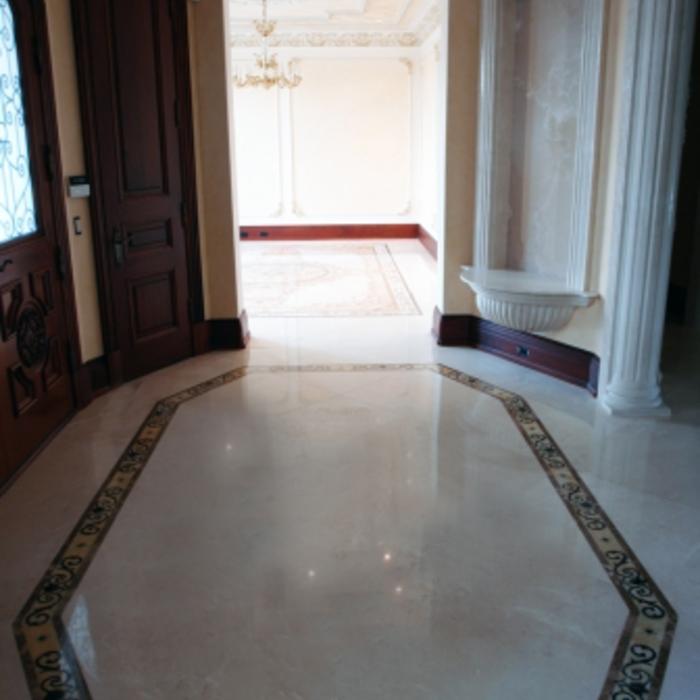 Photo courtesy of Arratta Designs, Inc. in Cape Coral, FL
Floor Borders
Using a different color or variation of marble tile, create a border around an entire room or around a segment of the room. In the foyer or entryway, for example, you might define the space with a darker border of marble tile. Using a different size of tile helps set the border apart even more.
Mosaics and Motifs
Getting even more creative with marble tile makes your floor a focal point. Inlaid marble tiles can create any design you want in the space, from a medallion-inspired motif to a geometric assortment of tiles. Depending on the complexity of the design, mosaics and motifs can replace rugs as a decorative floor element.
Herringbone
If you use multiple types of marble tile and offset segments of them vertically and horizontally, you'll create a herringbone pattern. Use rectangular tiles to achieve this effect and select dark and light varieties to create more drama.
Dimension
For an even more impactful approach, create dimension with your marble tiles. Use tiles of varying colors and intensities to give the impression that the floor is three-dimensional. This optical illusion plays with your sense of space and texture in the room.
Return to Top
Pros and Cons of Marble Flooring
While marble floor tiles offer plenty of benefits, they also come with certain drawbacks. Compare the advantages and disadvantages of marble against those of other flooring options to make an informed decision.
Marble Flooring Pros
Attractiveness: Artists and architects have used marble for fine art and design for thousands of years. This is because it is one of the most aesthetically appealing natural stones.
Color Variety: You can find marble tiles in almost any color and with limitless variations. Create a cohesive floor or a more varied surface.
Reflectivity: Light bounces off the smooth surface of marble tile and makes rooms appear larger and more grand than they would otherwise.
Status: Some people see marble floors as a status symbol.
Textural Variety: The variations in veining and impurities make every marble tile unique. Choose marble if you prize uniqueness in your home's surfaces.
Durability: Since marble is extremely dense, it lasts longer than most other types of natural stone. You'll enjoy it for years to come.
Marble Floor Cons
Expense: You'll pay more to buy and install marble tiles than most other flooring options. However, the longevity of marble might outweigh this downside.
Softness: If you drop something on marble tile, you risk etching or cracking it.
Hardness: Despite its tendency toward scratches, marble still presents a hard surface. Elderly homeowners might want to try a different surface since it's more dangerous to fall on marble than, for instance, carpet or hardwood.
Staining: If you spill an acidic substance on marble, you might stain it. Standing water can also stain marble if you don't wipe it up right away.
To make the best use of marble tile, source a high-quality product and hire an experienced installer. As long as you seal and maintain the surface, you'll continue to enjoy your marble tile well into the future.
Return to Top
Thank you for submitting your feedback.