Together, your cabinets and countertops form the backbone of your kitchen. So, when the time comes to select or upgrade these features, it's important that they not only complement each other, but that they also fit your lifestyle and meet your budget. This breakdown of costs, pros and cons will help you navigate your options and find the right cabinets and countertops for your individual style and needs.
Countertop Materials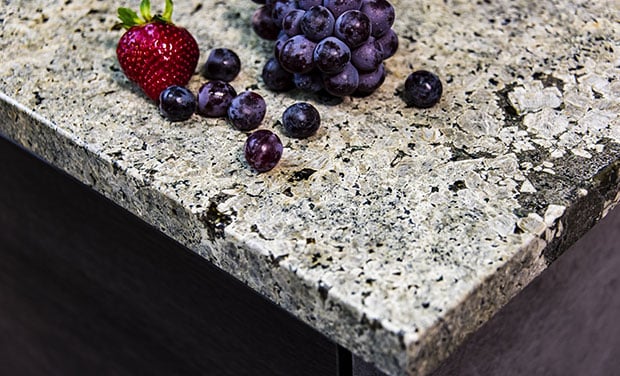 "Weight is a major consideration. Lighter materials, like laminate, are easier to transport and install – resulting in a lower overall price."
Sam Shebin, owner of Natural Marble and Granite in San Antonio, Texas
Quartz: $2,000 – $5,000
Quartz countertops are another popular option. They come in a variety of colors and patterns, and they're extremely low-maintenance. They're also bacteria-resistant and easy to clean. They can discolor when exposed to hot pots or pans, however, and they have visible seams.
"Quartz is non-porous, which makes it a great option for anywhere that sees a lot of moisture," says Shebin. "Quartz is also great if you're trying to flip a house or add value to your home. It looks great, you don't really have to seal it and it has a clean look."
Granite: $2,000 – $4,500
Granite is one of the most popular countertop materials. It's a low-cost product with a warm, natural appearance. It is heat resistant and hard enough to resist most scratches. However, light and medium shades of the stone will require regular sealing to boost stain resistance.
Marble: $1,000 – $5,000
Marble's natural elegance fits well with most kitchen aesthetics, from eclectic to farmhouse. Unfortunately, its soft and porous nature makes it vulnerable to scratches and stains. It's a high-maintenance product and will damage easily in a busy kitchen.
Stainless Steel: $2,000 – $7,000
Stainless steel countertops lend a streamlined and modern appearance to any kitchen space. They are also virtually indestructible and stand up to professional-grade wear and tear. One downside is that the material is susceptible to minor dents and scratches.
Solid Surface: $2,000 – $4,500
Solid surface countertops are durable, non-porous and easy to clean. They offer many aesthetic choices, from solid colors to imitations of wood and stone. You can buff out small scratches on them, but deeper scratches and excessive heat can damage these surfaces.
Butcher Block: $1,700 – $5,000
Wood countertops' natural warmth and low installation cost make them a popular option. You can use them to create contrast in the kitchen design, and they are quite resistant to bacteria. However, they are susceptible to moisture, heat and wear, and they require regular maintenance.
Concrete: $2,000 – $6,000
Concrete countertops are a great option if you're looking for a modern or industrial design. They come at a relatively high cost because crafting the slabs takes great skill and care. There are many options for color and glazing with these products. However, they are prone to cracking and staining.
Laminate: $800 – $1,600
Laminate is low-maintenance, affordable and easy to install. And because of industry advancements, laminate products are better than ever before. They're available in variety of aesthetics, from solid colors to nearly fool-proof imitations of high-end materials like granite, marble and slate. The downside to laminate is that it's vulnerable to heat, cuts and scratches.
Ceramic Tile: $2,500 – $5,000
Ceramic tile comes in many colors, sizes and shapes. You can achieve a unique and beautiful aesthetic with this material. However, tile countertops are vulnerable to cracking and their grout tends to discolor. You'll need to regularly clean your countertops to avoid grout staining.
Cabinet Materials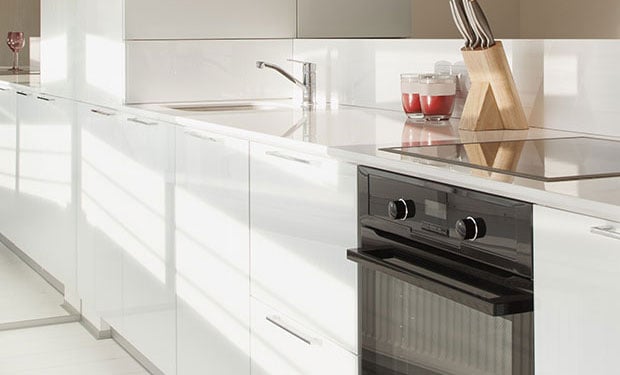 "You can put space savers inside your cabinets, including tray slides for cookie sheets and pot lids, pot and pan organizers, spice trays and utensil holders."
Lexi Bohigian of Cabinets Direct USA in City of Orange, N.J
Wood Veneer:
Wood veneer cabinets are created by gluing strips of wood to a particle board frame. They have the look and feel of real wood at a much lower price. They can be sanded and refinished like real wood, but they are more resistant to humidity and warping than real wood.
Laminate:
Laminate cabinets are created in a manner similar to wood veneer. They are available in low-pressure, which is very affordable, and high-pressure, which is a more expensive and higher-quality product. Both offer a variety of aesthetics and color options. However, laminate can't be refinished like wood veneer.
Wood:
Wood cabinets are durable and offer a lot of variety. They can be refinished, refaced and repainted to adapt to design changes. Their installation and construction come at a higher price tag. But they'll have a long lifespan that will be worth the investment.
Construction Options
Custom cabinets
are made to meet your exact aesthetic and usability specifications. It is often the most expensive option.
Semi-custom cabinets offer design, material and layout options for a reasonable price. They're ideal for homeowners who want usability and aesthetic choices without the custom price tag.
Stock cabinets come in pre-determined designs and layouts. They're more likely to have quality and measurement issues, but they're the most affordable option. Professional pre-install measurements will help negate potential issues.
"In a small kitchen, using as much available space as possible is crucial," says Bohigian. "One key to doing this is building up. Make sure your cabinets go all of the way to the ceiling. You can store items you don't use often on the high shelves."