Updated August 26, 2021
Reviewed by Robert Tschudi, Home Building & Remodeling Expert.Written by HomeAdvisor.
Quartz Countertop Cost
Quartz countertop installation costs $50 to $200 per square foot or $125 per square foot on average. These prices include both materials and labor. Typically, quartz installed in the kitchen costs $3,000 to $7,500. Materials alone average $75 per square foot or between $50 and $100 per square foot.
Not to be confused with natural stone quartzite, engineered quartz creates one of the most beautiful and durable options for home design. You'll find it in both bathrooms and kitchens. When considering stone and laminate materials for countertops, engineered quartz combines the best of both worlds to produce a stylish look with a lasting finish.
On This Page:
Average Cost of Quartz Countertops
| | |
| --- | --- |
| Average Cost | $4,500 |
| High Cost | $12,000 |
| Low Cost | $1,500 |
Cost of Quartz Countertops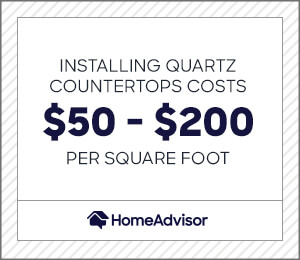 Engineered quartz countertops cost $1,500 to $12,000 for kitchen installation while bathrooms range from $500 to $2,000. That's only a fraction of the $11,000 average bathroom remodel cost. Regardless of location, you'll pay $50 to $200 per square foot for the purchase and installation of a quartz counter.
All quartz countertops are engineered, since quartz doesn't exist naturally in a form large enough to create a slab from. Manufacturers create quartz counters from a mixture of 93% ground natural quartz and 7% polymer. The resulting low-maintenance, durable product has a natural stone look that many homeowners love.
Engineered Quartz Kitchen Countertops
Quartz countertops in a kitchen typically cost $3,000 to $7,500. You'll often pay extra for sink, faucet and cooktop cutouts (such as a soap dispenser), plus more for unique edges. If you have a waterfall edge, where the entire countertop extends to the floor on each end, you'll pay for the square feet of the waterfall area as well.
Most stock countertops at dealers and home improvement stores include the initial sink cutout as part of the price. But custom work includes cutouts only with a price increase. For example, you can purchase a counter with a sink cutout included, but if you have a second utility sink, you'll pay extra for that second utility sink cutout. While other parts of your counter won't need a cut out at all.
Find Local Quartz Countertop Pros
Quartz vs. Quartzite Countertops
Quartzite costs the same as quartz countertops, or about $50 to $200 per square foot. But that's where the similarities end. They aren't the same material. Quartzite is not a quartz countertop. Instead, it belongs in the family of natural stone counters, like granite, soapstone and slate. It's a naturally occurring stone that comes in unique patterns.
Quartz Countertop Price Per Square Foot
On average, the cost for quartz countertop materials alone runs $75 per square foot but may fall between $50 and $200 per square foot. Although the price varies by brand and manufacturer, here are some of the average costs based on quality:
Surplus/low-quality: $50-$65 per square foot Will have veins and some discoloration but not obvious in most cases.
Standard/mid-quality: $65-$75 per square foot This is also known as builder's grade or commercial grade and is the most common quartz sold.
First-choice/high-quality: $75-$200 per square foot This has almost no visible veining and also has a rich color.
Get Quotes From Local Quartz Countertop Installers
Quartz Slabs
You'll pay between $50 to $100 per square foot for a quartz slab. A slab doesn't have finishing work, like edge work, cuts or cutouts. Typically, only professionals and experienced DIYers opt to purchase an unfinished slab. Adding finishing work can double the price.
Quartz Countertop Cost Factors
On average, the total cost to purchase and install a quartz slab sits around $125 per square foot, with the price fluctuating based on the number of slabs and any additional finishes. For example, homeowners will find that the cost increases as they add detailed edging fabrications or request extra fixture and sink cutouts. Some typical add-ons that increase the price include:
Edge Treatments: $5-$30 per linear foot
Corner Treatments: $50-$150 per corner
Sink, faucet, cooktop and outlet cutouts: $20-$150 per cutout
Seaming: Included in installation costs
Sink removal and installation: $200-$300
Plumbing disconnect and reconnect: $150-$400
Old counter removal and disposal: $5-$15 per square foot
Edge Treatments
Complete costs vary by manufacturer but estimating the price of edge treatments is simple to do if you have a general idea of low, medium and high price points. Here are some approximations for the cost of specific edge treatments for quartz countertop setups.
Estimated Cost of Edge Treatments

| Type of Edge | Price Level | Estimated Cost Per Foot |
| --- | --- | --- |
| Straight edge | Very slight rounding at the top and bottom (for safety) | $10 - $30 |
| Half-Bullnose / Rounded | Top half of edge rounded | $10 - $30 |
| Eased | Standard, slight roundness to the top edge | $5 - $30 |
| Full Bullnose | Completely rounded edge – top and bottom | $20 - $45 |
| Bevel | Straight cut at 45-degree angle on the edge | $20 - $45 |
| Ogee | S cut on the top edge | $30 - $60 |
| Dupont | 90-degree angle on top, then a quarter-round below (looks like a shoe) | $30 - $60 |
Some manufacturers offer patterns that are more intricate with detailed designs based on their own treatment capabilities. Depending on the manufacturer, pricing for quartz edge treatments vary. The more intricate edge cuts can be costlier to homeowners, while the standard eased, bevel and half-bullnose cuts may be included in the price.
Quartz Countertop Price Comparison by Brand
Cost to Install Quartz Countertops
Labor for any countertop installation ranges from $10 to $30 per square foot or $35 to $85 per hour. You'll pay more for onsite alterations, like adding a cutout for an electrical socket. Your pro, the fabricator or the manufacturer completes most of the cutouts before shipping it to your home.
Get in Touch With Local Quartz Countertop Installers
Quartz vs. Granite Countertop Costs
Granite countertops cost $40 to $100 per square foot for materials alone, or $75 to $125 per square foot installed. Mined in large sheets, it's 100% natural, which means that there are no two identical slabs. The manufacturer cuts smaller slabs from the sheets.
DIY vs. Hire a Quartz Countertop Installer
Quartz slabs exist for both professionals and DIY installations. However, if you make an incorrect cut, you'll need to start with a new slab to avoid visible mistakes. It's cheaper to hire a professional installer than make one wrong cut. Plus, you'll need to rent or buy all the specialized stone cutting equipment you'll need. A local quartz countertop installer can help get your project done correctly the first time – and often quicker and for less – than a DIY project.
FAQs
What are the advantages and disadvantages of quartz countertops?
| Pros | Cons |
| --- | --- |
| Consistent color and texture | Pigment might fade outdoors |
| No sealing required | Visible seams |
| No chipping or cracking | Not as heat resistant as stone |
| Resistant to stains, scratches and acid-abrasion | Low end models aren't unique in appearance |
| Resistant to bacteria growth | |
| Easy to clean | |
What quartz countertop colors are available?
The wide variety of colors and patterns draw the eye of many homeowners. The pattern in a slab depends on the size of ground quartz, pigments and dyes. Coarsely ground pieces give a freckled appearance, and finely ground particles give a smoother appearance. Color options for quartz countertops include the following:
Black
Beige
Copper
Blue
Gold
Red
Gray
Brown
Green
White
How do you maintain quartz countertops?
Quartz maintenance is all about avoiding harming them in the first place. They're a no-maintenance kitchen solution but require more care than most stone alternatives.
Avoid cuts and scratches
Clean counters regularly
Avoid stains and harsh chemicals
Avoid heat damage from hot cookware
Are quartz countertops worth the money?
Quartz countertops are worth the money for anyone looking for a uniform appearance and modern aesthetic. You'll receive about the same return on investment (ROI) on this counter as you would on any other solid surface top. However, the actual ROI varies depending on the other finishes in your home. You should match the quality of your cabinets, counters and floors throughout. For example, if you purchase a high-end quartz counter, you should match it to similar quality cabinets and flooring.
Still Have Questions About Quartz Countertops?
Thank you for submitting your feedback.