Laminate Countertops Price
Homeowners report that the average laminate countertop installation costs $1,209, or between $791 and $1,627 total. They price at around $10 to $40 per square foot before installation, and labor ranges between $30 to $40 per hour. The total cost per square foot falls between $40 to $80.
Home improvement stores sell prefabricated 4-foot, 8-foot and corner sections for around $50 to $200 each. The price depends on factors such as manufacturer, color and style. Formica is a brand of laminate countertop available for an average of $15 per square foot but can reach as high as $40 per square foot.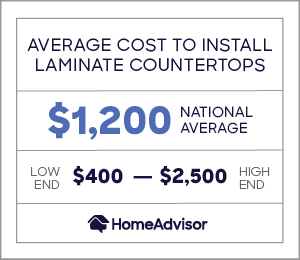 Though they have the same sleek, clean and modern appearance, laminate countertops are not plastic. In fact, laminate is eco-friendly! It's composed of several paper layers covered with a protective melamine resin top layer. These countertops are light, cheap and easy to work with. And they're more durable than the ones found in your grandmother's kitchen!
Laminate Countertop Prices
Laminate is the least expensive option at about $1,575 for 30 feet kitchen counters. To compare it to the cost of recycled glass, granite and other commonly used materials, let's look at an average kitchen with 30 feet of countertop.
Countertop Cost Comparison

| Material | Avg. Price for 30 linear feet, installed |
| --- | --- |
| Laminate | $1,575 |
| Ceramic Tile | $1,850 |
| Recycled Glass | $2,040 |
| Solid Surface | $3,690 |
| Granite Slab | $4,440 |
| Carrera Marble | $4,620 |
| Concrete | $5,310 |
If cared for properly, this inexpensive material can last for 20 or 30 years. To avoid paying the cost to repair your countertop, don't use it as a cutting board, don't set hot pots or pans on it, and clean it with a non-abrasive cleanser.
Get Quotes From Local Countertop Installers
Laminate Pricing Per Sheet or Section
Laminate sheets cost from $100 to $300 for a 60 by 144-inch section. Each countertop has a supportive substrate made of plywood or medium-density fiberboard (MDF). Plywood ranges from $6 to $20 for a 4 -by-8-foot sheet, and MDF is $15 to $45 per 4-by-8-foot sheet.
Buy the laminate itself in sheets longer and wider than your substrate. Be sure you have enough to wrap around the edges.
Plywood vs. MDF Countertop Substrate Pricing Per Sheet
| Material | Cost | Size |
| --- | --- | --- |
| Plywood | $6 - $11 | 4x8 foot panel, ¾ thick |
| MDF | $32 | 4x8 foot panel, ¾ thick |
Plywood Pros & Cons
Pros
Cons

Strong material
Stable support
Water and boil proof

Hidden flaws possible
May not adhere to laminate
If more than one section, must cut grain to match
Advantages and Disadvantages of MDF
Pros
Cons

Smooth feel
Consistent appearance
Can cut grain in any way

May not hold up to extreme temperatures
For the best of both worlds, layer the substrate with plywood on the bottom for good, strong support and MDF on top for a smooth surface. As long as you build it up to about 1 ½ inches, you will have a good surface to apply the laminate.
Get Estimates From Laminate counter pros
Formica Countertop Costs
Formica countertops are $45 to $80 per square foot installed. Cost can vary depending on which line of material you choose from your home, and whether you choose to DIY or have the countertops professionally installed.
Long known for their boomerang patterns of the 1950's and 60's, these surfaces now look like granite, wood and other textures. They're cheaper than real granite, wood and marble surfaces, and some say Formica counters are better than the real thing. They have two top-selling lines that many people request:
180FX is a marble pattern and comes in larger sections than traditional laminates.
PremiumFX is available in five premium finishes.
Customers can also choose to upgrade to Formica IdealEdge for premium edges like ogee and bullnose. This will increase the price.
Formica Prices Per Square Foot
Formica runs between $15 and $40 per square foot of materials. You can expect to spend about $25 per square foot on average. However, premium edges like Formica IdealEdge and premium finishes like Crystal and Natural Grain can increase the price of materials.
Cost to Install or Replace Formica Countertops
Expect to pay $30 to $40 per hour for professional installation, or $30 to $40 per square foot. If you plan to have a professional remove and dispose of old countertops, expect to add $500 to $800 to the total cost of your project.
Formica vs. Granite Costs
Formica materials are about $25 per square foot but can cost as much as $40 per square foot. Granite is more expensive, at between $40 and $60 per square foot. The cost to install granite is also higher because the slabs are heavier and nearly impossible to DIY.
Other Manufacturers and Styles
There are a few other major brands when it comes to laminate countertops.
Pionite:
Residential laminates that come in a wide array of styles and colors, as well as specialty and custom designs.
One of their most interesting styles is "Leatherlam", a style with a sheet of genuine leather as its design surface.
Other styles include Abstracts, Solids, Wood and Stone -- each line with its own distinct look.
WilsonArt:
Known for attention to detail in creating stone-like designs.
Leader in environmentally-sustainable production.
WilsonArt's HD line offers dramatic designs and textures combined with a finish that is five times as durable as other laminates.
Patterns, colors and edge styles vary from manufacturer to manufacturer. Some industry standards such as beveled, bullnose and ogee edges remain the same. Samples are cheap if not free, so get as many as catch your eye and see which fits best with your design plan.
Talk to countertop installers near you
Pros
Cons

Laminate is inexpensive and attractive
Wide variety of textures and colors allow it to be capable of mimicking even the most expensive stone.
Doesn't require any special chemicals to clean.
Generally durable for everyday use.
Easy to change the style instead of replacing the whole countertop.

Cuts and scratches easily when faced with sharp implements.
At risk for damage from hot pots or pans.
Will turn dull if not cleaned and maintained.
Will not add value if you're looking to sell your house.
Laminate consists of several layers not counting the substrate. These are:
Melamine backing: glued to the substrate.
Core: a pressed layer saturated in resin.
Kraft paper: a resin-saturated layer providing the smoothness or texture of the decorative layer.
Print film: the decorative layer that has the pattern on it.
Melamine wear layer: the topmost clear layer that protects the countertop.
DIY Laminate Countertops
Installing a laminate countertop is a moderate DIY job. It requires a bit of care and effort and a lot of measuring, but the good news is that if you take it easy, you should be able to do it in about a day or two.
But if you're nervous, hire a local laminate countertop installer to get the job done right.
Materials
Home improvement stores sell prefabricated sections of laminate countertop for about $50 to $200. They usually come in 4-foot, 8-footand corner sections. The price depends on factors such as manufacturer, color and style. Installing this yourself can save you around $1,000.
Supplemental materials
Silicone glue
Drill
Pencil to mark with
Straight edge
Mounting screws
Expect to pay a total between $30 and $60 for supplemental materials. The delivery is the only part of this project that you can't do yourself. Any countertop can break if transported incorrectly, so leave it up to the professionals. The cost of the delivery will vary depending on who delivers it, how far they must travel and how difficult it is to deliver to your home.
Hire Local Laminate Countertop Pros
Thank you for submitting your feedback.