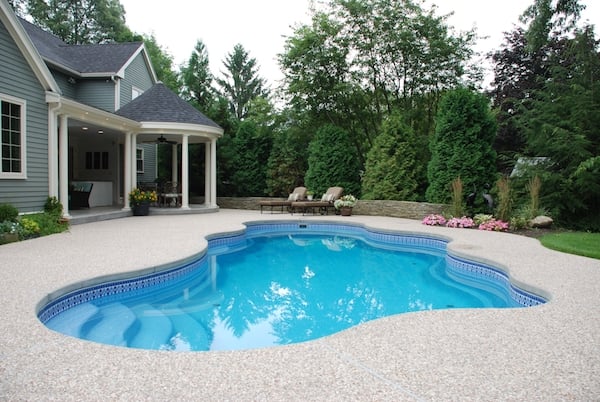 Fiberglass pools have long held a reputation as an easy-to-install, faster alternative to traditional concrete and gunite pool construction. What might surprise many homeowners is that fiberglass pools are fast gaining recognition as a high-quality option for higher-end installations, as well. Just what do fiberglass pools have to offer if you're thinking about installing a new swimming pool on your property? In this segment of Pros, Cons & Costs, we'll examine the benefits of this often overlooked pool option, its downsides, and what you should expect to spend if you think a fiberglass pool installation may be in your future.
Fiberglass Pools: The Pros
Fiberglass pools make up one of the fastest growing segments of the pool industry, and there are studies to prove it. According to a study commissioned by Pool & Spa News, fiberglass pool installations are on the rise in almost every region across the United States. Why? There are a host of reasons, including ease of installation, a growing range of styles to choose from, and an industry that has placed an emphasis on creating long-lasting, durable products. Here's our list of "Pros" when it comes to fiberglass pools.
Faster Installation Times — Talk to anybody involved in pool construction, and you'll hear that one of the biggest selling points of fiberglass pools is a faster installation. A concrete or gunite pool can take as long as two months to install, while a month is standard for fiberglass pools. The average gunite pool cost is about $75,000 to install before maintenance and upkeep. Pool & Spa News suggests that it can be done even faster, quoting one installer as saying that his reputation hinges on being able to do "a job in two weeks instead of two months."
Reduced Maintenance — Fiberglass pools are finished with a smooth gel coat that resists algae growth better than concrete or gunite pools. The result: faster cleaning times and fewer repairs.
Selection — According to Pool & Spa News, pool manufacturers "have broken away from the standard rectangle, with some manufacturers boasting as many as 40 shapes." That's played a big role in the growing popularity of fiberglass pools, since it allows for more customized designs for high-end installations.
Appearance — The focus on quick installation has given fiberglass pools a bad rap in the looks department. Custom pool designs, as well as tile, stone, and brick copings, are just a few of the options that can make a fiberglass pool every bit as attractive as more traditional options.
Fiberglass Pools: The Cons
The cons associated with fiberglass pools are primarily related to cost and installation issues. Contrary to popular belief, fiberglass pools aren't cheaper than traditional options like concrete (we'll provide more details in the "Costs" section later on). Furthermore, finding a contractor who is experienced in installing fiberglass pools is critical if you want to avoid future problems caused by poor installation. Here are the potential Cons of fiberglass pools:
Poor Installation — Because fiberglass pools are delivered as a pre-manufactured shell, it's important that your contractor follows proper procedure when installing the pool. According to SwimmingPools.com, digging the hole is the easy part. After that, your contractor will need to backfill the space around the pool with a combination of sand and pea gravel as they gradually fill the pool with water in order to ensure it's properly supported. Pool & Spa News concurs, noting if the installation isn't done correctly, the result can "include everything from improper water circulation due to bad hydraulics to walls collapsing when the installer doesn't understand soil conditions." Poor installation can lead to very costly repairs, such as resurfacing if the walls begin to leak, which may require excavation in addition to the cost to resurface a pool.
Water Quality — That smooth gel coat that we mentioned as a plus in the maintenance department can also be seen as a con, depending on your point of view. According to Peggy Musial of the Orlando Sentinel, maintaining proper water quality is a must if you expect that gel coat to last. Poor pH or alkalinity levels, as well as improper calcium balances, often results in a coating that fails in a few years time.
Ready to start your
fiberglass pool

?Find Pros
Fiberglass Pool Costs
When it comes to the cost benefits of fiberglass pools, it's all a matter of perspective. According to Pool & Spa News, a new fiberglass pool will run in the neighborhood of $23,000 to $36,000 to install, depending on outlying factors such as pool decking and landscaping. If you've put your pre-conceived notions of fiberglass pools aside, and recognize them as a high-quality product that offers faster installation times, then that figure shouldn't scare you off. If you were looking for a bargain, however, those figures might give you pause. After all, according to Musial of the Orlando Sentinel, a concrete pool can be installed for about half that price, so long as time isn't a consideration. Any way you look at it, fiberglass pools have come into their own as an attractive, durable alternative that's an excellent choice for high-end and budget pool installations alike.
No Comments Yet