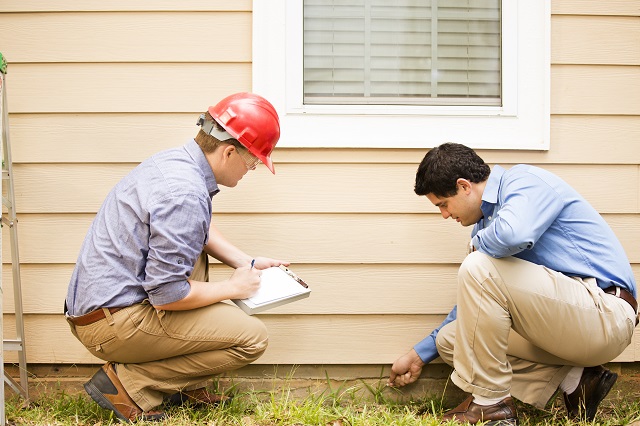 Whether you're buying or selling, a comprehensive home inspection is a valuable tool. For buyers, it can help identify areas that need work, allowing you to negotiate before you get to the closing table. For sellers, it can prove that you've taken good care of your home and justify your asking price.
Home inspectors in your area are trained to look at every nook and cranny of your home, from the foundation to the roof, and provide a report that lists every area of concern. That's what makes home inspections worth the cost.
Like most homes, you should expect your current or future abode to have at least some minor cosmetic issues, like loose siding or peeling paint. While these issues are easy enough to repair, some conditions are more difficult and costly to address. You may want to have the homeowner make the fix before you go through with the sale, or you may want to negotiate your price to cover the cost of completing the repairs yourself. In some cases, you may even want to hire a specialist to look at the problem before moving forward with the purchase.
So, before you write that check and sign those papers, be sure to look out for these seven red flags on your home inspection report.
1. Pests
The last thing you want to do is buy a home infested with bugs or rodents. In addition to literally eating you out of house and home, they can cause significant and costly damage to your dwelling's infrastructure. That's why every home inspection consists of two parts: the structural inspection and the pest inspection.
It's important to know that not all home inspectors are qualified or licensed to do the pest portion of the inspection. While identifying an active termite infestation is relatively easy, other pests and wood destroying organisms (WDOs) take training and expertise to identify properly. Look for a pest control professional near you who is familiar with regional species and is licensed to perform a home inspection for sales purposes.
2. Mold
If your inspector finds water damage or mold in your home, that's a red flag. In truth, most homes will have some mold in crawl spaces and attics, and not all mold is bad for your health. However, mold can indicate other problems, like water leaks from the roof or major appliances, that could be costly to correct. So, finding the source of the mold is imperative. Otherwise, the problem could worsen, and you could end up with a health hazard. A certified mold inspector near you can tell you what type of mold you have, how harmful it is, and what to do about it.
3. Roof
A new roof is a substantial investment, so you want to be sure the one over your head is in good shape. A roof inspection is particularly important in areas of the country where there is a lot of snowfall, since the added weight of powdery precipitation can shorten a roof's lifespan from 20 years to five.
While a home inspector will be able to tell you, generally, how sound your roof construction is, a certified roof inspector near you will use special tools and techniques (like infrared rays that show where heat is escaping) to determine the integrity of the structure without lifting a shingle.
4. Fireplace & Chimney
Homes with fireplaces are almost always in high demand. However, if the fiery feature hasn't been cared for properly, it may be a liability instead of a luxury. A clogged flue or a leaky chimney is a fire hazard. That's why experts recommend having your fireplace and chimney inspected annually, and that's why you may want to consider hiring a local fireplace inspector who can evaluate the safety of the fireplace in a home you are considering buying. If they identify any problems, the same pro can usually quote the necessary repairs, allowing you to negotiate the purchase price accordingly.
5. Air Quality
Poor air quality is another issue homeowners and prospective home buyers should take seriously. Air quality is important to your family's health, and the causes are not always easy to pinpoint or fix. The sources of the problem could be just about anything, from sheetrock and paint to carpet and cabinets or gases trapped in your foundation.
Professional air quality testing services in your area can reveal problems in both new construction, where volatile organic compounds (VOCs) or radon may be present, and older homes, where formaldehyde, hidden mold, and tobacco smoke are common culprits. Results will also include recommendations on how to treat any issues.
6. Electrical
A broken outlet or a flood light that doesn't work is one thing, but outdated wiring or too little voltage is cause for concern. In addition to the inconvenience of not being able to hook up all your electronics and appliances, problems with your electrical setup can increase your risk for a home fire. Updating your wiring and upgrading your electrical service are costly projects that require permits, professionals, and inspections to bring up to code. You'll want to address these major issues with the seller's agent before going through with the transaction.
7. Foundation
If your home inspection report lists concerns with the integrity of your home's foundation, don't ignore them. Contrary to popular belief, not all foundation issues are expensive to fix. Minor foundation cracks could cost you as little as $500 to repair. However, major structural problems that require stabilization using hydraulic piers can cost $10,000 or more. Depending on what's wrong, you may want to renegotiate your purchase agreement.
Summary
Put simply, a basic home inspection report will tell you everything you need to know about the areas of your home that are easily accessible for your home inspector. However, there are plenty of issues that could be lurking below the surface, hidden to even the trained eye of a qualified professional. Luckily, there are specialists in every field you can hire to take a closer look at important areas, especially pests, mold, roofing, fireplace and chimney, air quality, electrical, and foundation problems that could make or break your home
No Comments Yet