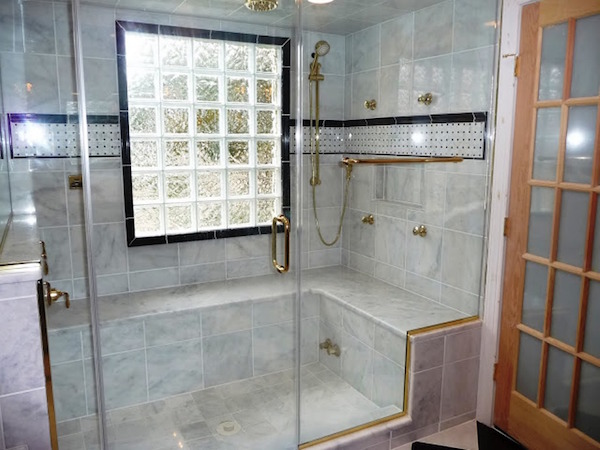 The right shower can transport you from your humble home to a fabulous getaway or a relaxing spa. Plus, a full bathroom remodel has the potential to boost your home's resale price by 20% – so a shower remodel is worth considering. Use these tips to help get started.
On This Page:
How Extensive is Your Remodel?
Before you get down to the intricate details, you need to decide on a budget for your project. Consider how much work will be involved, which fixtures you're interested in and the price you're willing to pay. Ask yourself these questions:
Is it important to improve on the resale value of your house?
Do you want to enlarge the shower or just replace the current materials for a new look?
Do you want integrated shelves to hold bath products or a bench for seating?
Do you envision a glass enclosure? What style do you like best?
Are you comfortable doing some of the work yourself, or do you want to hire a shower professional?
Shower Types & Features
Walk In
Walk-in showers average: $750-$7,000
Offers easy access for those with mobility limitations.
You can opt for sill-less showers with graded floors for drainage.
Shower Stall
Shower stalls cost: $700-$1,600
Offers space efficiency.
Can be more luxurious with fun finishes and extra features.
Tub to Shower (or vice versa)
Converting a tub to a shower costs: $1,200-$3,600
Switching out the tub in favor of a luxe shower is on trend.
This project can be budget-friendly if you opt for a simple stall.
Avoid removing the only tub in the house – prospective buyers typically like homes with at least one tub.
Small Showers
Average cost: Varies
Make a small area feel larger with a seamless glass enclosure.
A skylight can open up the room without taking up space.
Tile
Average cost to tile your bathroom: $25 per square foot
Ceramic tile: $1-12 per square foot
Porcelain tile: $2-$7persquare foot
Slate tile: $4 per square foot
Limestone: $5 per square foot
Marble tile: $6+per square foot
Travertine: $3per square foot
Granite: $4-$7per square foot
Polished stone: $10-$12 per square foot
Tip: Additional materials such as backer board, adhesive, thinset and grout, waterproofing membranes and edging increase the cost of this project. With professional tile installation, most homeowners pay around$25 or more per square foot.
Fixtures & Custom Elements
Average price: $400-$1,000+
Some of the biggest shower trends center around custom elements such as:
Integrated benches and seats.
Steam showers.
Built-in sound systems.
Multiple shower heads.
Rain showers.
Cost to Remodel a Shower
The average cost for installing a shower is $4,200. These remodels typically cost anywhere from $250 to $4,000 or more. Projects will cost more if they include extensive plumbing upgrades and luxury features. The costs of remodeling fall into three categories: basic, mid-range and high-end.
Basic Shower Remodels: $450 – $2,000
If you're on a budget, you can make several small changes to freshen up your shower without breaking the bank.
Acrylic kits fit over your existing tub and shower walls for $150-$250.
New basic ceramic tile starts at $2 per square foot.
Simple glass doors cost $1,000-$300.
Single shower heads start at around $40.
Mid-Range Shower Remodels: $3,000 – $4,800
If you want more than just updated tile and fixtures, consider one or more of the following:
Freshen the base with a new tub or floor for $500-$2,000
Rain showerheads typically cost under $200 and can make the area feel like a spa.
A glass mosaic tile accent wall or a border runs $32-$49 per finished square foot.
Upgrade your glass doors and showerheads.
High End Shower Remodels: $6,000 – $10,000+
These remodels go all-out with features like the following:
Expanded stalls.
Custom tilework.
Integrated benches and shelves.
Dual showerheads.
New plumbing.
Steam showers for $2,500-$6,200,excluding labor.
Frameless shower doors for $5,000, installed.
Upscale tile for$25 per square-foot, installed.
Jetted tubs for as much as $10,000.
DIY or Hire a Pro?
Approaching a shower remodel as a DIY project can be tricky. If the finished product looks like an amateur did the work, you likely won't get the return on investment you're looking for. It's usually best to hire a professional for extensive remodeling projects – especially those that involve moving a shower, expanding space or adding lighting.
DIY Tips
Know what you want before you begin.
Research all material options for price, durability and availability.
Check local companies that specialize in one or two products for a larger selection.
Be true to your preferred style – match modern finishes with like fixtures, for example.
Choose a color palette that will stand the test of time, like neutral hues.
Splurge on features that matter the most and save on the items you can.
Use water-efficient fixtures to save money on future utility bills.
Questions to Ask a Shower Remodeler
If you choose to hire a bathroom professional to work on your remodel, arm yourself with the right questions so that you can get a feel for how the contractor works and whether he or she is the right fit for the project.
Are you licensed and insured to do this work?
How long have you been working in this field?
Did you receive formal training?
Do you belong to any professional associations?
Could you provide me with references that I can contact?
Do you have photos of past projects I can view?
How long do you expect this remodel to take?
Will you provide the materials, or should I?
Do you clean up at the end of the remodel?
How much extra do you charge for grout, mortar and backer board?
What is your plan if we run into plumbing issues such as necessary replacement or rerouting?
Ideas & Inspiration
Browse through pictures of 10 of the top design trends to get some ideas for your own bathroom. Modern showers are all about luxury. From oversized spaces with seating to nicely appointed stalls with stylish accents, you can use this inspiration to design the shower of your dreams.
Seamless and Sill-Less
Image Credit: Pixabay
Seamless showers have been popular for years, but they haven't always been as common as they're becoming. There's also an increasing demand for showers without a sill. Not only does this look sleek, but it also offers easy access for anyone who might face mobility challenges when stepping up and over a sill.
Multiple Shower Heads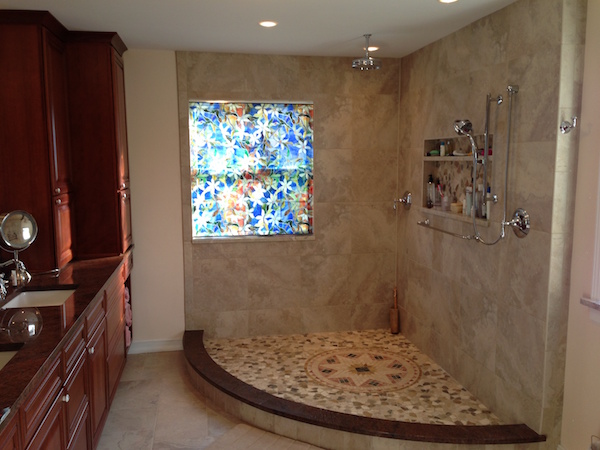 Image Credit: Sunrise Construction and Renovations, LLC
Many homeowners choose to get rid of their tubs altogether in favor of large showers with multiple showerheads and spa-like rain showers. Home experts warn against getting rid of your tub if you're remodeling the only bathroom in your house, though. Don't forget that buyers like to have the option of a tub in at least one bathroom.
Ambience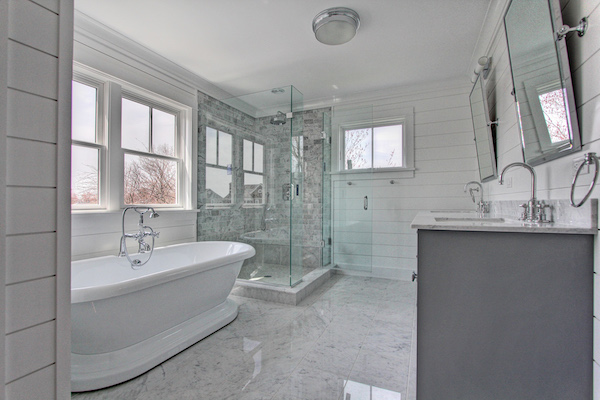 Image Credit: Beach Walk Homes, LLC
In years past, utility and function were of the utmost concern in bathroom design. The design world has seen a resurgence in using various decor elements to create a desired feeling in addition to infusing the room with functionality. From coastal-inspired bathrooms like the one above to spa-like retreats, you can let your shower remodel provide an escape from your everyday life.
Mediterranean Flair
Image Credit: Signature Woodworks, LLC
From full-blown themes to small accent walls, Mediterranean-inspired features give modern bathrooms a touch of Old World style. Choose from intricate tiles, colorful mosaics, arabesque patterns, Spanish tile or Mediterranean arches for a fresh focal point with global appeal.
Industrial Fixtures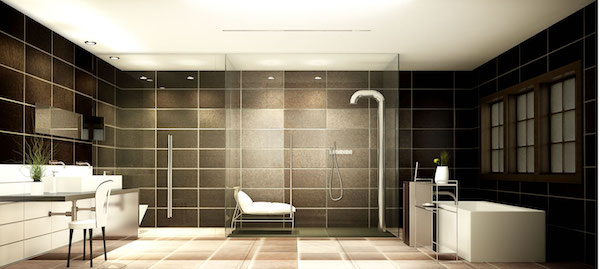 Image Credit: TEAC Structural Engineering
The nuts and bolts of using industrial-chic design in a shower can be challenging. Balance industrial touches like the pipe shower above with warm tones and a few natural elements to prevent your bathroom from looking overly cold.
Doorless Showers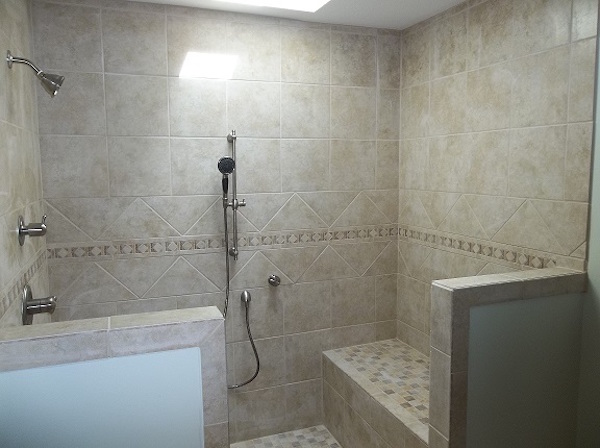 Image Credit: I.C.M.S. Construction
Doorless showers are a popular option, particularly in smaller bathrooms. Without an obstructing curtain or a large glass enclosure, these feel open and free.
Steam Showers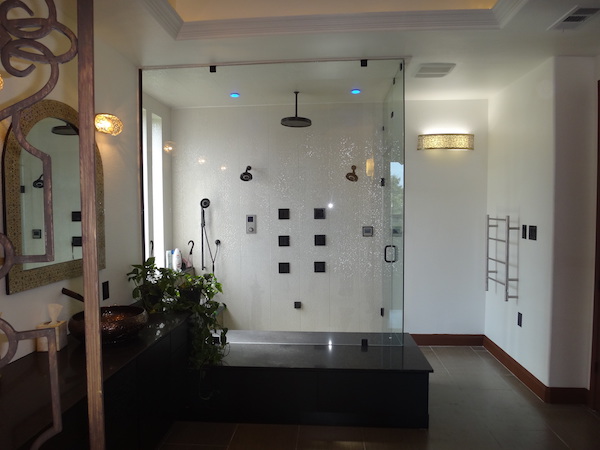 Image Credit: LET Group General Contractors
Steam showers are — literally — a hot trend. Increasing numbers of homeowners are opting to splurge for this extra luxury. From small steam shower stalls to oversized showers with integrated benches, this trend takes many different shapes.
Colorful Showers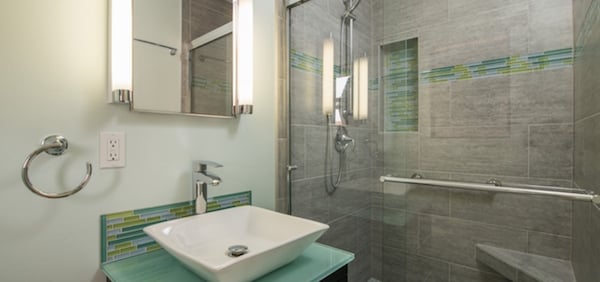 Image Credit: Only Bathrooms, LLC
These aren't the colorful bathrooms of the 70s. Modern homeowners use fresh hues to break up their neutrals and add a little visual interest to the bathroom. The above example with just a splash of blue and green is a great example of how to work color into a bathroom without letting it overwhelm the space.
Light and Bright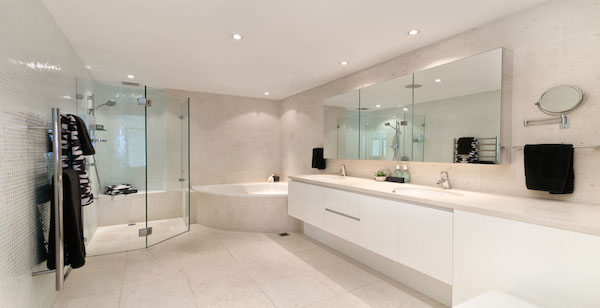 Image Credit: HA My Design, Inc.
All-white bathrooms are increasingly popular choices for their crisp, eye-pleasing look. Homeowners who want to achieve a similarly crisp look while still using a little color can mimic the effect by pairing white cabinets and white accents with very light neutrals.
Natural Elements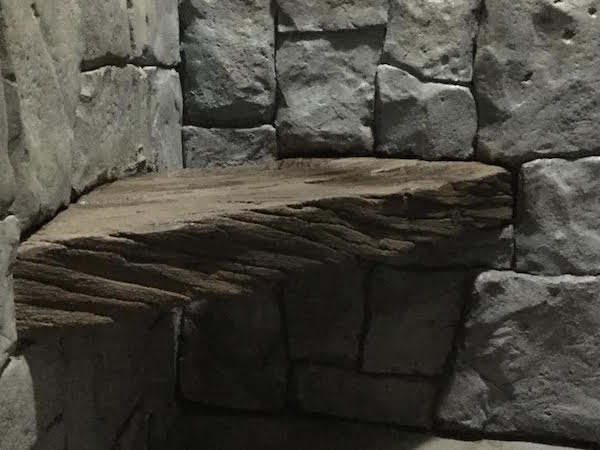 Image Credit: Georgia Rock Fabrication
Modern showers are all about using unexpected materials. Natural materials, including rock and specially treated wood, add warmth and a surprisingly chic touch.
No Comments Yet