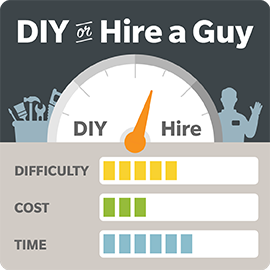 Kitchen renovations can add up, so why not make your existing cabinets new again? Doing it yourself could save you a lot of money – but if it's not done right, it could end up costing you a lot of money too. Use this guide to help you decide whether you'll DIY or hire a guy.



Materials Required:
Old cabinets
Paint brush
Rag
Mix stick
Drop cloth
Wood putty
Primer
Putty spreader
Paint
If you are looking to make a big change in your kitchen, refinishing your kitchen cabinets may be a great option. You can achieve the look of updated and redesigned cabinets for a fraction of the cost of new ones! The job can be demanding and time intensive, but the end result can be stunning and give your kitchen the feel of a major renovation update.
While this type of refinishing project can be done by homeowners (you), there are several tips to remember to ensure a beautiful, durable, and long-lasting result. Below are some important considerations to keep in mind as you begin your kitchen cabinet refinishing project.
10 Steps to Refinishing Cabinets
#1 The Prep Step
One of the most important steps to refinish your kitchen cabinets happens before you step foot in your kitchen. To make the project more organized and less stressful, collect all of the required supplies. Some of the common materials needed for this project include:
Screwdriver
Drop cloth
Painters tape
Paint brushes and/or paint sprayer
Paint or Stain product
Wood cleaner product
Sandpaper
Rags
Many of these items are likely already in your garage or shop, but a trip to your local hardware or home improvement store may be necessary. Having these things on hand and ready to use can help you make good use of your time and get the project done right.
#2 Clean Out Your Kitchen
Once you have your supplies, you will need to remove all of the food and kitchen items from your cabinets. It is much easier to work with empty drawers and cabinets for a project like this. Going a step further, you may even want to clear out your kitchen entirely—furniture, wall hangings, decorative pieces, etc. Working in a clean kitchen may make the job easier and help you avoid accidents.
#3 Label Cabinets
Next, label all of the doors and drawers in the kitchen with their respective cabinet location. If not labeled, it may be difficult to get all of the cabinet components back to their original spot. Labels should be placed on the inside of the doors and drawers so as not to interfere with the refinishing process.
There are a couple methods of labeling that may be helpful:
One is to number all of the cabinet pieces and draw a map of the kitchen labeled with the corresponding numbers in the appropriate locations.
Another method is to number each drawer or door with a sticker label and do the same to the inside of the cabinet frame. Doing this step will likely save you stress and confusion when it comes time to assemble your cabinets back together.
#4 Remove Cabinets and Hardware
After labeling, you can carefully remove the drawers and doors with a screwdriver. You should also remove all knobs and other hardware at this point. Be sure to store all of these items in a plastic bag if reusing them afterward.
#5 Cleaning and Filling
Now it is time to get your hands dirty. After years of kitchen use, cabinetry often becomes coated with dust and cooking residue. A quick cleaning using a product such as trisodium phosphate, mineral spirits or wood cleaner will do the trick to get those layers of grease and dirt off.
If you plan on installing new hardware and knobs, you will need to fill the existing hardware holes with a wood putty. This will give you a clean surface to drill in the new hardware at the end of the project. It is not very likely that the new hardware will fit into and line up with the existing holes. If you plan to clean and reuse your existing hardware, this step can be skipped.
#6 Sanding
Next, you are ready to sand the wood. Sanding serves to smooth out scratches and dings in the cabinetry and remove existing varnish/paint layers so that the new coats adhere to the wood properly.
Concentrate first on rough areas and places where the existing paint or varnish has bubbled or peeled.
Then, lightly sand the entire cabinet surface. You may consider completing two phases of sanding—one pass through with a higher grit sandpaper, and then a second pass with a lower grit sandpaper for a smooth finish. Remember to always sand in the direction of the wood grain. This step may require considerable time and patience, but your efforts will be worth it in the end. Cutting corners on this step could compromise the end result significantly.
After sanding, clear the surfaces of dust with a damp rag and let them dry.
#7 Apply Primer
If you are refinishing your cabinets with paint (as opposed to a stain), you will want to invest in a good primer product. Primers are important for a couple of reasons. First, they help tremendously with paint coverage. This gives the cabinets a smooth, high-quality look. Second, a primer helps bond the paint to the cabinets. This improves their durability and decreases the chances of bubbling and peeling later on.
#8 Apply Paint or Stain
You are ready for the main event—the actual painting. This can be done a couple of ways.
A paint sprayer is a great option if you are refinishing your cabinets with paint (not stain). This paint application tool gives the cabinets a smooth, glossy, professional-looking finish. During application, hold the sprayer about 8-10 inches away from the surface and move the sprayer back and forth in even strokes. If you choose this method, it is important to cover all other kitchen surfaces and furniture with plastic or drop cloth to prevent "paint dusting".
You could also choose to paint or stain your cabinets with a paint brush. Choose a high-quality brush, one that has lots of fine, soft bristles. Apply the paint in long, even strokes and always in the direction of the wood grain. Be sure to apply the paint in thin layers. If you want a richer, more intense color or desire more coverage, it is best to apply two or more coats.
If using a stain, the same principle applies. Two light coats of wood stain look much better than one thick coat. Thick layers of paint or stain are more likely to run or glob on the cabinetry surface. It should also be mentioned that the more coats of stain you apply, the darker the finish gets. Another consideration if choosing a stain for your refinishing project is what product to pick. You can choose an all-in-one stain and varnish product, or two separate ones.
#9 Reinstall Hardware
Once you have allowed your cabinets to dry, you can screw them back into the cabinet frames. Next, the knobs can be screwed back into place. These jobs are made significantly easier with a measuring jig, a small measuring tool that allows you to preset a certain measurement and then mark all of your cabinets quickly and easily.
#10 Step Back and Enjoy
At this point, your project is done. You can enjoy the fresh, clean, and updated look to your kitchen cabinets. Refinishing your kitchen cabinets is a home improvement project that you can do yourself and get amazing results. With a little work and time, you can completely change the look of your kitchen and give it the facelift you have been dreaming about.
No Comments Yet