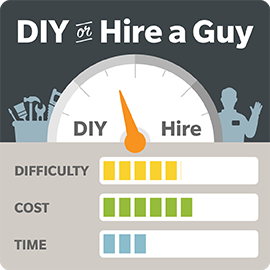 The bathroom and kitchen are two of the most popular rooms for home remodels, and you might be thinking about removing the sink. While entirely doable, removing a sink yourself is one of the more complex DIY tasks, so be sure you arm yourself with patience and the proper amount of time before getting started. While a new sink is a great way to upgrade your kitchen, removing the old sink can be a challenge. Use the steps below to help you this project — and to help you decide whether you should DIY or hire a guy.



Materials Required:
Adjustable Wrench
Bucket
Pliers
Screwdriver or electric drill
Safety Goggles
Putty Knife
Pry Bar
Utility knife
While not required, having a hammer and chisel might also prove useful. It's also a good idea to use high quality tools to make your project easier and to help increase your chances of doing the job like a true professional. If you like, you can see if you can rent tools at your local hardware or home improvement store.
---
Removing a sink is an easy DIY project when you know how to correctly complete the project.
Steps for Removing a Sink
Preparation
Before you start dismantling your sink, you'll want to:
Clean out any cabinets that might be under your sink.
Slip on protective eyewear and gloves to prevent injury.
Spread an old towel underneath the sink to catch minor spills and make cleanup easier.
For kitchen sinks, turn off the garbage disposal by using the fuse box.
Shut off the water to keep from flooding your bathroom or kitchen.
Look for the water shut-off valves behind the sink and turn them until water stops gurgling from the sink. Make sure you turn off both valves, one for hot water and another for cold water. After that's done, use your wrench to disconnect the hose from the shut-off valve.
Sink Removal Steps
Start by turning off the water supply line, which is typically found below the sink or in the basement.
Drain any water from the faucet before starting the removal process.
Use an adjustable wrench to disconnect the water line from the faucet. Use a bucket to catch any extra water.
Turn off the circuit for your garbage disposal and unplug the disposal itself.
Tip: To remove your garbage disposal, there might be an Allen wrench that came with the disposal when you first bought it. If there isn't an Allen wrench, look for snap rings and remove by loosening the screws attached to them.
Use pliers to disconnect the drainpipe and garbage disposal from the sink drain. Remove both the dishwasher drain line and the garbage disposal.
When all connections are free, remove the metal clips that attach the sink to the countertops using a screwdriver.
If there is caulk or sealant around the rim of the sink, use a utility knife or putty knife to remove it.
Carefully remove the sink. You may need the help of a friend for this step!
More Removal Tips
Pedestal sinks might have a sealant on the back. If you plan on keeping your current countertop, slice away the sealant carefully. For undermounted sinks, have someone hold the sink up as you detach it to keep it from falling. Take off metal clips with a screwdriver. If your screws are hard to reach or rusty, take your time while removing them.
Once your sink is out of the way, use your razor blade or paint scraper to slice away plumber's putty and caulk. Before you put your new sink in place, clean up the countertops and all other surfaces. You'll also want to take care of spilled water and any other debris that may have collected underneath your sink.
If you'd rather not use the same backsplash or countertop, you can use either a pry bar or putty knife to remove it. There might also be a chance that your bathroom sink was built into the countertop, in which case you'll have to take out the entire countertop. After you've successfully removed the backsplash, you'll most likely need to have someone help you lift the countertop.
Things to Keep an Eye Out For
As you're disconnecting your P-trap and the rest of your sink's pipes, take a close and careful look at them. They may need to be replaced if they're old and rusted over. If you already know your pipes are rusted, go ahead and buy some replacement pipes and new caulk. While you might not need new pipes or caulk, it's always better to need them and have them rather than need them and not have them. Just be sure to keep the receipt in case you don't need either of them.
Other Things to Consider
Replacing your hoses and faucets might be a good idea as well. It won't do you or your home very much good if you buy and install a brand new sink and experience problems from the first use because of poor faucets and hoses.
Upgrading can also potentially improve the overall value of your home, if you plan on selling it in the near future. Even if you'll be remaining in your home for the foreseeable future, new fixtures and hoses can ensure that your new sink works as efficiently as possible, which can potentially save you money on future water bills.
Don't hesitate to contact an experienced and trusted plumber or home improvement contractor to give you a helping hand. There's no need for you to risk your safety or potentially compromise your investment for a desire to save money or take care of as much of your remodeling project on your own as possible.
Any money you save on DIY projects might be money you end up spending when you have to hire a professional to come in and redo everything.
Conclusion
While a possible challenge, removing your bathroom or kitchen sink yourself is entirely possible. Take your time, use quality tools, know when to ask for help, and consider replacing old pipes and faucets. By the end of the process, you'll have a new sink and a new sense of personal pride.
HomeAdvisor Tip:
If your sink is old, be prepared to replace rusted pipes and hardware.
---
No Comments Yet