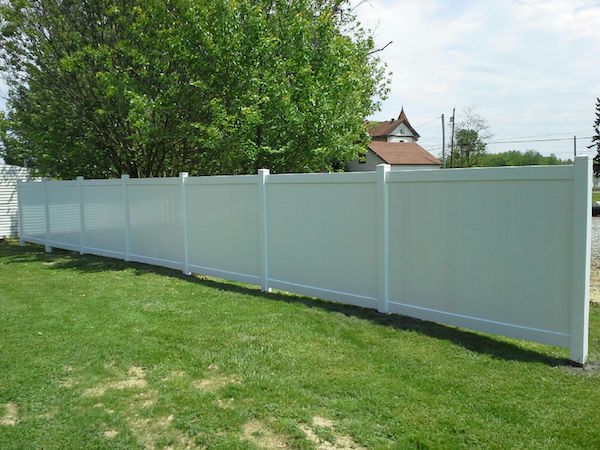 Vinyl fences are some of the most durable, long lasting, and best looking fences available to homeowners today. With a resume like that, it's easy to see why vinyl fences are quickly becoming a favorite fencing material for homeowners across the country. In fact, their only negative seems to be the lack of colors to choose from (few suppliers offer more than white, tan, or gray vinyl fencing).
Vinyl Fences Are Maintenance Free
Perhaps the most convincing aspect of this fencing material is that vinyl fences are literally a maintenance free fencing. Except for installation of your vinyl fence, you'll never have to pay money for any fencing expenses ever again! Vinyl fencing never needs touching up, treating, painting, or even regular cleaning. And since most vinyl fencing sold today comes with a lifetime warranty, you can rest assured that it's the last fence you're ever going to have to buy.
Vinyl Fences Are Tough As Nails
Besides being maintenance free, vinyl fences are also one of the toughest fences you can buy. They are up to five times stronger than wood, and four times as flexible. That means they're virtually indestructible, whether they're taking a beating from unruly livestock or a pack of middle school boys. And since they are made of a solid vinyl material that is the same color through and through, scratches, nicks, and other blemishes won't show, or need to be touched up, like on other fencing materials.
Uses for Vinyl Fence
As the vinyl fence industry has grown, so have the uses for this durable fence material. What started out as an alternative to split rail agricultural fencing has now become a viable alternative for farmers, ranchers, and homeowners alike. Vinyl fencing is available in picket, wrought iron style, privacy, and pool fencing, just to name a few of the more popular styles. In fact, if you're interested in purchasing vinyl fencing for your home, you're virtually guaranteed to find a fence design out there that fits the bill.
Purchasing Vinyl Fence
Not all vinyl fences are created equal, so it's important that you know what to shop for before you make any major purchases. For starters, the thicker the vinyl, the better. A quality, thick vinyl is nearly indestructible, while thin vinyl can easily be torn, pierced, cut, and dented. Also, make absolutely sure the fence you're purchasing contains titanium dioxide to prevent UV deterioration. The two biggest enemies of vinyl fencing are sun and cold temperatures. Both cease to be an issue, however, if the fence is manufactured with titanium dioxide to prevent sun damage, and if it has been treated with impact modifiers to increase the vinyl's strength in cold weather.
If you're interested in having a vinyl fence installed on your property, talk to a fencing contractor or supplier experienced in working with this material about getting your new fence purchased and put up as soon as possible. Otherwise, you can think about how to install the vinyl fence yourself — just be careful!
No Comments Yet