Vinyl Fence Cost
Vinyl fencing typically costs between $10 and $40 per linear foot, with high-end grades running up to $60 per linear foot. Expect to pay $3,762 on average, or between $2,236 and $5,417 for professional installation. Designer-grade fences cost the most at $17,000 or more.
Typical styles of vinyl fencing include variations of picket and privacy fences with heights ranging from 3 to 12 feet but most fall in the 4- to 6-foot-tall range.
On This Page:
Vinyl Fence Cost Per Foot
For most 4- and 6-foot-high vinyl fences, you'll pay $15 to $40 per linear foot. Materials make up $10 to $30 per linear foot with labor making up about $5 to $10 per linear foot.
Vinyl Fence Installation Cost by Linear Foot

| Height In Feet | Cost Per Linear Foot |
| --- | --- |
| 4' | $15 - $25 |
| 6' | $25 - $40 |
| 8' | $30 - $45 |
| 10' | $35 - $50 |
| 12' | $40 - $60 |
Vinyl Fencing Cost by Type
| Style | Cost Per Linear Foot | Total Average Price |
| --- | --- | --- |
| Privacy | $25 - $60 | $3,000 - $18,000 |
| Three Rail or Horse | $15 - $25 | $1,500 - $7,500 |
| Picket | $15 - $20 | $1,500 - $4,500 |
Find Local Vinyl Fence Installers
Vinyl Privacy Fence
Standard 6-foot-tall vinyl privacy fences cost $25 to $35 per linear foot. Taller styles with upgraded designs may increase the price up to $60 per linear foot. You can upgrade these with decorative features at the top. Some of the most popular options include:
Horizontal patterns
Lattice effects
Criss-Cross patterns
Place these taller styles to create privacy and reduce noise from busy roads. Privacy fences don't allow users to see through the material. Instead, slats form a solid wall of vinyl that to help secure the privacy of your yard and home.
Three Rail and Horse Vinyl Fence
Three rail vinyl fencing costs $1,500 to $7,500 on average with pricing depending mostly on the length. Three rail, also called split rail, ranch or horse fence, takes its name from the distinctive three horizontal rails running between posts. For its budget effectiveness, this vinyl style has grown in popularity in recent years.
Vinyl Picket Fence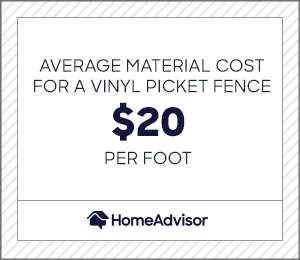 You'll spend $15 to $20 per linear foot for most vinyl picket fencing. Typically 3 to 4 feet tall, this is one of the most popular front-yard fence styles. Although not effective for privacy or pets, it adds a classic aesthetic to your home while clearly defining property lines.
Vinyl Gate Cost
Vinyl fence gates cost $300 to $1,500 to purchase and install. That's on top of the per linear foot price of your fence. Large, ornate double fencing might cost up to $2,500. You'll want to match your gate to existing styles.
Get Quotes From Local Vinyl Fence Pros
Vinyl Fence Installation Cost
Labor costs $35 to $50 per hour or $5 to $10 per linear foot, on average. Labor makes up only a small part of your budget for vinyl. For similar lengths of fence, you'll pay more since vinyl since materials runs 2 to 3 times more than that of a comparable wood fence while the labor budget remain nearly the same.
While you can save some money doing this project yourself, it's better to have a pro involved. Compared to wood, vinyl installs require a greater degree of precision and understanding of the process. You can trim wood to fit as you need it, but vinyl comes pre-cut, requiring more planning.
PVC or Vinyl Fence Cost Factors
A few cost factors you'll want to consider include colors, thickness, add-ons and designer upgrades. These upgrades can add anywhere from $1 to $30 per linear foot. You'll need to talk to your designer or fence installer for specific pricing since they vary greatly between brand, area and installer.
Upscale options and add-ons include:
Colors: White is usually cheapest as it's the most popular shade for fencing. But you can choose from a wide range of colors with varying price points.
Thickness: Higher-end brands tend to have thicker, more durable panels and posts that increase the price slightly.
Hardware grade: You can choose from builder-grade to designer-grade handles, hinges and posts.
Faux-granite, wood or stone styles and textures: Adding a style that looks like wood grain or stone may add to the price.
Decorative touches on the tops of slats: This includes latticework, woven patterns and ornate work.
Embellishments on the posts: Designer caps and lights.
Get in Touch With Vinyl Fencing Pros Near You
Vinyl vs. Wood Fence Cost
Wood fencing costs $1,700 to $4,100, significantly less than PVC. It's also a more DIY friendly installation option than vinyl but requires more work and ongoing maintenance. Wood is cheaper and easier to work with. It takes slightly longer to install, but it's more forgiving to mistakes. However, you'll need to paint, stain or oil it every few years to keep it from rotting.
DIY Vinyl Fence Installation vs. Hire a Pro
With vinyl fencing, you're better off hiring a professional than doing it yourself. This project requires precise measurements, since precut panels can't be changed. It's impossible to hide accidental cuts. Mistakes mean purchasing additional sections. If you want to go the DIY route, consider using wood instead or learn about vinyl fencing basics before deciding. Talk to a local vinyl fence installer to get an accurate quote and timeline.
FAQs
What is the difference between PVC and vinyl fencing?
You'll find PVC and vinyl used to describe the same fencing material. PVC is a type of vinyl. For purchase and installation purposes, there is no difference between the two.
What are the advantages and disadvantages of a vinyl fence?
| Pros | Cons |
| --- | --- |
| No maintenance | Expensive to install |
| Limited variety of colors | Can't paint it |
| Won't rust or rot | Can fade over time |
| Installs quickly | Repairs mean replacing pickets or panels |
| Can recycle it | Not good in extreme climates (heat, cold and wind) |
Are vinyl fences a good investment?
Vinyl fences tend to get about a 60% ROI, depending on the condition it's in, and regional pricing differences. You'll find that ROI varies a bit from location to location, based on a variety of local real estate factors. They're also a good investment when looking for complete privacy with zero maintenance.
How long does a PVC fence last?
Vinyl fencing lasts anywhere from 10 to 30 years.
Still Have Questions About Vinyl Fencing?
Thank you for submitting your feedback.