See if We Have Top-Rated
Home Security Contractors in Your Area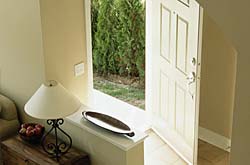 Nearly every homeowner in modern America is, in one way or another, concerned about home safety. Though not everybody is comfortable putting a panic room in their basement or installing a fingerprint identification mechanism on their front door, there are several things that are a little less involved (or intense) that you can do to make your home a safer place.
Landscaping for Home Safety
Many of us have already taken several steps to make our home a less attractive target for intruders, but did you know that the kinds of plants you have around your house and their placement can also deter a would-be prowler? Ornamental plants and hedges that have thorns can create a barrier that is both beautiful and effective. While having these kinds of plants along your property line is certainly an option, they can work even better when placed close to basement and ground floor windows. You'll want to make sure, however, that you don't have too many plants around. Growing enough foliage to hide your property from the street can create a visual barrier that intruders can use to their advantage.
Home Safety: Outdoor Lighting
While homeowners across the country are becoming increasingly aware of the benefits of a home alarm system, the best kind of home security is that which will avert a break-in in the first place. For this reason, outdoor lighting is one of the most important aspects of home security. If your home is well-lit, and you live in a neighborhood where others can see your property, any unwanted guests might be put off by the amount of exposure they'll risk by trying to enter your home. It is often a good idea to consult a home safety specialist to help you plan your outdoor lighting design even if you plan on installing the lights yourself.
Keys and Locks
Probably the most basic form of keeping a structure secure is the lock. While there are many different types of locks and entry systems on the market today, none of them are very effective if someone you'd rather not have in your home already has a key. Always make sure to change the locks when you move into a new house, and keep an up-to-date list of anyone who has a key to your house, but doesn't live there.
Home Safety Practices
Though the home security market is filled with various devices that you can install in the effort to make your home a safer place to be, the things you do on a daily basis play a huge role in how safe your home actually is, no matter what equipment is in place. Trimming hedges and trees that could hide your house number from the street is always a good idea, as is posting emergency numbers by every telephone. Keep valuables away from windows, especially if they can be seen from the sidewalk or street in front of your home, and close your blinds at night. Lock your doors when you leave the house and before you go to bed, and if you have a garage that connects to the main house, make sure that its overhead door is also secure.

One of the most enjoyable facets of home safety is getting to know the people in your community. Inviting neighbors over for a barbecue or coffee is a nice way to spend a few hours, but it also means an extra set of eyes keeping a look out for your family's well being.