Reviewed & approved on July 8, 2020 by Cati O'Keefe, Expert Home Building & Sustainability Contributor.
Written by HomeAdvisor.
Home Renovation and Remodel Costs
Home renovations and remodels average $46,843 with most homes falling between $18,014 and $76,430. Kitchens, bathrooms and any structural or mechanical repairs eat most of the budget. Kitchens alone run $25,000 on average. Bathrooms ring in at $10,000. Basements take another $20,000. Add 20% to all home renovation budgets for overage and unseen problems you'll uncover as you go.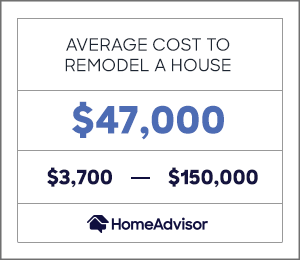 There are many factors and multiple variations that contribute to the bottom line, including:
Size of each room.
Underlying problems.
Cost of materials.
Extent of the remodel.
Estimating costs on how to remodel a house is a daunting task. Appliances, cabinetry and any structural repairs top the list of expenses with labor following closely behind. To give you a good starting point, we've gathered information on some of the most popular remodeling projects.
Thank you for submitting your feedback.