Furniture and Mattress Removal Costs
Mattress and furniture removal costs an average of $165 with a typical range of $75 to $200. In some extreme cases, like when you're clearing out an entire home, you might spend nearly $1,000. Most companies have a minimum fee of $75 to $150 with each additional piece adding $30 to $75 each. Junk removal pros usually charge by the truckload, which ranges from $100 to $600 on average.
| | |
| --- | --- |
| Average Cost | $165 |
| High Cost | $950 |
| Low Cost | $50 |
Mattress Removal and Disposal Prices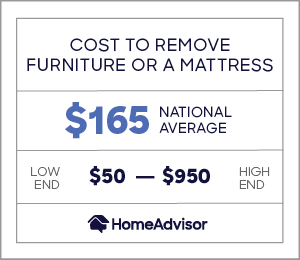 Removing a mattress and disposing of it costs $75 to $150 for a professional service. Hauling it to the dump means dumping fees of $15 to $50. If you're simply replacing the bed, a retailer will take it away for $5 to $30. Unless you're going to sell it or donate it, condition doesn't matter, only size. Haulers sometimes charge per piece or per truckload.
Mattress Removal Costs

| | |
| --- | --- |
| Curbside Pickup | $25 - $50 |
| Retailer Removal | $5 - $30 |
| Landfill Dumping | $10 - $50 |
| Junk Removal Service | $75 - $150+ |
| Dumpster Rental | $300 - $500 per week |
Whatever condition, find a furniture removal specialist near you today. But if you're trying to sell or donate it, it'll need to meet some standards, including:
No stains or smells.
No mold or pest infestations.
No rips or tears.
No broken springs.
Furniture Removal and Disposal Costs
Furniture and junk removal companies sometimes charge by the piece. The minimum up-front charge runs $50 to $150 with each additional piece only adding $20 to $40. If you have lot of furniture, you'll pay anywhere from $100 to $900 depending on how full the junk removal truck is.
Furniture Removal Costs

| | |
| --- | --- |
| Sofa or Couch | $75 - $160 |
| Armchair | $50 - $100 |
| Table | $50 - $100 |
| Mattress | $75 - $100 |
| Patio Set | $150 - $250 |
| Entertainment Center | $100 - $200 |
Sofa or Couch Removal Cost
Removing just a sofa or couch runs $75 to $160 for a pro. Dumping it yourself might cost up to $50. If it's in usable condition, try an online listing to sell it or give it away for free. You can also try donating it for a tax break.
Compare Quotes From Local Waste Removal Companies
Cost Factors to Furniture Removal
Some cost factors you'll need to consider when disposing of your furniture:
Mold or infestation. You can't donate and shouldn't sell moldy or infested furniture. Whichever you have, you'll need to contact a mold remediation specialist near you or a pest control expert in your area to have the rest of your home inspected.
Condition. If it's in relatively good condition and still has a little life left in it, try donating it for a tax deduction.
Number of Items. When hiring a professional junk hauler, the more you have, the cheaper each piece is. For example, one mattress might cost $100, but two might only cost $150.
Heavy and awkward items. If it takes a long time to remove, or it's hard to get out of your house, they might charge you a bit more.
| | |
| --- | --- |
| NYC, NY | $200 - $500 |
| San Francisco, CA | $180 - $450 |
| Denver, CO | $100 - $250 |
| Minneapolis, MN | $150 - $400 |
| Atlanta, GA | $100 - $250 |
As the table illustrates, your location dramatically impacts the average range of junk removal. You'll find even lower rates in rural areas over urban sprawls.
DIY Cost to Dump a Couch or Mattress
Getting rid of furniture yourself isn't a terribly difficult process. You have a few options:
Haul it to the dump yourself. You'll need a trailer or large pickup. It usually only costs $20-$30 at the landfill. Some cities include small loads as part of your municipal utility bill.
Donate it! Call Goodwill, the Salvation Army or ReStore (part of Habitat for Humanity). They'll often come pick it up for free if it's in good condition.
Many charities won't take anything but furniture in the best condition and hauling it yourself isn't usually a great option. Hiring a pro to remove it doesn't cost much more and lets you get rid of any other junk laying around your home or yard. Find a junk hauling company near you to clear the clutter today.
FAQs
How much does it cost to take a couch to the dump?
Taking a couch to the dump usually just incurs dumping fees of $10 to $50, depending on your location.
How do I get rid of old furniture?
You have a few options to get rid of old furniture. If it isn't usable, call a furniture or junk removal company. If it's still usable you can:
Sell it through online listings or the old-fashioned yard sale.
Donate it to a charity or religious organization.
List it as free online.
How and where can I get rid of my old mattress for free?
If the mattress is in good condition, you can get rid of it for free by donating it or listing it for free on places like social media marketplaces.
How do you throw out a broken, stained or infested mattress or couch?
To throw out stained, broken or infested mattresses or couches, call a junk hauler or take it to you landfill yourself. If it's infested, you might want to call a pest control specialist near you. If the beds infested, good chance your home is too.
How much does 1-800-Got-Junk charge for a sofa?
1-800-Got-Junk charges $100 minimum for a sofa. But each piece after that only adds a few more dollars so try to have all your junk hauled away at the same time.
Who removes old mattresses?
Junk removal companies remove old mattresses. If it's usable, charities also remove them.
Do I tip furniture removal services?
If you feel like you had exceptional service and want to tip, go for it. It's definitely not a requirement to tip a furniture removal service, but many companies allow it.
Get a Quotes From Furniture Removal & Disposal Services
Thank you for submitting your feedback.