July 12, 2021
Reviewed by Robert Tschudi, Home Building & Remodeling Expert.Written by HomeAdvisor.
Dumpster Rental Prices
Dumpster rental costs $380 on average, or between $292 and $480. Most companies charge $200 to $800 per week depending on the dumpster's size. Long-term rentals cost $1,000 to $3,000 for a month or more. Rental usually includes dump fees, which average $40 to $65 per ton. Compare quotes from local services for the best dumpster rental price.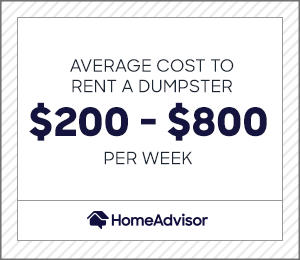 Rentals run by the week or month, although you might find daily fees in some locations with high demand. You'll also need to consider other costs like late fees, overage fees and permits. Your rental includes delivery, placement, pickup and dumping. You can get sizes ranging from 2 to 50 cubic yards. Your rental company can help you figure out which size you need.
Thank you for submitting your feedback.