Wheelchair Ramp Repair Cost
The average cost to repair a handicap ramp is $1,100, though the price can vary anywhere from $150 to over $2,000 depending on the severity of the damage and repair needed. Most homeowners pay between $557 and $1,988 to have their ramp fixed.
For a homeowner who is confined to a wheelchair, a wheelchair ramp is an important addition to the home. Keeping the ramp in working condition is easy as long as repairs are done in a timely manner. At times, this may mean hiring a contractor to perform general maintenance. Below are some points that homeowners should know about the costs involved in repairing wheelchair ramps.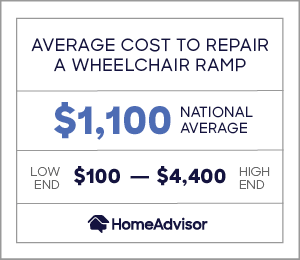 Repair costs depend on the repair needs. On average, repair costs will run homeowners between $557 and $1,988 if they keep up with general maintenance. The cost generally increases with wood ramps because the wood needs to be replaced. The materials - wood, nails and stripping - cost $450 on average. If the homeowners are just replacing nonslip grips, the cost averages between $80 to $160.
One choice that homeowners have when it comes to repairing their ramp is to replace it altogether. Portable wheelchair ramps can usually be placed over existing stairs and cost from $50 for low-end models to $1,000 for high-end models, which support motorized wheelchairs.
Although repair can often be costly, there are ways that homeowners can lower the capital needed for such repairs. For example, if homeowners have friends with carpentry skills, they could possibly ask their friends for help. Some organizations offer free wheelchair ramp installation and repair services. Depending on the organization, they provide homeowners with their own contractors or grants to hire contractors. Oftentimes, however, these organizations only offer help to senior citizens.
If the owners have to hire a contractor to fix their ramps, it's best to search around before hiring individuals for the job. Although costs are an important factor to consider, homeowners must also weigh in user reviews and experience. Some companies even offer free quotes to help homeowners determine if repair is the right course of action or if their ramps simply need to be replaced.
Hire a Wheelchair Ramp Repair Professional
The cost of repairing a wheelchair ramp varies greatly depending on many factors. For example, if the ramp is located in a hard-to-reach location, the maintenance costs are going to be higher. The same is true if the contractor that is hired to fix it is hampered by obstacles such as landscaping that might exist around the ramp or having to park far away and move heavy materials a long distance. It should also be noted that it often costs more to repair ramps that are made to support the weight of motorized scooters than repairing ones that are for manual wheelchairs. This is because ramps made for motorized scooters have to be repaired with heavy materials such as steel. If steel is involved, the cost could be more if welding is needed.
Wheelchair ramps can need repair for many reasons. Some of the most common are listed below.
Consult with a Pro for Your Ramp Repair
Thank you for submitting your feedback.