Screen Replacement Cost
The cost of installing or replacing screens in your home falls between $132 and $452 with most homeowners paying an average of $292. This averages includes screens for sliding glass doors and windows or doors on higher floors. Screens keep bugs out and let fresh air in. Today's options can add a custom, artistic flair as well as lower the cooling costs in your home.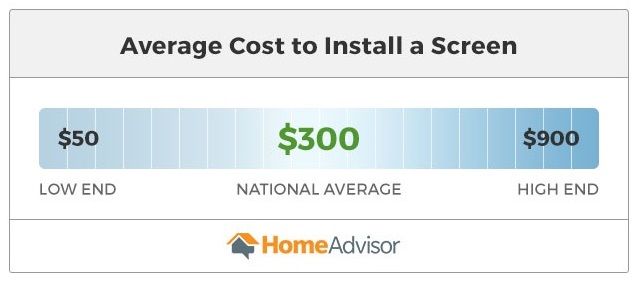 Typical costs for replacing five window screens
DIY: $65-$75 for a direct swap, or around $80-$105 to cut and install
Handyman: $340
Professional:

Replace standard frame and screen, preassembled: $90-$100
Replace screen in existing frame: $100
Assemble and install new frame and screen: $185-$200
Screens are most often found on windows. They can be damaged by pets, things hitting them, weather, or just age. Replacing a single screen is an easy and inexpensive DIY job, or you can hire a handyman or professional window contractor do the job.
DIY Installation
If you decide to do it yourself, a window screen frame kit costs between $9 and $13, or you can buy 7' lengths of framing for about $5 each and cut it yourself. The material costs $6 to $20 depending on the type of screen and length of the roll. A roller tool, if not included with the frame kit, costs about $3. You'll also need a utility knife, about $2.
If you have a standard-sized window, you can probably buy a finished screen from your local home improvement store for $13 to $15 and just swap the old for the new.
Handyman
A handyman costs an average of $68 including materials and installation, and the job should take less than an hour for a single screen.
Professional Screen Replacement Labor Cost
If you hire a professional, you should think about labor rates. A pre-assembled screen replacement should cost about $5.50 in labor per screen. If the frame is all right and you just need new screening put in, cutting and installing should cost about $12.50 in labor. Having to build and install a whole new screen brings the labor cost to around $23.50 per screen. This assumes a rectangular ground floor window with relatively normal dimensions.
When hiring the job out, ask about discounts for having multiple windows done at once. Some installers have material left over from previous jobs and might be willing to give you a discount if they don't have to buy all new material.
Get Local Screen Replacement Rates
Repair or Get a New Screen?
Window screens take a lot of beating. Exposed to the weather, pet claws, and things striking them, they're going to need repair or replacement at some point. When do you need to replace them, and when can they be repaired? here are some pointers:
Repairing
If part of the screen is coming out of its frame but is otherwise undamaged, you can often press it back in with the roller tool. This damage is often caused by heavy things like toys being thrown or pets jumping on the screen.
Punctures are another common repair. Left untreated, it can turn into a tear. Fortunately, patch kits cost as little as $2.50 for an adhesive patch with a pattern printed on it. This is a good short-term solution. It doesn't let air through and dust can stick to the tacky side, but it will buy you time to decide if you want to replace the screen.
A longer-term solution is a mesh patch. They cost from $2 to $7. Some have to be stitched into place with wire or nylon thread, but others can be adhered with a blow-dryer. For around $8 you can buy a roll of adhesive patch to handle long tears. These patches are not invisible. You will see them no matter what, so these are best used where looks aren't an issue, such as a workshop.
Most of these quick repairs cost less than the minimum labor rate above, so unless you really have trouble moving around, you might consider doing this yourself.
Replacing
You should replace the screen when the tear is too big, the holes too numerous, or when the frame is damaged. If the frame is damaged, it's best to replace the whole thing. Screens will stretch with time and the old mesh won't fit correctly into your new frame.
DIY Repair
To replace your screen, here are some quick steps for DIY:
Remove the old frame from the window or door.
Remove the rubber gasket (the spline).
Secure the frame to keep it square. You don't want it distorting when you install the mesh.
Lay the screen over the frame, allowing a ¾" to 1" overhang and trim the corners to a 45-degree angle to avoid bunching.
Starting at a corner, press the new spline in with the rolling tool. To give the screen proper tension, place a brick in the middle it after two sides are secured.
Trim the excess material with a razor being careful not to cut the spline.
Screen Door Installation Cost
A typical screen door measures 6'8"x3' and costs from $30 to $70 based on the material used. Installation is usually between $50 and $100, bringing your total to between $80 and $170. It's a fairly involved job.
Sliding screen doors can cost around $100 a panel. Not only do they require more material, they also require extra hardware to make sure they fit and slide in the tracks properly. Labor costs are about the same as a front screen door, but they can be a little higher in some places, about $75 to $125.
Types of Screens
| Material | Avg. Material Cost | Pros & Cons |
| --- | --- | --- |
| Solar | $7.50 sq. ft. | Block the sun's heat |
| Security | $50-$250 each | Strong mesh & heavy frame |
| Aluminum | $0.35 sq. ft. | Stronger than fiberglass |
| Fiberglass | $0.25 sq. ft. | Cheaper than metal but susceptible to fading |
| Bronze Metal | $1 sq. ft. | Good looks but expensive |
| Copper orStainless Steel | $1.20 sq. ft. | Expensive but visually appealing |
| Brass | $2.15 sq. ft. | Most expensive |
| Pet Resistant | $20-$20 per DIY kit | Reinforced vinyl-coated polyester |
The installation costs are affected by the type of screen that you choose. The plain gray screens that you might be familiar with are the most affordable option and the easiest to install. Solar screens are made of a unique woven mesh that blocks out 90% of the sun's hot rays, lowering cooling costs and protecting carpets and home furnishing. Colored and decorative screens are also available, so you can mimic your home's decor.
Movable Screens
There are movable screening options available now, as well. The cost to install a screen that is removable or movable is higher, but these models offer more functionality. Retractable screens look and act like window shades, but function as screens. These can be made invisible whenever you want. Here are some other types to consider:
Adjustable screens: $7-$100 each. Double-hung or glider windows. They are made for minimal installation skills, often snapping right into place. Cost depends on the size and manufacturer.
Retractable screens: $200 per door, $50-$100 per window. Requires minimal installation skills. They act like roll-up shades.
Hinged screens. Cost is difficult to estimate because they are all custom built for your specific window. Easy to clean and provide easier escape in case of fire. Like a screen door over your window.
Custom Screen Installs
Find out how to screen in large or custom window sizes. Building an enclosed porch? These factors can help you determine the cost of a screened in porch.
If you have a non-standard window, you will have to cut the screen yourself or hire a professional. Two common custom shaped styles have angles or arches. Tall screens for cathedral windows keep a uniform look outside even if only part of the window opens. Some are octagonal or round. Though these often don't open, a solar screen will help let in light while blocking heat.
Custom screens are often priced by the square foot. This cost depends on materials, size and location (upper floors cost more), distance to the job site, and local labor rates. Get at least three quotes from professionals.
Get Quotes From Local Handymen or Screen Installation Pros
Thank you for submitting your feedback.