Window screen replacement costs $135 and $479, with an average of $306. This includes $15 to $50 in labor and $20 to $100 in materials per screen. Pre-assembled models run as little as $35 each for installation, while you'll pay up to $1,000 for solar or security screens.
Screens keep bugs out and let fresh air in. Today's options come in a variety of colors and styles, to add an artistic flair or lower the cooling costs in your home. Keep these price factors in mind as you make a choice.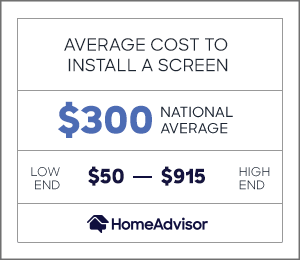 If you hire a professional, you should think about labor rates. A pre-assembled screen replacement should cost about $15 to $20 in labor per screen. If the frame is all right and you just need new screening put in, cutting and installing should cost about $20 to $30 in labor. Having to build and install a whole new screen brings the labor cost to around $25 to $50 per screen.
Keep in mind that pros usually base labor prices on the size of the job. If you only need one replaced, you'll pay up to $50 more per screen than if you're doing several at the same time.
Talk to Local Screen Installers
Most window screens cost $20 to $100 each, depending on size and type. You'll pay up to $1,000 for options that provide additional security or protection from solar heat.
| Type | Price Per Square Foot |
| --- | --- |
| Fiberglass | $0.25-$0.50 |
| Aluminum | $0.35-$0.70 |
| Copper | $1-$1.50 |
| Stainless Steel | $1-$1.25 |
| Brass | $1.50-$2.50 |
| Security | $10-$25 |
| Solar | $7.50-$15 |
As the cheapest materials, fiberglass and aluminum tend to be the least durable. You'll save money on installation, but you may have to spend more time patching.
If you're thinking about one of the metal mesh products, keep in mind that the biggest difference is aesthetic. For example, black stainless steel is designed to be virtually invisible. By comparison, brass or copper will add a very distinct look to your home.
Compare Quotes From Local Window Screen Installers
Movable window screens cost $20 to $150 each, depending on the size and operation. Products that slide along a track or pop in for quick installation run $20 to $80 for most common sizes. By comparison, you'll pay $50 to $125 for retractable options that can be made invisible whenever you want.
If you're looking for a window screen that functions as a pet door, you can expect to pay about $50 to $150. These usually come in a smaller range of sizes.
Custom screen pricing ranges from $0.25 to $25 per square foot for material plus $10 to $100 for the frame. If you have a window with an unusual size or shape, this may be your only option.
The cost to rescreen a window ranges from $35 to $150 for most types. You'll pay $35 to $100 for pre-assembled models and $50 to $150 for custom options. This job includes removing and disposing of the old panel, plus construction and installation of the new unit.
Find Window Screen Installers Near You
At $15 to $50 per screen, labor is typically less than a third of the total cost. Since you can accidentally damage your window trying to get an old one out or put in a new one, you're probably better off hiring an installer. This is particularly true if you need custom sizing or you want high-end mesh. Before you schedule window screen replacement near you, be sure to get at least three quotes from professionals.
If you decide to do it yourself and you have a standard-size window, you'll pay $20 to $80 for pre-assembled models that are easy to install.
Are window screens standard sizes?
Window screens come in many standard sizes, ranging from 18" by 20" to 36" by 74". Not all measurements are included, so you may need to order certain ones custom.
How much does a screen door cost?
Should I repair or replace my screen?
Screen repairs range from $5 to $100, depending on the problem. Patching small holes costs $5 to $20 and may be a good short-term solution. If the frame is damaged or the mesh seriously ripped, it's best to replace the whole thing.
How do you rescreen a window?
To rescreen a window, you'll need to:
Remove the old one.
Take out the rubber gasket.
Secure the frame to keep it square.
Lay the mesh over the frame with about one inch overhang.
Press in the new spline with a rolling tool, starting in the corner.
Test the tension with a brick in the middle.
Trim the excess material with a razor.
Still Have Questions About Installing a Window Screen?
Thank you for submitting your feedback.